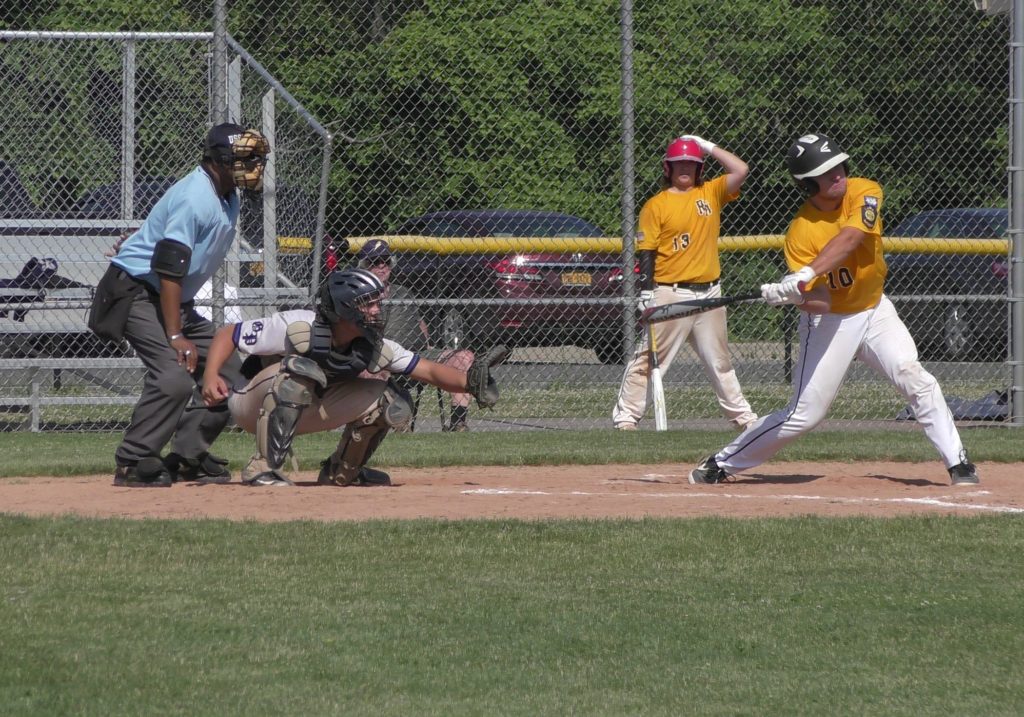 By PAUL GOTHAM
VICTOR, N.Y. — Hayden Smith worked out of a fifth-inning jam, and Rayson Miller downed Greece Post 7-3 to advance to the American Legion District 7 Championship Series.
Staked to a 6-0 lead, Smith wiggled out of a bases-loaded no-out situation in the fifth.
"I was just focused on getting an out at that point," the 6-foot right-hander said. "My team picked me up. Everyone calmed me down."
Greece Post's Justin Augustine led the frame with a double off the left-field fence, the first hit of the day Smith surrendered. Nate Yantz reached on a hit by pitch, and Jack Berbert loaded the bases when he reached on an error.
Smith joked that a pre-game conversation with battery mate, Andrew Sanchez, provided a source of motivation.

"He told me 'if you give up a hit today, I'm coming out there and I'm beating you up," Smith said laughing. "Owen (teammate VanNewkirk) was jumping on that too. He was getting on me.
"But he came out to the mound and he was like 'all right, let's get this. Let's get out of this.'"
Smith induced a fielder's choice and infield pop up before giving up an RBI single to Zach Wright.
Smith stranded a pair of runners with his sixth strike out of the night to end the threat.
"When he needed to make a pitch, he did," Rayson Miller head coach Tom Sapienza said. "We made just enough plays on defense."
Smith picked up the win allowing two unearned runs on two hits and a walk over five innings of work.
"He's been out there a few times for us," Sapienza noted. "This was not his best day. He rarely pitches behind. I think we had him throw first pitch balls to eight of the first 10 batters he faced. That's not like him."
Sanchez got Rayson Miller on the scoreboard with an RBI double that scored Lukas Haefner in the third. One out later, Smith walked and Maxx Countryman loaded the bases with a single to left. Donnie Varrenti delivered with a two-run double.
The lead grew to five one inning later.
Haefner plated Zach Ochs with a single and moved to second on a wild pitch before getting third on a VanNewkirk ground out. Sanchez followed with a sacrifice fly.
Ian Read made it a 6-0 in the top of the fifth with a two-out single.
Less than 14 hours after an 11-0 win in game one of the series, the reigning district champs looked in control.
"We gave up some runs, but we got the outs we needed," Smith stated. "Everyone's excited. We're always looking forward."
Sam Leonardo gave up an unearned run in the sixth.
Joey Kench worked a scoreless seventh to close out the win.
Countryman finished 3-for-3 with an RBI. Haefner and Sanchez both went 2-for-3. Haefner scored twice to go with his RBI. Sanchez plated two and scored one. Read was 2-for-3.
"We hit the ball a little bit," Sapienza said.
Brian Georgetti collected a hit and an RBI for Greece Post. Zach Wright went 1-for-3 with a walk. Augustine was 1-for-3 with an RBI and a run scored.
Rayson Miller advances to play James Cooke in the finals. Game one of the best-of-three series is scheduled for Tuesday at Victor.