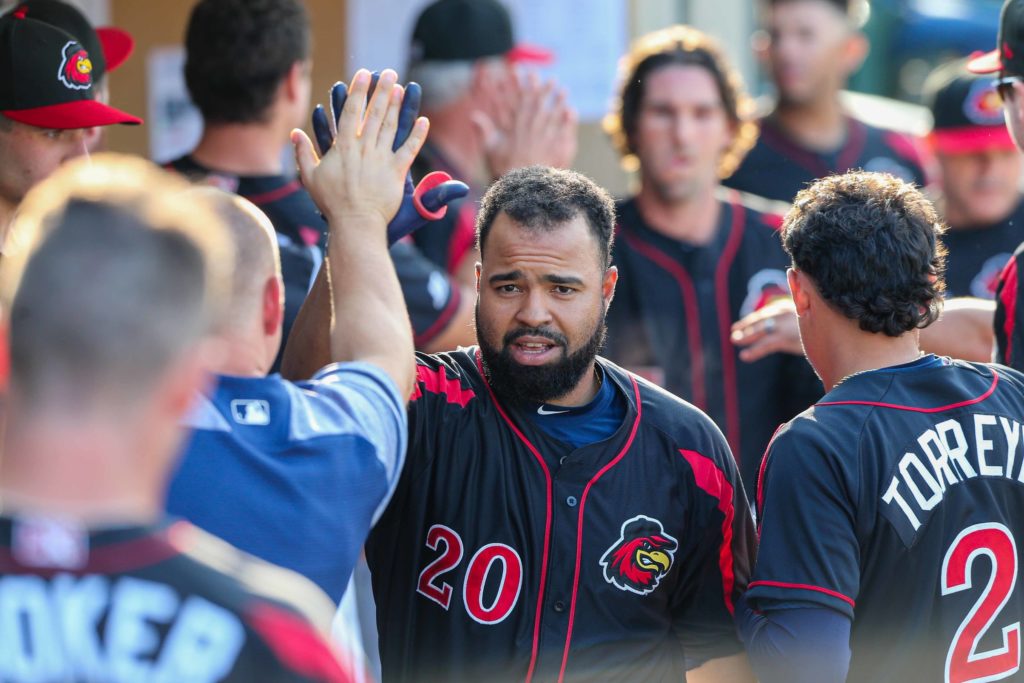 By KEVIN OKLOBZIJA
Absolute Journey, a cover band of what else but Journey, serenaded Rochester Red Wings fans with a post-game concert on Friday.
Moments earlier, it was the fans who serenaded plate umpire Alex Tosi with deafening boos — and a baseball even came flying through the air in his direction from the Red Wings dugout — as the officiating chief walked off the diamond.
When you make one of the more rare calls in baseball and deny the home team the tying run and possible(probable?) walk-off victory, the home crowd tends to react with anger.
As does the home team.
Instead of thrilling ninth-inning rally, the Wings lost 7-6 to the Lehigh Valley Iron Pigs, with Tosi front and center in controversy.
"I'm a little bit in shock, honestly. I don't know what he saw," said Wings second baseman Drew Maggi, who was ruled to have intentionally turned into a 0-1 pitch to let it hit him with the bases loaded.
That ruling meant the apparent tying run was nullified and Maggi remained at bat with a 1-1 count.
Maggi was irate but Wings manager Joel Skinner intervened and moved the conversation away from the batter's box. Within just a few seconds, Skinner was animated and very soon ejected by the fourth-year International League umpire.
"He (Tosi) said his knee went toward home plate and into the ball," Skinner said. "He (Maggi) rotated. You're turning your back to the ball to protect yourself. The guy (Kyle Dohy) threw an inside slider and he just rotated."
If the anger of the call wasn't bad enough for Maggi, he then lined a dart on the fifth pitch of the at-bat that was snared at third by Austin Listi for the second out. When Jimmy Kerrigan flied softly to center, the Wings (44-47) were 7-6 losers.
"That was a tough at-bat, a tough one to swallow," Maggi said. "From getting hit and then not, and then lining out in a big situation. It was a big, big at-bat."
Losses don't come much more frustrating than this one. Twice the Wings had overcome deficits — 3-0 in the first and 5-3 in the eighth — only to end up losing anyway.
Two Nick Gordon fielding errors contributed to four unearned runs for the Iron Pigs, but Gordon did hit a solo homer into the video board in right and set the table for the eight-inning rally.
Reliever Gabriel Moya, however, couldn't retire Lehigh Valley in the top of the ninth. No. 9 hitter Matt McBride hit a one-out, two run homer into the left field bullpen to break the 5-5 tie.
"I'm sure he'd like that one pitch back," Skinner said. "But this was one of those games you can look back at a lot of situations."
One of those was in the first inning, when a sure inning-ending grounder to Gordon was bobbled and then no play could be made. Two batters later, Listi belted a three-run homer.
Wilin Rosario got two of the runs back with a two-run homer in the bottom of the first, and Gordon's solo homer tied it in the third.
But Gordon's error in the fifth allowed another unearned run to score.
"That's baseball; that's why they have that stat, players make errors," Skinner said.
The Red Wings will tell you umpires do as well.