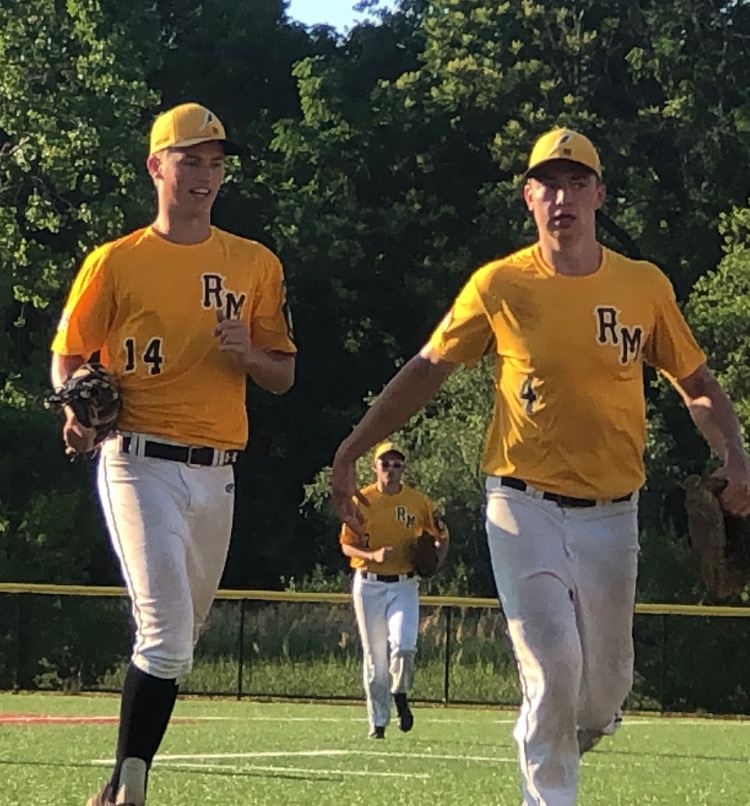 By BILLY HEYEN
EAST IRONDEQUOIT, N.Y. — With the way Hayden Smith is going, all his teammates could do after Wednesday night's game was joke. When Rayson Miller head coach Tom Sapienza went to offer Smith an ice cream coupon for another great performance, a couple of his teammates mocked incredulity. 
"But he gave up two hits," Rayson Miller reliever Joey Kench said.
They both came in the sixth inning, a complete-game shutout for Honeoye Falls-Lima's Smith. Rayson Miller won 4-0 over Irondequoit Post at Eastridge High School behind the second-straight dominant outing from Smith, who went six one-hit innings in his last start. The summer routine is a little different for Smith than things were during school ball, but what he's been doing has worked just fine: He's been almost unhittable.
"Playing in the infield is great, watching everyone else go," Smith said. "But when it's my shot, I love it."
During the school season, players will throw nearly everyday. Sometimes a pitcher will get a day to rest his arm after a long start, but if they play another position, like Smith, that luxury may not even be provided.
In the summer, though, in-between game practices are rare. Smith throws a bit between starts, along with his work in the middle infield in Rayson Miller's other games. The routine has suited him just fine, though.
"I just feel locked in," Smith said. "… I always try to test it, try to get some like bullpens in. But I just feel good lately."
Every time Smith gets the ball to take the mound, he said he's "excited." There's something different for him about pitching versus playing the infield, a little extra juice that gets him going.
And when Smith is going, good luck. His fastball sits in the low-to-mid 80s with some arm-side run. His curveball drops off the table, sharply, without too much of a decrease in velocity. He hits both sides of the plate, wherever his catcher calls for it.
Wednesday's catcher, Drew Sanchez, joined in on Smith's postgame interview and elaborated on Smith's ability to do what he wants. 
"Even that full-count curveball, I was like, he's got this, let's get after this," Sanchez said. "I trust this kid, and he clearly proved it, he's a great pitcher."
There really was never any threat against Smith on Wednesday. He worked a 1-2-3 first, then allowed a base runner via error in the second. Two more three up, three down innings followed before he walked a batter in the fifth. 
After a Rayson Miller scores three, Hayden Smith (@hoss1821 @hflcsdathletics) goes 1-2-3 with two Ks in bottom three. 3-0 RM after three. @PickinSplinters @jml5798 pic.twitter.com/rHlrTcfv8H

— Billy Heyen (@Wheyen3) July 3, 2019
At that point, none of the Rayson Miller players or coaches really recognized that Smith had a no-hitter going. In the sixth, that potential feat went away when Irondequoit racked up back-to-back two-out hits. But Smith induced a deep flyout by Nick Serce to escape unscathed.
"He's a competitor," Rayson Miller's Owen VanNewkirk said. "Early on, he was struggling to locate stuff. But by the second or third inning, you could tell he was locked in, and he was gonna give you everything he had, and that's what he did today. He's just a workhorse. We're gonna ride him."
Smith's pitch count was on the verge of the maximum entering the seventh, but he wanted to finish. A first-batter popout and a second-batter groundout left him enough pitches for one more batter. On the third pitch of the game's final at bat, Smith induced a grounder to Lukas Haefner, who fired across to first to end the ball game. 
Already this summer, Smith's talent has led to at least one college coach coming to watch a start. It's led to multiple Rayson Miller wins. And after Wednesday's performance, one of his teammates had a suggestion in the dugout, a little word play.
"We should change (Rayson Miller) to Hayden Miller."