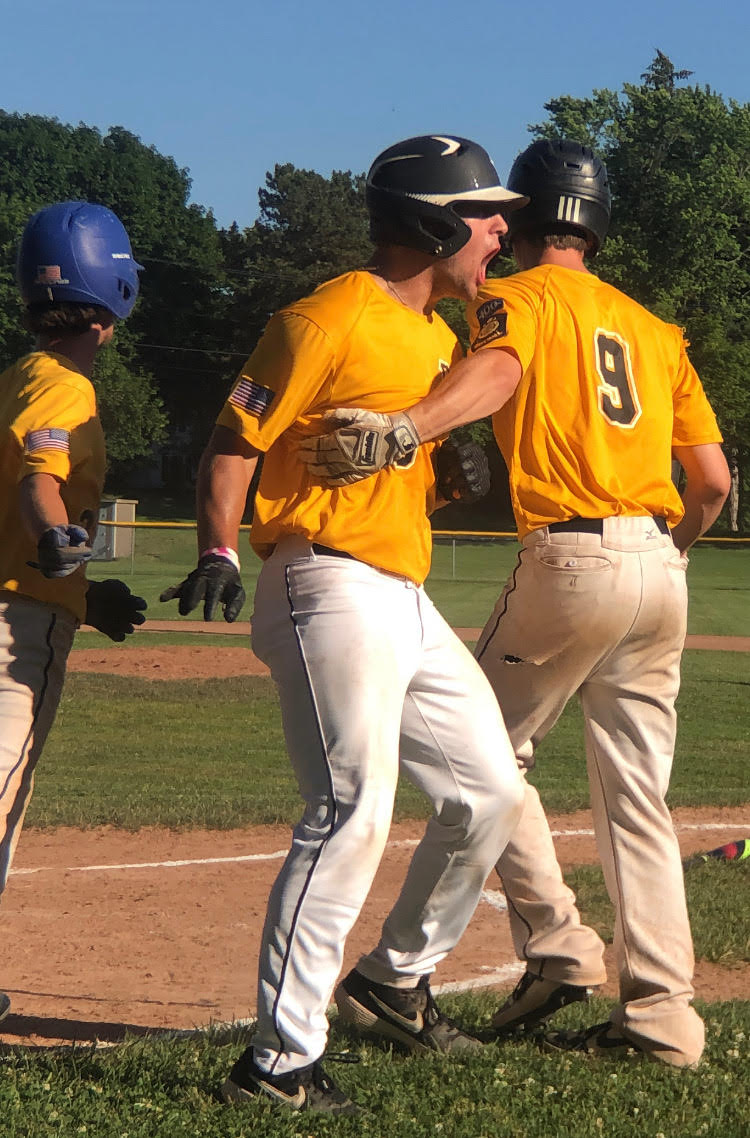 By BILLY HEYEN
PITTSFORD, N.Y. — Rayson Miller Post had allowed Irondequoit Post to tie it up in the top of the fifth. The energy that Rayson Miller had come out of the gate with was at risk of being for naught. But then Grant Rodriguez sat back on a pitch and pushed it toward the right side.
The ball trickled past the second baseman's glove and into right field. The go-ahead run, Peyton Parmeter, slid into home plate safely, then popped up and clapped his hands in celebration. The energy, and the lead, were back, and Rayson Miller wouldn't relinquish them again.
"Don't try and yank a ball for a home run," Rodriguez said of his approach in that spot. "… Just try and focus on one little pitch and try and put it in play."
Grant Rodriguez singles through the right side and scores Peyton Parmeter. 5-4 Rayson Miller in bottom five. @PickinSplinters @jml5798 @RushAthletics @rhvbaseball pic.twitter.com/BlDmJsoG9k

— Billy Heyen (@Wheyen3) July 1, 2019
In a matchup of second and third in the District 7 American Legion standings, Rayson Miller beat Irondequoit, 6-4. Rodriguez twice knocked balls through the right side to score runs. Rayson Miller was led by six innings from Lukas Haefner on the mound, as he struck out 12. In a game that Rayson Miller had already looked ahead to on Saturday, with an atmosphere more intense than most summer baseball, Rodriguez, Haefner and company came out on top.
"It felt like a playoff atmosphere," Haefner said, "so we just went up to that level."
It was basically the first thing on Rayson Miller's minds Saturday after they'd beaten Brooks Shepard. Their postgame huddle presents a variety of messages; sometimes, it's about the game that was just played. Other times, head coach Tom Sapienza goes with more of a life message. But Saturday, they knew that number three in the standings would visit them Monday. 
There were no extra messages beyond that, Rodriguez said. But from the get-go, Rayson Miller players bantered from the dugout as Irondequoit did the same. When runners crossed the plate, they screamed or wound up to high-five teammates. With two hard-throwing righties on the mound, it was anyone's game.
"We knew that we couldn't take them lightly," Rodriguez said, "and if we took them lightly, they would just walk all over us. We knew that we had to be a part of a team and be together."
Irondequoit struck first with a Chad Gartland double to right-center field in opening half inning. As Haefner walked off the field, he unleashed an expletive. But then he reached base in the bottom half, and eventually Rodriguez came up with runners on second and third with two outs.
Gartland threw four-straight curveballs to Rodriguez. The righty hitter from Rush-Henrietta said after the game that Gartland would've been "insane" to throw him a fifth in-a-row. So Rodriguez, prepared for a fastball, got one and dribbled it to the right side. It snuck under a charging second baseman's glove and two runs crossed to take the lead back.
"At that point, I'm just trying to protect," Rodriguez said. "… I was just trying to put the ball in play, and I had to figure he was gonna throw me a fastball one of those times, and he did. Luckily I was able to fight it off and beat the ball to first."
Rayson Miller added two more runs in the second, on three-straight hits from Haefner, Owen VanNewkirk and Drew Sanchez. Haefner was sharp in the middle innings, holding the lead with a fastball-curveball combination that often had batters staring at strikes. 
But in the fifth, Irondequoit nine-hitter Caleb Delly lined a double the other way down the left-field line. Frankie Fernandes followed with a single. Gartland drove in Delly, and then a strikeout and a rundown scored two more. "New ballgame," Sapienza yelled to his team as they headed to the dugout. At that point, it could've gone either way.
It was the defending state runners-up who had the immediate answer, though.
Parmeter singled up the middle and advanced to second on a wild pitch. That's when Rodriguez delivered for the second time. He eventually came around to score on a Jesse Countryman squeeze bunt as Rodriguez tumbled and rolled across the plate for the second time in a week.
One of these slides is Grant Rodriguez today. The other is from last week. Can you tell the difference? @PickinSplinters @jml5798 @rushathletics @rhvbaseball pic.twitter.com/rl9fDDTXJY

— Billy Heyen (@Wheyen3) July 2, 2019
Haefner allowed two men to reach in the sixth, but broke off a sharp curveball for a swing-and-miss, the righty's 12th punchout of the ballgame. He pumped both arms as he shouted "let's go" before stomping off the field. 
"He was really working ahead in the count," Rodriguez said of Haefner. "And then he was getting people to chase after his pitch, and he was really able to spot up where he wanted to and keep them off balance all game long."
After the game, Haefner recognized what this win meant. Rayson Miller had faced a lot of pitchers recently who don't throw with the velocity that the defending District 7 champs will face in their quest to return to the state tournament. Monday, Gartland brought heat with a good curveball. Rayson Miller handled that and got another win, another step toward a repeat.
"We're all one," Haefner said. "We're all in for the same thing. Same goal. We want to keep winning, keep moving on, and tonight we knew was a big game for us, so we decided to step it up."