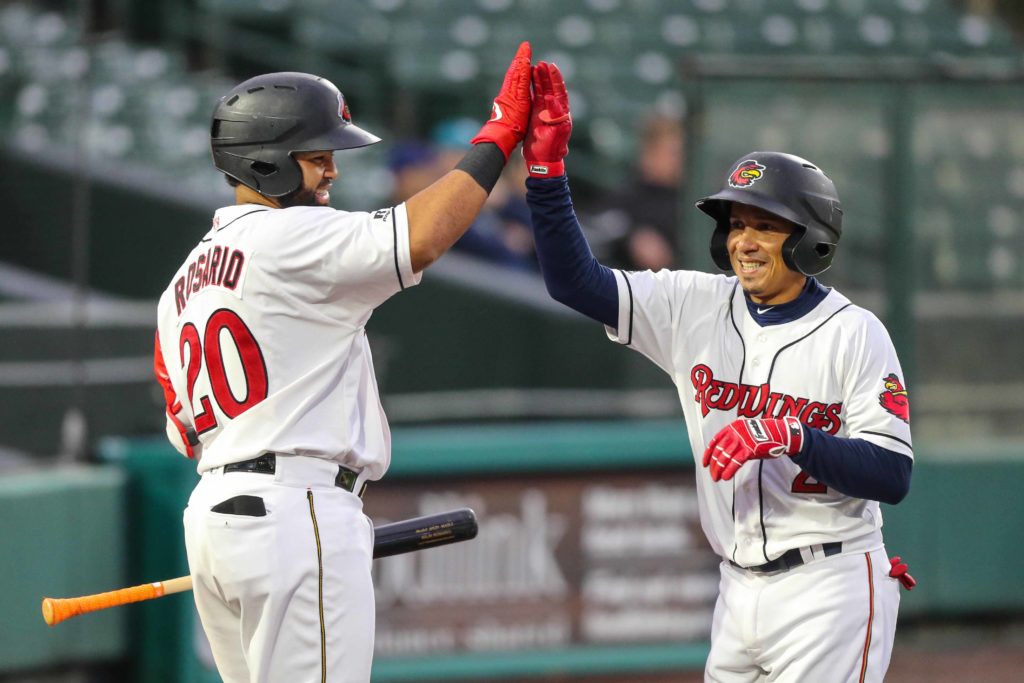 By KEVIN OKLOBZIJA
It was "Major League" Night at Frontier Field on Friday, and the Rochester Red Wings brought in actor Corbin Bernsen to celebrate the 30th anniversary of the funniest baseball movie ever made.
Unfortunately, they needed Bob Uecker instead.
With the Wings clinging to a 5-4 lead in the eighth inning, Wings reliever Andrew Vasquez elicited memories of Uecker's "juuuuust a bit outside" call from the movie with a juuuuust a bit inside wild pitch.
Needless to say, that wasn't a good thing, and the Pawtucket Red Sox ended up rallying for a 7-5 win — putting a damper on the first two-homer game in the 10-year pro career of Ronald Torreyes.
The errant pitch — the first pitch Vasquez threw — sailed behind Chad De La Guerra and allowed Cole Sturgeon to score from third, tying the score 5-5.
"You come in to face a lefty and you want to be aggressive and it looked like the pitch just got away from him, like it slipped," Wings manager Joel Skinner said.
Pawtucket then scored twice in the top of the ninth with just one hit. Vasquez walked two, yielding the first run on a sacrifice fly and the second on another wild pitch.
So instead of reaching .500 for the first time since the second game of the season, the Wings dropped to 38-40. But the fact that they have gained respectability is truly remarkable. They've gone from 13 games under .500 to just two in a month, thanks to a 20-9 stretch.
Which is why these losses sting even more now. The Wings trailed 3-0 after two innings but used a three-run third to tie it. Torreyes led off with a line-drive homer to left, Drew Maggi singled, Nick Gordon doubled and Brent Rooker drove both home with a single, his second of three hits on the night.
Rooker on Thursday was named to the Triple-A All-Star Game and certainly deserves it. He's hitting .286 with a .962 OPS (seventh best in the IL) and .407 on-base percentage (fifth best).
Skinner said that while Rooker was on the injured list for the last two weeks of May, the Triple-A rookie did plenty of work on his defense and also studied what he was doing at the plate.
"Just like a pitcher needs to command the strike zone, so does a hitter," Skinner said. "Sometimes when you sit and watch, it sounds crazy but you can get better. A lot of it is what he's swinging at now. When you're able to swing at higher-percentage pitches, you're going to have more success."
Torreyes then gave the Wings a 5-3 lead in the fourth by belting another home run, also to left field. This one traveled an estimated 394 feet and there was no doubt when it left the bat.
The veteran infielder was activated from the temporary inactive list on Tuesday. He had missed eight weeks because of family issue.
Because Lewis Thorpe was called up to the Minnesota Twins, the Wings needed to use their bullpen to piece together pitching. Chase DeJong went 3 1/3 innings, giving up nine hits but just three runs.
That's thanks in large part to the second pitcher, Cody Stashak, who came on with runers on second and third and one out in the fourth and struck out Gorkys Hernandez and De La Guerra to end the threat and preserve a 5-3 lead.
"He was able to keep the ball from even being put in play," Skinner said.
The PawSox scored once in the sixth and then the three late runs to win.
"Obviously at the back end it just got away from us," Skinner said.