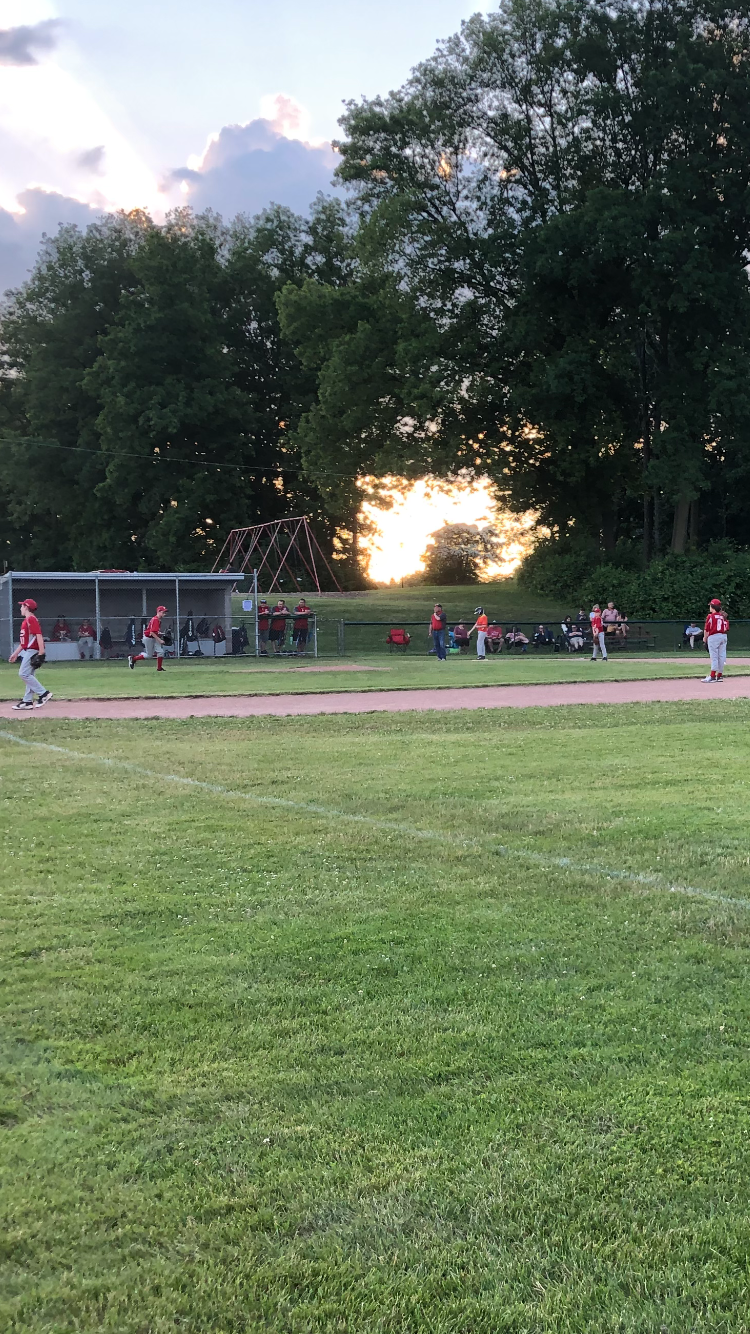 By BILLY HEYEN
PENFIELD, N.Y. — I went to cover a baseball game on Wednesday evening, something that won't shock any of you. But the game didn't finish; they called it an inning short, because some words were said that led to worse words and an ugly scene. This isn't a story about that, though.
I stood beside the backstop for five, 10, maybe 15 minutes after the game ended. I'd come to view American Legion baseball as a select group's little secret, a beautiful, pure summer baseball league. This night had been anything but. So I went walking, looking for a reminder of why I love baseball, and nearby, I came across a Penfield Little League game. 
The Little League contest pitted the Angels-AAA against the Orioles-AAA, the 10-to-12 year old division. As I strolled over, a new pitcher was warming for the Angels. Tall kid, maybe the tallest on the field, but his coach was pantomiming a throw. It seemed the boy had never pitched before.
The tosses looped in, starting above the hitter's head and usually winding up in the dirt, banking off the catcher's shin guards. The good, 'ole gravity ball. The majority the boy threw missed the strike zone. The few hit in play weren't turned into outs. 
But each time, the pitcher, No. 15, walked toward the front of the mound, two hands out, ready to receive the throw back from his catcher. Each time, he took the rubber, leaned in as if taking a sign that wasn't really being given, held runners that couldn't move before he threw home anyways, and fired again. His teammates occasionally took steps toward No. 15 between pitches, pantomiming their own pitching motions, trying to draw strikes out of him.
This Little League contest ended prematurely, too, having hit its time limit. In a sense, it ended mercifully for the boy on the mound. Except as his teammates jogged off the field, he'd taken a few steps back toward the hill, as if wanting his time as the pitcher to last just a little bit longer.
I half expected this final pitcher's teammates to look displeased with how he'd done. But one still tried, with seemingly honest intent, to show him yet another possible pitching motion. Another held out his glove for a fist bump. His mother waited near the fence, eager to speak with her son. 
Then, as a team, the Angels-AAA and their tallest member, No. 15, went to the snack stand next to the fields. The pitcher ordered a hamburger and added a solid glob of ketchup. No. 15 passed an umpire on the walk to his car and stuck out a fist: "Good game, ump." It wasn't even the man who had overseen his game.
But no matter. There was a hamburger to bite into and parents to run after, a huge smile on his face and for the first time in a couple hours, a big one on mine. 
I'd remembered why I love baseball. It's a kids' game, yet complex. It's frustrating as all heck, yet eventually rewarding. In this boy, No. 15, I saw joy. It's the same joy I felt when I was blessed to step onto a diamond, and the joy I still usually feel when I go to cover a ballgame. 
The game I'd gone to cover on Wednesday didn't end in joy for me or anyone else. But thankfully, there was more baseball. And at the center of it, there was a boy, just happy to throw the ball toward home, again and again.