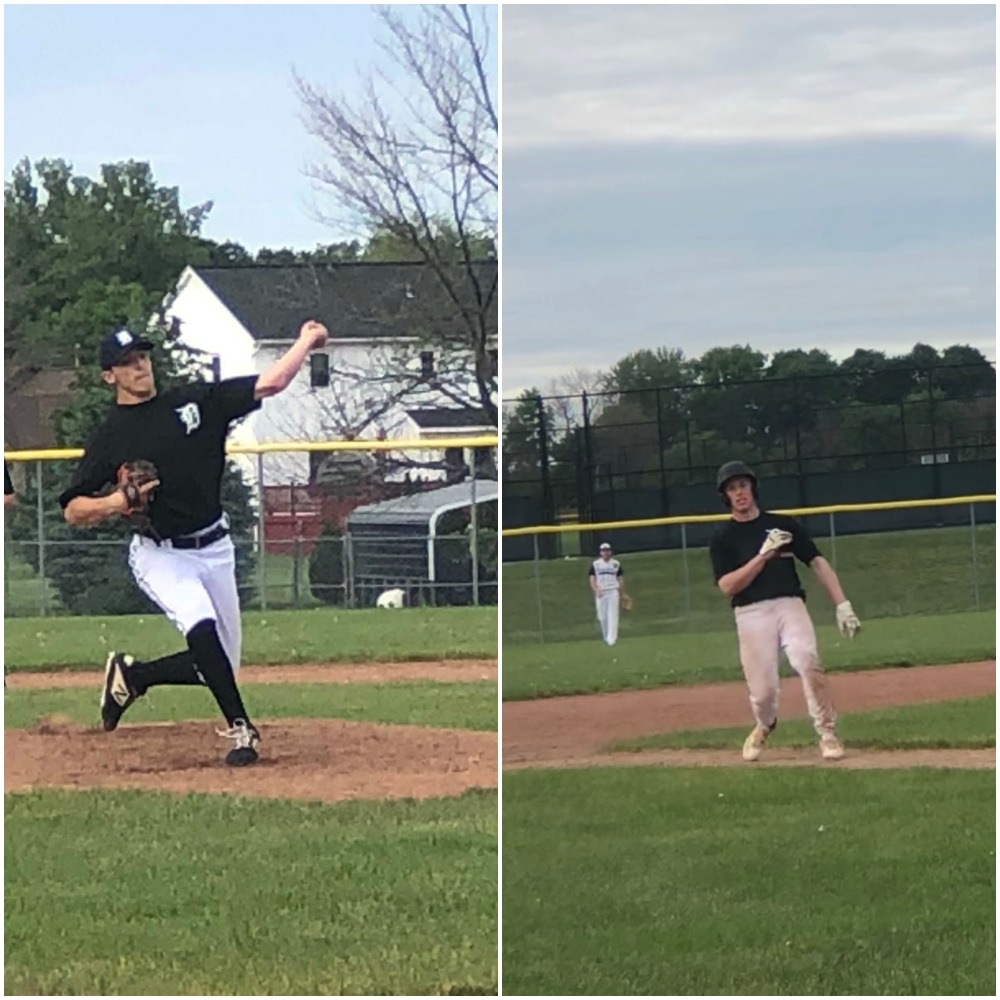 By BILLY HEYEN
GATES, N.Y. — Jake Keller didn't play a big role on Churchville-Chili's varsity roster this season, Doud Post and C-C head coach Guy Puglia said. But he got the ball Monday evening to make a Legion start for Doud.
Keller fought himself to find a rhythm in the middle innings, but he got back in sync and showed why he could be key for C-C next season.
"Next year, he's gonna be a big part of the team," Puglia said. "So that's why we left him out there and battle through as much as he can, just for the experience."
Keller ended up working four-plus innings, allowing one hit but struggling with walks — putting five runners on via the free pass. Besides the three runners he put on to start the fifth scoring, though, Keller worked out of jams. It was enough for Doud to beat Greece Post, 8-4, at Gates-Chili Middle School. Keller was aided by the bat of Jake Carroll and the closing arm of Amaury Samalot to get the win.
"I felt a little off in the beginning, but later on, I started getting my groove," Keller said. "Which ended up with me throwing consistent strikes."
Keller didn't seem to want to sit still before the game. When Doud outfielders went through warmups and made their throws home, Keller roamed behind home plate to back up the throws. After one errant throw skipped toward the third-base dugout and Keller didn't quite snatch it, he made a noise, as if displeased with himself.
Once on the mound, the tall southpaw wearing No. 77 worked exclusively from the stretch. Once, he stepped on the mound to windup before shaking his head and reassuming that stretch position. And on a day when the wind blew in and the infield grass was thick, Keller found success whenever he pitched to contact. After walking the game's first batter, Keller got a popout, flyout and groundout to end the first.
"I was thinking more, not try and strike the kid out, but more of, try and let them hit," Keller said. "… Just to put the ball in play and get the outs, that's all we need."
In the second, Keller painted the inside corner for a punchout. He snatched a "look what I found" grounder back at him in the third. And he snapped off a backdoor curveball for a strikeout to end the fourth.
"He was getting behind hitters a bit," Carroll said of Keller. "But he was working through the at bats and getting hitters off balance. So it worked out well today."
Jake Keller (@cccsdbaseball) snaps off a great breaker to end top four. He's allowed one hit through four and Doud leads Greece, 3-1. @PickinSplinters @CCCSDathletics pic.twitter.com/o4i5ID5Erm

— Billy Heyen (@Wheyen3) June 17, 2019
After that breaking ball strikeout, Keller batted second in the bottom of the fourth. He took a first-pitch fastball back up the middle, past the pitcher Jagger Nucci's head, and into centerfield. He'd score two batters later.
That's when Carroll stepped in, well aware of the success Nucci's curveball was having. So the whole at bat, Carroll sat on the breaking ball. He fouled a deuce off to get to 1-2. But then he saw a pitch up and laced it to left center field, a two-run triple for Doud and the eventual decisive runs.
"I was looking for anything up, just got a fastball up, and I just banged it," Carroll said.

Jake Carroll (@cccsdbaseball) lines one to the gap for three bases and two RBI. 5-1 Doud in bottom four. @PickinSplinters @cccsdathletics pic.twitter.com/BSVyqra9eh

— Billy Heyen (@Wheyen3) June 17, 2019
Keller couldn't get an out in the fifth. So Doud brought in Samalot to pitch. He'd caught the first four innings, then moved to third at the start of that frame. And the C-C starting catcher was slated to throw just one inning.
But Samalot told Puglia he wanted to keep going, that he'd finish the job. After allowing all three runners he inherited to score, Samalot settled in. The righty struck out one batter with a curveball in the sixth, then another with a painted fastball in the seventh before getting a flyout to end it.
"It feels great to just have somebody who can come in and close the job for us," Keller said.
In the early going of the Legion season, Doud had alternated wins and losses. Win, loss, win, loss, win. That would've slated Monday's game for a loss if the pattern continued. But thanks to the lead of two Jakes, Doud now has its first winning streak of the season.