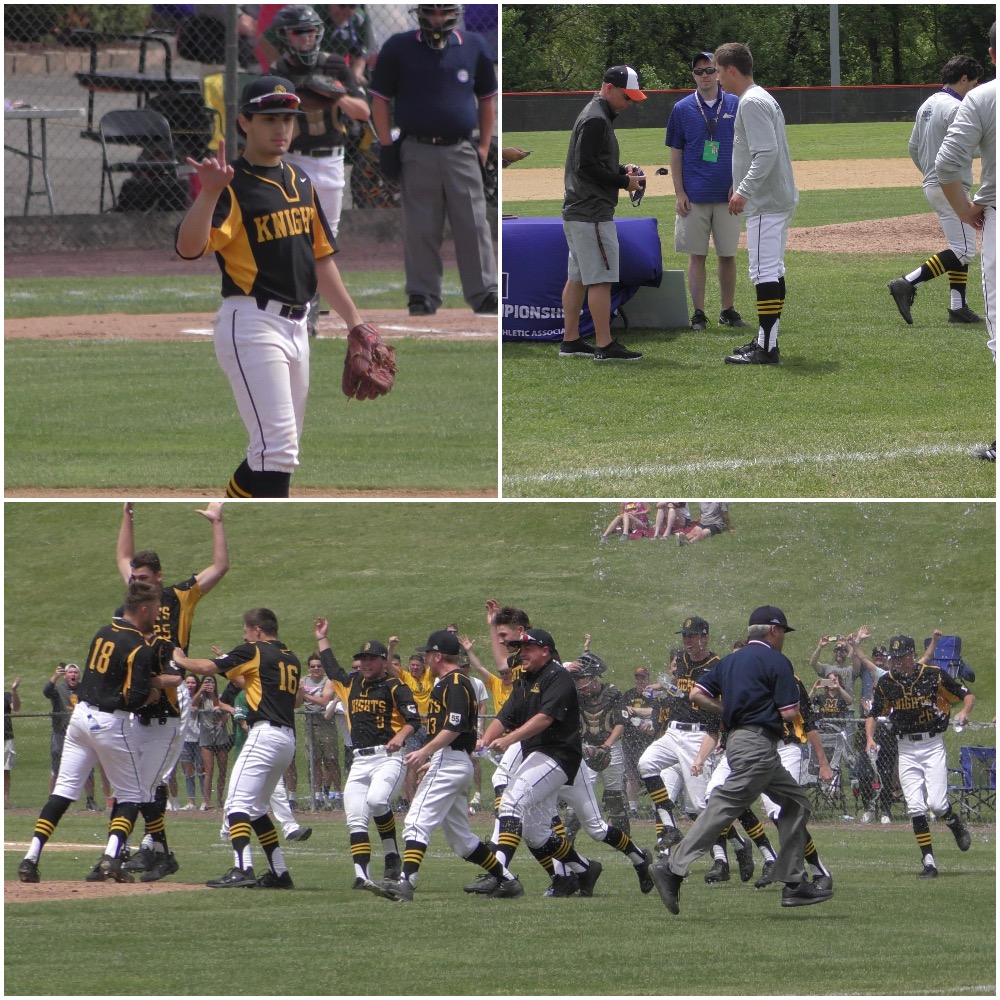 By PAUL GOTHAM
ENDICOTT, N.Y. — McQuaid baseball rode the arm of Hunter Walsh to a program first state title.
Walsh's near-perfect outing was bolstered by the seventh and eighth batters in the Jesuit Knights' order.
Zach Lee and Patrick Xander combined to collect half of McQuaid's hits and produce four runs in a 5-0 win over Shenendehowa (II) in the NYS Class AA championship.
"We said it from day one, for us to get here one through nine are going to have to be tough outs," fourth-year coach Tony Fuller said. "It just shows that our guys no matter who they are, they prepare. They prepare for their moment. They're ready for it."
Lee finished 2-for-3 on the day. The McQuaid second baseman beat out an infield single in the second inning to bring home the first run of the game.
"I got down o-and-two, so I was kinda battling," Lee said.  "Runners on second and third, I knew I had to put the ball in play. I swung at a pitch out and put it in play. Just got to first, fortunately."
Drew Bailey scored from third on the play.
Zach Lee makes contact and gets Bailey home. @mcquaidbaseball leads 1-0. @PickinSplinters @jml5798 pic.twitter.com/keLDtsJSQC

— Billy Heyen (@Wheyen3) June 15, 2019

Xander followed with an RBI single through the right side of the infield plating Ryan O'Mara and pushing the McQuaid lead to 2-0.
Patrick Xander gives @McQuaidBaseball a 2-0 lead with an RBI single through the right side. pic.twitter.com/C8fKdDhAzm

— Paul Gotham (@PickinSplinters) June 15, 2019

"I knew he wasn't going to beat me with a fastball," Xander said of Shenendehowa starter Evan Jones. "I figured sit back, let it get there and just drive it. Got the barrel out and put a good swing on the ball. That just went my way into right field."
The senior outfielder also went 2-for-3 on the day. This after he sparked a two-run sixth inning with a leadoff double in McQuaid's 2-1 win over Frontier (VI) in the Far West West Regional.
"He was a difference maker, offensively," Fuller said of Xander. "That's how it goes. That's how we've gone. It's unbelievable having a guy like him, that nobody is really talking about or thinking about coming out and having two enormous hits like that."
Lee sparked a two-run fourth with a leadoff single.
"He's been probably one of the most underrated guys all year," Fuller said of the second baseman "He ended up hitting like .410 as seven-hole hitter. He's such a hard-nosed kid and to come through in the state championship that's testament to who he is."
Xander put runners on the corners with a base hit to right field. A wild pitch made it 4-0 and Xander scored on Ben Beauchamp's double to left field.
.@NYSPHSAA Baseball AA Championship – @McQuaidBaseball vs. @Shen_Baseball: @benbeauchamp_ RBI double to left field. Knights lead Plainsmen 5-0 in the top of the 4th inning. @PickinSplinters @Wheyen3 @baseballsectv pic.twitter.com/8vtrSESxle

— John Mitchell Likanje Junior (@jml5798) June 15, 2019

"It's anybody, any day," Beauchamp said. "Anybody can step up. Like I've been saying, seven through nine can do the same thing that one, two, three can do. That showed today.
"You don't see that. You don't see a team where everybody's doing their part, and everybody's helping the team win. That's incredible when you can get guys like that to do it."
One year after falling in the sectional finals, McQuaid climbed to the top of the state.
"There's no better feeling," Xander said. "We've been working at this months. It didn't start today. It didn't even start in March. We've all been putting in our work. Ever since that loss last year honestly. That one really hurt. Just to get back and overcome that and get here and win our first championship was awesome."