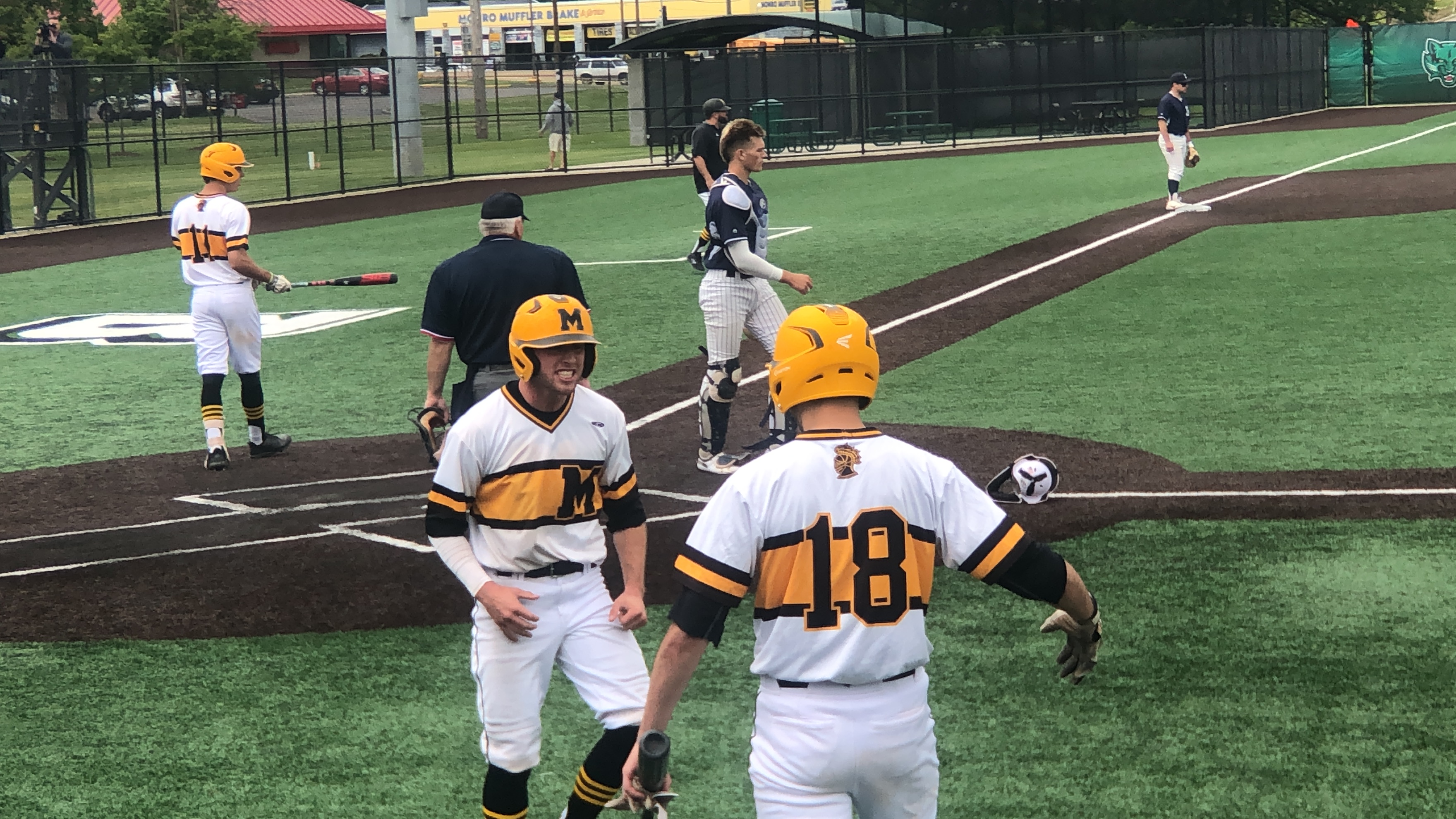 By JOHN LIKANJE
ENDICOTT, N.Y. – During McQuaid's 5-0 victory over Shenendehowa in the NYSPHSAA Class AA final, senior catcher Ben Beauchamp screamed, "Two strikes!" every time he received a pitch and the umpire called strike two.
"One of the reasons I do it is because with two strikes, coach (Tony Fuller) tells our players to make a two-strike adjustment," Beauchamp explained. "Our players, they'll take two steps in and two steps the opposite way. It's just for fun basically.
"Another reason I do it is I know I'm right in that batter's ear and I know that when I'm yelling two strikes, he's not going to forget he's got two strikes on him. When Hunter (Walsh) and Ryan (O'Mara) are out there, nine times out of ten, I think they're either going to get the third strike or get a ball in play that our team's going to make a play on."
Beauchamp kept encouraging his battery mate, Walsh, repeating, "Let's go, 10!" along with third baseman, Tyler Griggs and other players in the field as well.
"I roomed with Hunter this weekend," Beauchamp said. "Last night, our trainer came in and gave Hunter a deep tissue massage. Believe or not, Hunter gets up and he goes, 'I'm going to throw a no-no tomorrow.' And he did. That's just absolutely incredible. That's stuff you can only make up out of a book."
I love that kid more than anything. He's one of my best friends. He's not only my quarterback or my pitcher, he's one of my best friends. I spend time with him and Ryan almost every day and I love them so much."
These have been a consistent theme for Beauchamp throughout the Knights' postseason run to the state title: making sure that his teammates were always in correct position and his pitcher was as confident and comfortable as possible.
"This team is literally all energy," Beauchamp said. "From the get-go, all of us, even the young guys, everybody contributes. Even if they're not on the field, they're contributing and giving everything they've got and I couldn't be more proud."
Beauchamp did not just lead by words; the senior catcher led by example as well. In the Knights' six postseason games, the University at Albany commit went 6-for-20 (.300 batting average) at the dish with four runs scored and three RBI.
.@NYSPHSAA Baseball AA Championship – @McQuaidBaseball vs. @Shen_Baseball: @benbeauchamp_ RBI double to left field. Knights lead Plainsmen 5-0 in the top of the 4th inning. @PickinSplinters @Wheyen3 @baseballsectv pic.twitter.com/8vtrSESxle

— John Mitchell Likanje Junior (@jml5798) June 15, 2019
Behind the plate, Beauchamp led the pitching duo of O'Mara and Walsh to seven runs allowed and 47 strikeouts in 42 innings.
.@NYSPHSAA Baseball AA Championship – @McQuaidBaseball vs. @Shen_Baseball: @HunterWalsh_23 strikeout for the 2nd out in the bottom of the 6th inning. @PickinSplinters @Wheyen3 @baseballsectv pic.twitter.com/Psj1dd0uOZ

— John Mitchell Likanje Junior (@jml5798) June 15, 2019
Aside from winning a state title, Beauchamp and the 12 other seniors on the squad were committed to passing the torch to the underclassmen for the future.
"Basically, for the younger guys, we tell them 'Just watch after us,'" Beauchamp said as part of the 2017 squad whose run ended in the state semifinals and last year's team that lost in the sectional final to Victor. "A handful of us have been on the team for a few years now. We set a good example. We do stuff the right way and that's why we are where we are right now. With these younger guys, we've been telling them to just enjoy the moment. They've been soaking it all up and maybe they can go get it done next year."
Ben especially aspired to be a role model for his younger brother, Jack, who came off the bench for the Knights.
"He started a few games early in the year, but he's been key late in the season," Ben explained. "He's been coming in late in ball games. He's been playing in the outfield, getting a few pinch runs, pinch hits. He got a big double yesterday. I cannot be prouder of that kid. For him to be a part of this, for him to feel this, for him to be on this team, that just warms my heart."
Ben Beauchamp's baseball journey will continue this upcoming fall at the University at Albany.
"I'm really excited for that," Beauchamp said. "One chapter ends, a new chapter starts. I'm ready to get going in the fall. I'm ready to be the best player I can be and help Albany get to a regional, maybe even win the America East. That'd be real fun."