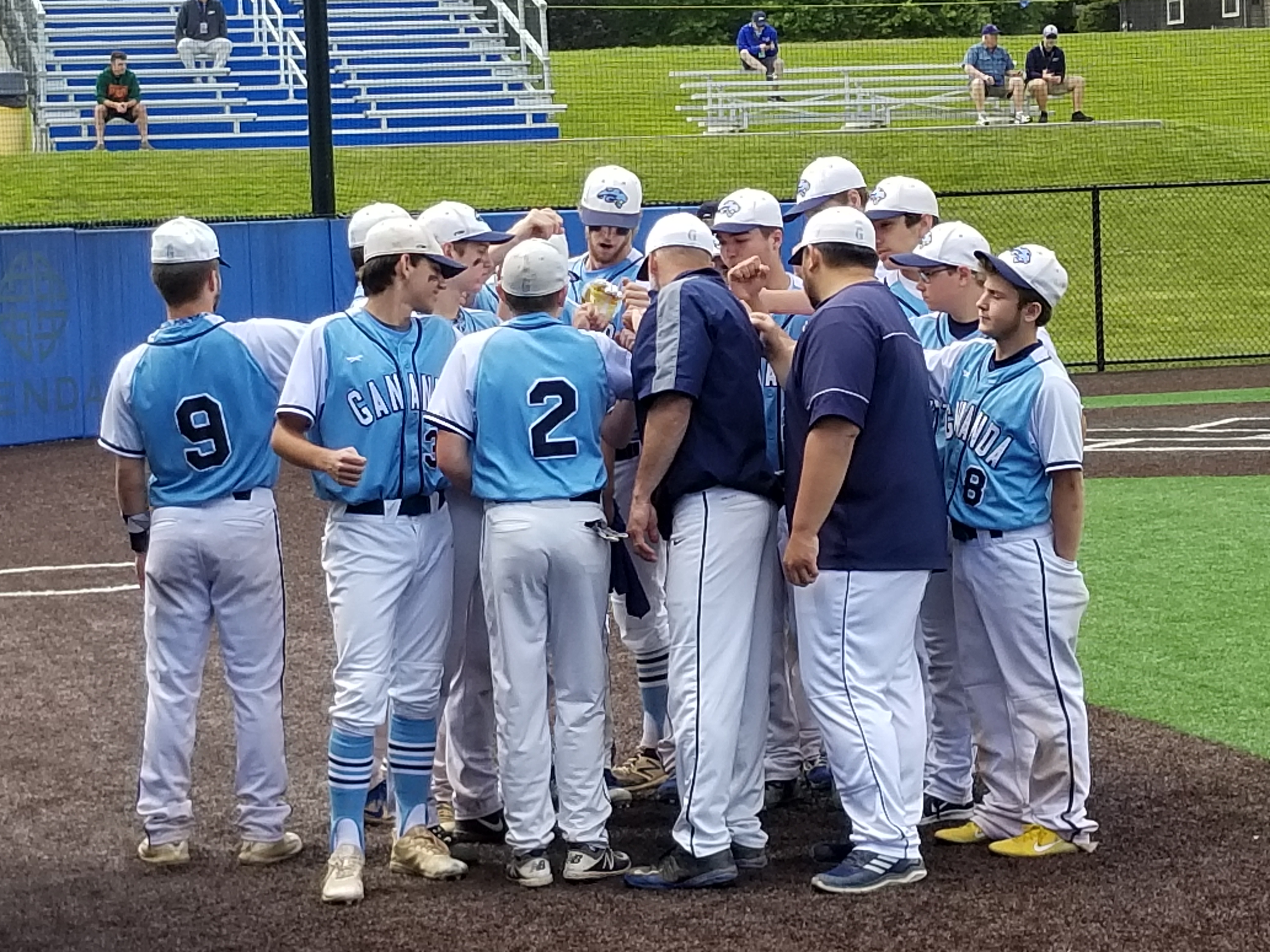 By JOHN LIKANJE
BINGHAMTON, N.Y. – In January, Bill McClare was unsure as to whether he would have a team to coach from March until June. Five months later, the Gananda head coach and his squad found themselves participating in the state semifinals in Binghamton.
"Our senior class carried us to this spot, where we are right now," coach McClare said. "I wouldn't say we were the most talented team out here, but the desire and the way our seniors led us really propelled us to this spot."
Although the end result was a 3-1 loss to Section VII champion and last year's state final runner-up, Ticonderoga, McClare did not let it ruin a historic season for his ball club.
"Right now, I'm just sort of absorbing it," the head coach said. "I'm sure on the bus ride back to Gananda, it'll be a lot of looking back and remembering what a great year it's been and all the trials and tribulations we've been through."
Senior catcher Jayden Castrechini gave his battery mate, Tim McClare, a lead before he stepped onto the mound. One batter into the game, Castrechini launched the first pitch he saw over the center fielder's head to the warning track. The senior catcher galloped around the bases, touched home plate and was mobbed by his teammates right outside the dugout.
"Yeah, it was a big play, but it was so early," coach McClare said. "Obviously, it was nice to get on the scoreboard first, but I knew we were going to be in a dog fight."
Despite battling through a popped rib and allowing five walks and three hits, Tim McClare hurled five-plus innings of two-run ball on 87 pitches. The senior right-hander struck out five batters – four looking and one swinging. McClare induced six outs on the ground and five more in the air as well.
"Guys would get on base and he would just sort of bear down and go to work," coach McClare said. "He just wants the ball and he wants to be the guy that the game is decided on."
"I was almost not going to send him back out there for the fifth and I was ready to pull him if he told me that he was in a lot of discomfort," the head coach continued. "When we walked out, he said 'Just give me one batter.' That one batter led to another and got to the clean inning."
Coach McClare explained how Tim's rib injury was not serious and an obstacle the senior has pitched through in the past.
"Not too much now, sometimes in the summers when he's pitching a lot when he was doing travel ball and everything else," coach McClare said. "He would play short all weekend and then pitch on a Sunday. It usually comes on at the end of games when he's done pitching and he ices and everything else. It's the first time he's dealt with it during a game."
"He pops a rib, so it creates a knot right under his scapula, his throwing side," the head coach detailed. "He said he felt it from the second inning on. You could sort of tell as the game went on that he was still throwing good, but didn't have the pop that he normally has."
At the plate, McClare singled to left field in three at-bats.
Senior shortstop Zach Ciprich took a pitch up the middle for his lone base knock in three plate appearances. Junior Christian Clarq doubled to right field in the fifth inning. Patrick Walsh drew a walk. Along with his home run, Castrechini was hit by a pitch as well.
For Ticonderoga, Jack Grinnell doubled twice, singled, drew a walk, drove in a pair of runs and crossed the plate once. The senior catcher launched a two-out, two-run double that brought in Monty Benedict and Terrence Benedict for a 3-1 lead in the bottom of the sixth inning.
Despite throwing single-digit pitches in two innings, Russell Gallo III tossed a complete game on 78 pitches. The senior left-hander allowed four hits, one walk and fanned eight batters – six swinging and two looking. Gallo retired seven consecutive hitters between the first and third innings.
"I thought we had some really good swings on him really all game that just went at somebody or didn't find the hole through the infield," coach McClare said on his squad's approach against Gallo. "He was a very solid pitcher. He was a challenge. He's a lefty. Threw a little harder than most of the lefties we've seen, but it wasn't harder than we've seen all year."
Michael DuShane hustled for a two-out, run-scoring infield single to tie the game at one in the third frame. The senior third baseman drew a walk among his three plate appearances.
Terrence Benedict had a pair of walks and Carson Reeves one. Monty Benedict was hit by a pitch twice.
The 2019 Gananda varsity baseball team ended the season with a 19-5 record and their first sectional title since 1999.