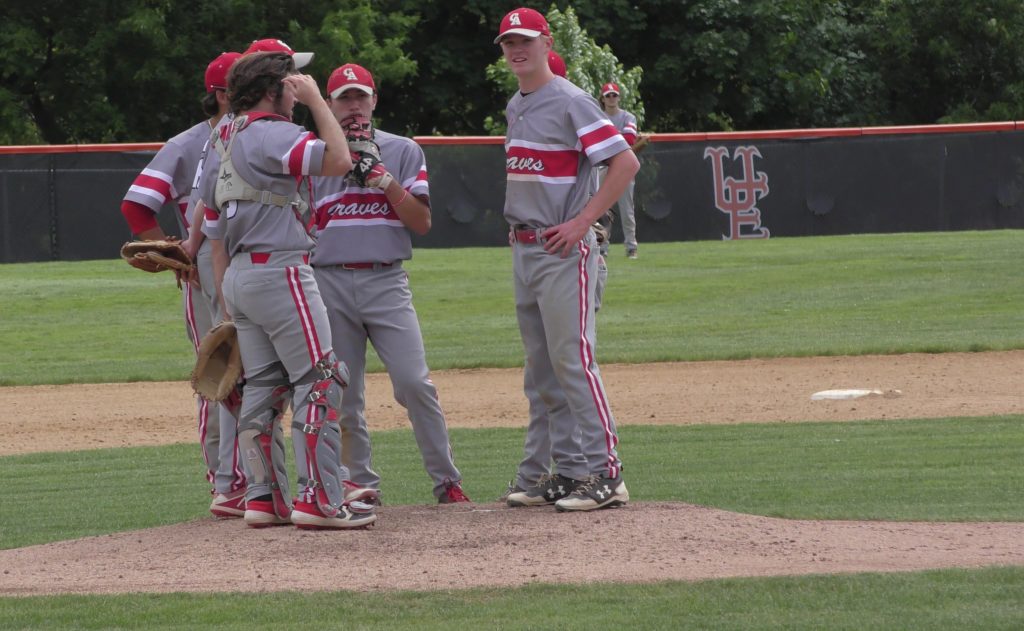 By PAUL GOTHAM
BINGHAMTON, N.Y. — Dale Werth wasn't making any excuses.
When asked about the three runners who were thrown out on the base paths during Friday's New York State Class A semifinal game, the Canandaigua Braves coach didn't dodge the question.
"We wanted to be aggressive on the bases, and they made the plays," Werth said after Canandaigua fell 5-4 to Maine-Endwell (IV).  "That was aggressive. When it doesn't work, it's overly aggressive…I can say maybe overly aggressive on that today."
Two Braves were thrown out at the plate in the game and another at third.
"If I could go back, maybe I'd hold somebody up," Werth added. "We went into it trying to be aggressive. We were going to make them make plays. They made plays. I give them credit for that, for sure."
Canandaigua fell to 18-8 with the loss – their second straight in the state semifinal round.
Eight days ago, Maine-Endwell knocked off the state's top-ranked squad, Lakeland (I) to reach the quarterfinals. Friday they scored four runs off Canandaigua ace Michael Sculli who had allowed just one earned run this season.
Luke Pawlicki gets @cabravebaseball on the board with a one-out single. Going to the 5th CA trails 4-1. Braves have had 2 thrown out at home and another at 3rd. pic.twitter.com/WwnDyf76ua

— Paul Gotham (@PickinSplinters) June 14, 2019
"You got to give them credit," Werth said of the Spartans. "Their approach at the plate was good. You can tell they're a well-coached team. They executed well."
Rylie VanFleet led the game with a single. Michael Mancini walked and scored on a two-out single when Maine-Endwell starter Adam Rutkowski helped his own cause with a double.
Sculli had allowed just two hits in Canandaigua's 11-0 win over Kenmore West (VI) in the Far West Regional. Maine-Endwell stung the senior lefty for three hits in the first inning.
The damage could have been worse had it not been for Cooper Crunick who took away a sure hit on a line drive up the middle and doubled off VanFleet at second.
Maine-Endwell gets the first two on base via a single and a walk. Cooper Crunick grabs this line drive and doubles off the runner at second, but Spartans string together 2 hits and strike first. @cabravebaseball come to the plate trailing 1-0. @baseballsectv pic.twitter.com/jod9Zfkybd

— Paul Gotham (@PickinSplinters) June 14, 2019
"They're good hitters, one through nine," Werth said of Maine-Endwell. "There was nobody that was an easy out in that lineup. They put a lot of pressure on you because they put it in play. They can use the whole field."
Canandaigua did rally in the fourth. Seth Vigneri's three-run home run, his third home run this postseason, made it a 5-4 game with one out in the fifth.
"That home run from Seth was awesome, brought us back to within one," Werth said. "At that point I'm thinking Hey! momentum's changed. We seemed to have that pitcher rattled."
The Braves did not manage another hit against Rutkowski.
"Give him a lot of credit," Werth said of Rutkowski. "He settled down and threw great those last two innings.
"We got him flustered a little bit in that fifth inning when we scored. The way he settled himself was very impressive."
Luke Pawlicki got Canandaigua on the scoreboard in the fourth inning with a one-out single. Sculli singled to start the rally and moved to third when Caden LeFave's drive to the warning track in left center was dropped. Pawlicki lifted a base hit to right for the RBI. The Braves eventually had runners on second and third but could not capitalize any further.
Canandaigua trailed 4-1.
"I'm proud of their effort," Werth said of his team. "Down early, there was no quit in these guys."
Crunick relieved Sculli in the sixth and faced the minimum over two scoreless innings.
Maine-Endwell will face the Sayville (XI) – Ballston Spa (II) winner in Saturday's championship game.