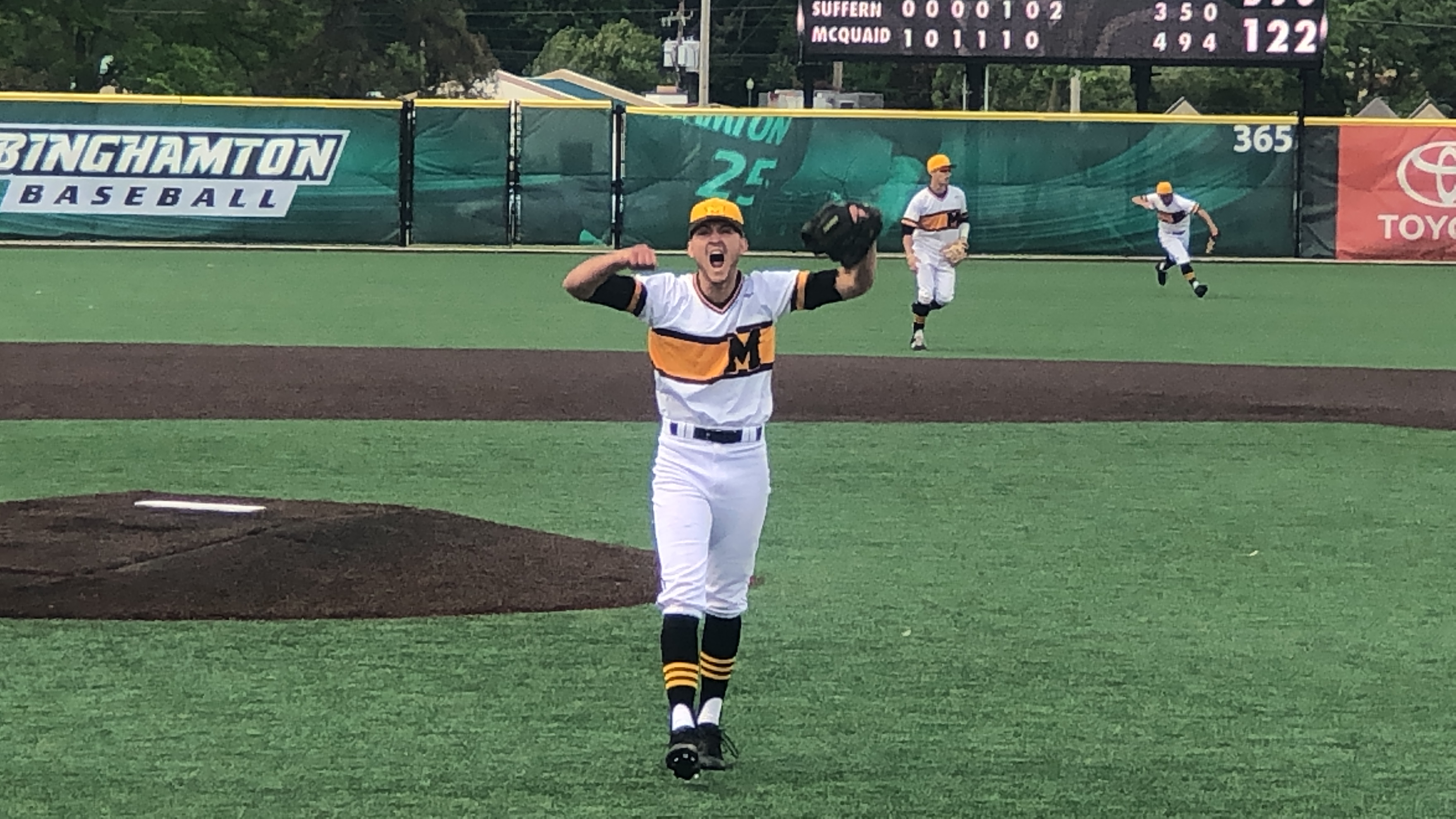 By BILLY HEYEN
VESTAL, N.Y. – There's basically one way to get out of a runner on third, no outs situation, McQuaid catcher Ben Beauchamp said. With a one run lead in the top of the seventh Friday, that's what Knights' righty Ryan O'Mara faced.
On a day when many wouldn't have expected O'Mara to even start, what Beauchamp envisioned is what O'Mara did: strikeout, strikeout, flyout to left field. Ball game. As the final out was made, O'Mara turned toward his dugout on the first-base side, raised his arms to the air, threw his glove and was mobbed by his teammates.
"That was the football player in me," O'Mara said. "I brought it out, and I was all hyped up. It was awesome. That was awesome."
O'Mara's complete game led McQuaid to a 4-3, Class AA state semifinal win over Section I's Suffern. He was supported by a Tyler Griggs home run and some of the usual runs created on the basepaths by the Knights. Not only does the win send McQuaid to Saturday morning's state final, but it does so with ace Hunter Walsh fully rested and ready to take the ball.
"Can't wait for tomorrow morning," McQuaid head coach Tony Fuller said. "I think we'll be in a good situation with Hunter on the mound. We're where we want to be. We're just gonna keep playing our game and pitch, inning at a time, and try to finish it off."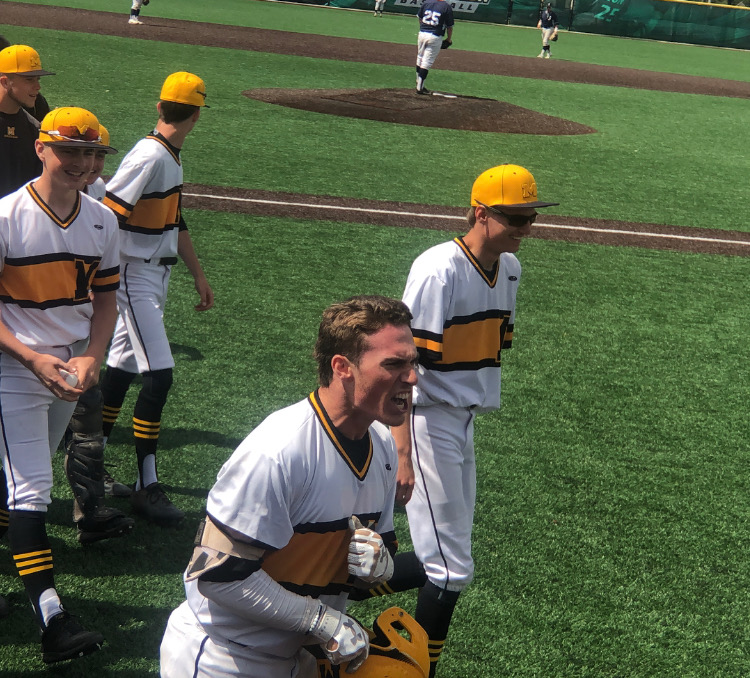 The decision to start O'Mara would be considered a calculated risk. Walsh had won the sectional final and Far West Regional for the Knights. O'Mara hadn't pitched in-game since the sectional semifinals on May 30. But teams head to the final four with a state championship in mind; pitching the number two arm in game one, if it works, might give a leg up to winning the whole thing.
Fuller wanted Walsh to get an extra day of rest, too. Even in the late-inning jam, the Knights' arm in the bullpen wasn't Walsh. O'Mara found out Friday morning he was going to start, and it was just the first calculated risk that paid off for McQuaid on Friday.
"I knew a couple days ago to mentally prepare like I was gonna start," O'Mara said. "I went through all my pregame last night, and I got the call this morning."
In the bottom of the first, Beauchamp led off with a single into left for McQuaid. He stole second on the third pitch to the following hitter. After a bunt popout, Beauchamp still led off second as Griggs laced a ball to center field. Fuller had noticed in warmups that the McQuaid outfielders were having trouble throwing into the wind.
The McQuaid head man had also tested a baserunning play in their last regular season game, waving Noah Campanelli home from second on a fly ball to center. It didn't work then, but as many of his moves have, they gained his players' awareness and trust.
Beauchamp first started to fully buy-in to Fuller's maneuvers when a five-man infield paid off in Beauchamp's sophomore year. Friday, Beauchamp started to stutter as he approached third base and the waving right arm of Fuller. Beauchamp almost fell. But instead, as a lazy relay throw was tossed into second base, Beauchamp raced home and slid headfirst with the opening salvo.
Tony freakin' Fuller. Wheels @benbeauchamp_ home from second on a @tylergriggs34 deep fly. 1-0 @mcquaidbaseball in bottom one. @PickinSplinters pic.twitter.com/fmPKj9jBBt

— Billy Heyen (@Wheyen3) June 14, 2019
"(Fuller) has the biggest balls of anybody I know," Beauchamp said. "He literally wins us ball games just by his big decision-making. You don't see that anywhere else… I take everything he says like it's scripture. He's an absolute baseball genius."
The Knights scored again after Suffern opted to intentionally walk Griggs in the third with one out and Beauchamp on third. The very next pitch, Griggs broke for second, the throw went through, he was safe, and Beauchamp again scampered home to score and flex for his oncoming teammates.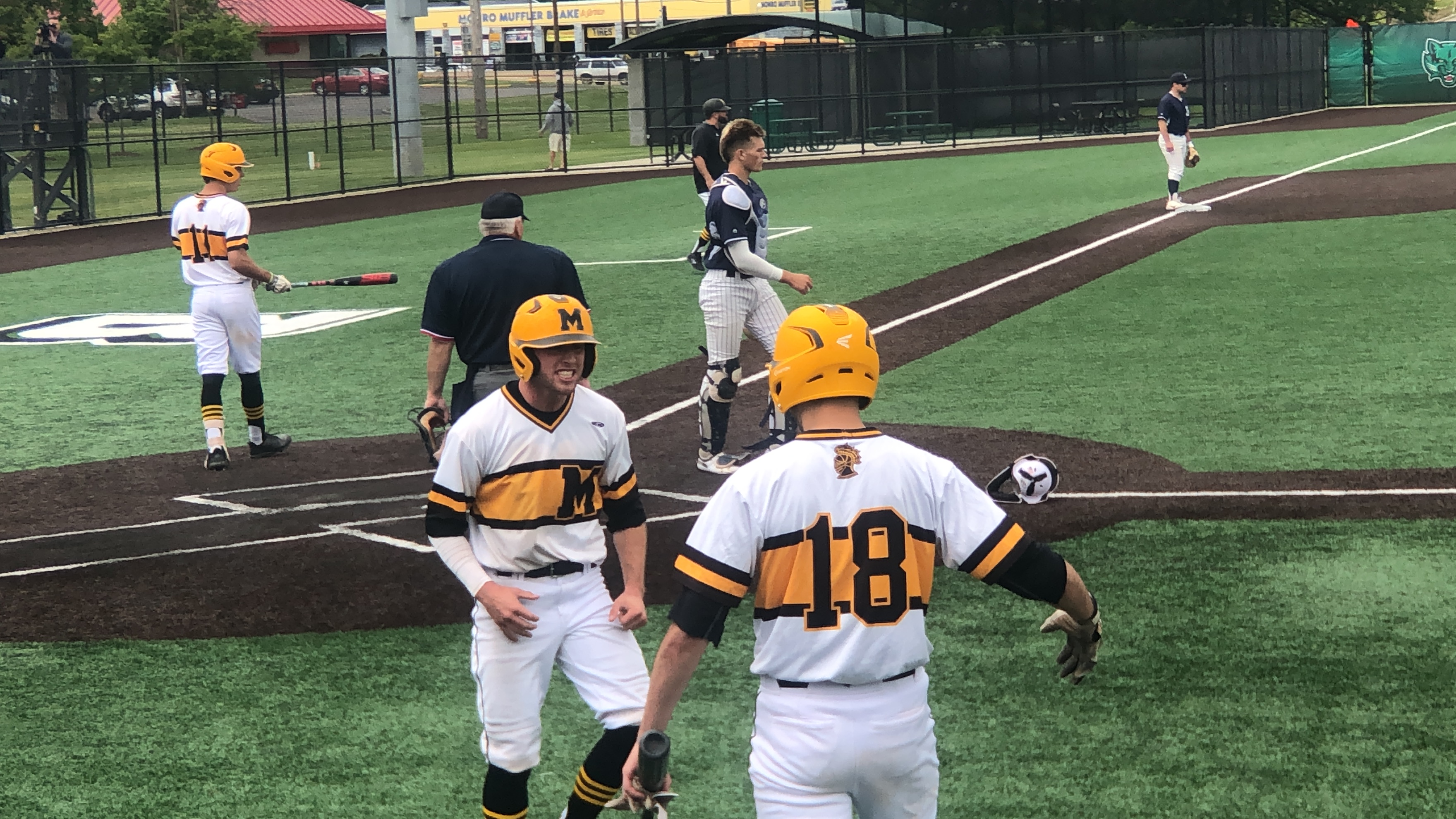 A pinch-hit single from Christian Blatter in the fourth made it 3-0, and O'Mara, for the most part, continued to deal. He's a slider-heavy pitcher, throwing it on more than half of his pitches. It sets up his fastball to look 90 miles per hour, Beauchamp said, even though it's not nearly that quick. On O'Mara's strikeout to end the top of the fourth, that's what happened. He'd thrown two sliders for the first two strikes, then high heat to finish the encounter.
"It proved, too," O'Mara said. "… I hadn't really thrown a lot of fastballs this game, so it just made it look like it was high heat, even though really it was nothing above average. With the slider, it just makes it look even faster."
Suffern pushed one across in the fifth, but Griggs answered with one out in the bottom half. After he was made to take off a gold necklace, causing a delay, a younger Griggs may have gotten into his own head. Not a senior Griggs, though. The first pitch went flying out faster than it came in, having just enough juice to pass beyond the right field fence. A minute or so later, Griggs told one of his teammates: "He was trying to ice me. I don't get iced."
A little delay as they make @tylergriggs34 take off his necklace. No worries as he goes DEEP. 4-1 @McQuaidBaseball in bottom five. @PickinSplinters @jml5798 pic.twitter.com/ckFNpEkTBV

— Billy Heyen (@Wheyen3) June 14, 2019
That homer turned out to be a decisive blow. O'Mara didn't begin the seventh ideally, walking the nine hitter before an error by the second baseman put two on. Mounties' catcher Jack Scanlon turned on a ball into the right-field corner, a two-run triple to bring the game within one. Suffern pinch-ran for Scanlon, and he went to warmup to pitch the bottom half, with the tying run almost a sure thing.
Almost. Again it was O'Mara's slider that did the business, striking out the first two batters swinging. And the flyout to left ended it and let the celebrations ensue.
"This is what I've been dreaming of since my freshman year," O'Mara said. "To get to experience this my senior year, it's the best feeling in the world. Just the whole experience, traveling down and everything, this is just amazing."
The Knights will play for their first-ever state championship on Saturday at 10 a.m. Their ace will be on the mound. It's where they've wanted to be all year. Two weeks ago Saturday, Griggs said that McQuaid's biggest goal is a state championship ring. Now, the Knights will have a chance to see if the ring fits.