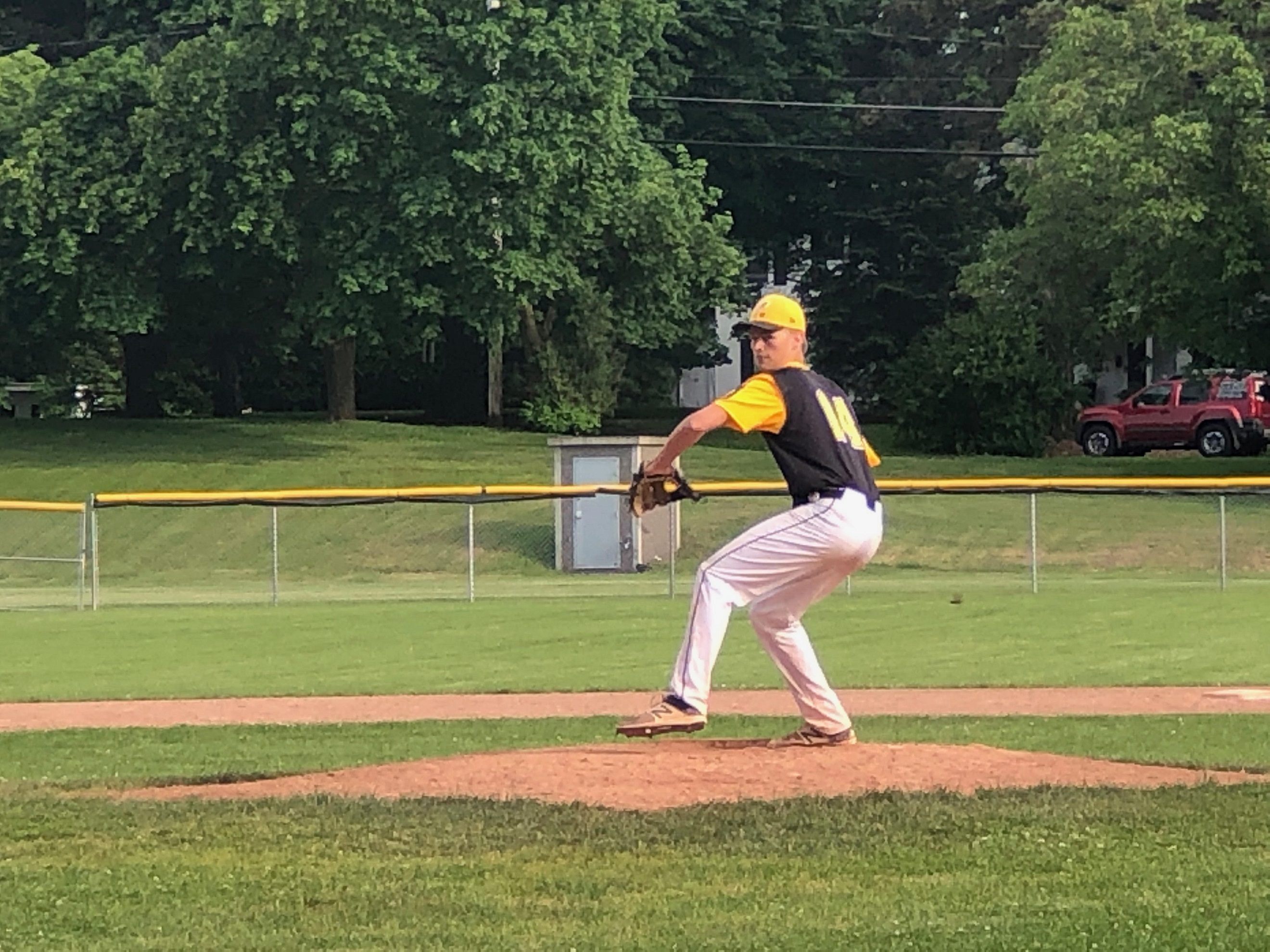 By BILLY HEYEN
PITTSFORD, N.Y. — A year ago, when Rayson Miller Post came up two wins shy of the state American Legion title, head coach Tom Sapienza's team was an arm or two short. He took that into account when putting together this year's group.
If Wednesday's game was any indication, the arms that took the hill and those that weren't even needed might get a chance to change that narrative this year.
"We like all the arms we have," Sapienza said. "The trick is to keep everybody feeling like they own this."
Three Rayson Miller pitchers combined on a 7-0 shutout of Braman Post at Pittsford Sutherland High School. Hayden Smith threw the first four innings, followed by an inning from Colin Smith and the final two frames from Joey Kench. Some of last year's aces, like Lukas Haefner and Maxx Countryman, played up the middle of the diamond and didn't take the mound. After being state runner-up a year ago, Sapienza thinks his team wants more.
"The older guys, they want to get back," Sapienza said. "And they understand, if they're gonna get there, the younger guys gotta contribute and feel good. I'm very pleased with the way it seems to have come together."
Hayden Smith, a junior from Honeoye-Falls Lima, started for RM on Wednesday. He hadn't pitched since the school season ended almost two weeks ago, so Sapienza didn't push him too deep into the ballgame. But while he was out there, Hayden Smith was sharp.
His fastball popped catcher Andrew Sanchez's glove, using the outside corner to great effect. Then Hayden Smith would go to the power curveball, consistently throwing it for strikes. He only ended up with three punchouts, but he forced a bunch more swing-and-misses early in counts.
"Felt like I was hitting spots good, and I thought my team picked me up really well," Hayden Smith said.

Colin Smith spent time as a reliever for Pittsford Mendon this season, and he came on for the fifth for Rayson Miller. Colin's older brother, Grady, had been a stalwart of the RM rotation a year ago but isn't on the team this year. So Colin stepped in as Sapienza's Mendon 'Smith.' He allowed two base runners, via an error and a walk, but painted his fastball for a strikeout to end the inning.
Paint from Colin Smith (@mendonbaseball) to end top five and strand two in scoring position. 5-0 Rayson Miller. @PickinSplinters pic.twitter.com/zxPNdnsoac

— Billy Heyen (@Wheyen3) June 12, 2019
Joey Kench, from Rush-Henrietta and Tompkins Cortland Community College, closed out the win. His motion was different from the two Smiths, starting low and sidewinding in his delivery. But he too was effective, working out of a bases-loaded jam in the sixth before finishing the seventh 1-2-3.
"It feels good that someone does a good job, you tip your cap, then all of a sudden you've got someone else throwing heat," Hayden Smith said. "You feel pretty confident with that."
Another new face, Peyton Parmeter (Avon/Corning CC), delivered an RBI single in the first inning roped right back up the middle. Haefner laced a run-scoring double to left center later on, as did the left-handed hitting Hayden Smith after he failed to get a bunt down. Pete Taylor (Avon) executed a squeeze bunt to perfection in the middle innings, too.
Overall, it was an easy day at the park for Rayson Miller. A couple of errors weren't anything to stress over because their pitchers could work out of jams. RM tried out its patented "clip play" with Parmeter on first and a runner on third, and after he'd intentionally tripped, Parmeter stood up into second. That, coupled with the squeeze and some backpick tries to second base, showed Rayson Miller's going to have a few tricks up its sleeve as the games get more competitive.
Really, though, Wednesday was what Sapienza hopes will continue this season. Whoever he gave the ball to did their job, put up a zero, and got it to the next guy. As soon as a doubleheader meeting with red-hot James Cooke on Sunday, that pitching strength could matter. And if RM wants to one-up its team from last year, the bevy of arms certainly will matter.
"It's a great learning experience for me to see these new guys, never having caught them, and have to catch them for this whole season," the catcher Sanchez said. "I'm getting comfortable with it, and it's exciting."