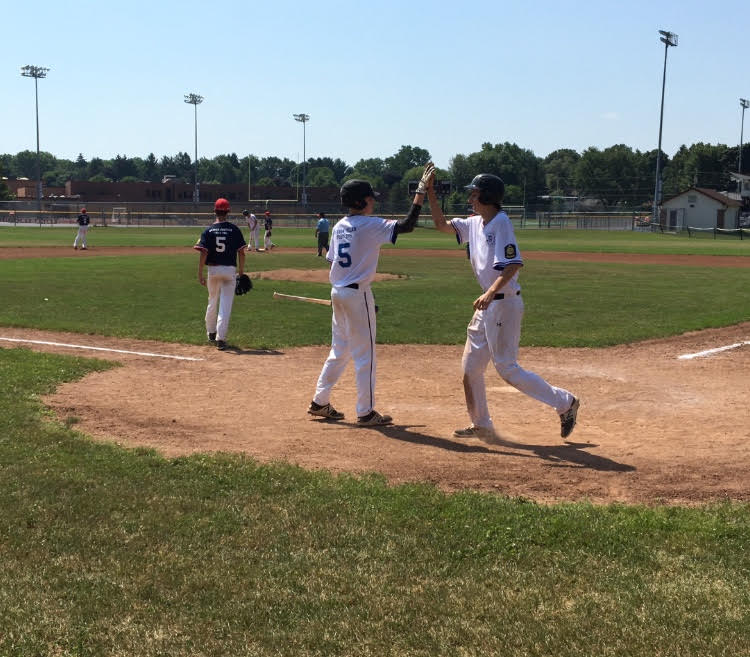 By BILLY HEYEN
EAST ROCHESTER, N.Y. — Rayson Miller Post had yet to score a run off Zach Salisbury. Runners stood on first and third with two outs in the fourth. Colin Smith had just gone to courtesy run at first for Rayson Miller's catcher. On an 0-1 pitch to Grady Smith, Colin Smith appeared to trip leading off first base, but Grady Smith fouled it off.
On the next pitch, a ball, Colin Smith tripped again, on purpose.
"I kind of wanted to get in a run down," Colin Smith said. "Get him going, maybe juke him. It's a fun play to run."
It was what Rayson Miller calls the "clip" play. Tom Sapienza, coaching third base, had told Smith to look for the sign as he headed to first. When he tripped, the second time, Brooks Shepard catcher Andrew Wallman chased him down all the way toward second base but then threw the ball over the shortstop's head. AJ Nestler came home to score. The play manufactured the run Rayson Miller needed.
"It didn't go perfectly the way we practice it," Sapienza said, "but it had the happy end result."
Rayson Miller gets on the board first with some trickery on the base paths. That's Colin Smith of @MendonBaseball getting himself in the rundown by doing the worm (?). @PickinSplinters pic.twitter.com/KC1JDBbVrC

— Billy Heyen (@Wheyen3) June 30, 2018
From that point on, Maxx Countryman had the support he needed to pick up yet another win. He pitched five and two-thirds innings and allowed a sole run on a Noah Gerlach homer. Countryman added two hits of his own. And on a day that all players wore No. 5 on their backs to remember Brenton Jacob, a former East Rochester and Brooks Shepard player who passed away in 2013, Rayson Miller just piled on from that manufactured run to win 7-1 on Saturday.
Early on, the game looked headed for a pitchers' duel. Salisbury and Countryman matched each other with zeros through three frames. Countryman's control was off early, but he eventually found it and was able to escape a couple jams due to walks.
"It's a tough day all around," Countryman said. "It's a hot, hot day. That mound, it's flat and it didn't seem to work with my mechanics. It didn't agree with me. You can't let it get to you."
The first hit for Brooks Shepard came in the third, courtesy of a frozen-rope double by Gerlach over the left fielder. But Countryman stranded him with one of his eight strikeouts, all of which came on the fastball, and then a popout to himself.
In the next half inning, Rayson Miller got on the board. AJ Nestler hit a double down the right-field line with one out. He moved to third on a groundout, which was followed by a Joe Butler walk. Colin Smith pinch-ran for Butler. Then, he tripped. The floodgates didn't quite burst open, but they began to widen.
Lukas Haefner led off the fifth for Rayson Miller with a single and a steal of second. After Salisbury got two outs, Countryman delivered to help his own cause by reaching out to single into centerfield and bring home Haefner. He was caught trying to stretch it to two, but he'd doubled the lead and, as it turns out, put the game out of reach.
"Little slappers," Countryman called his two hits. "Guys on, advance them at least. Try and score them and tack on as many as you can."
Maxx Countryman reaches out and singles in Haefner. Ump calls him out at second to end top five, ball beat him but probably didn't beat foot. 2-0 Rayson Miller after four and a half. @PickinSplinters @livcosports pic.twitter.com/mBdLzDbSFj

— Billy Heyen (@Wheyen3) June 30, 2018
Rayson Miller scored another run in the sixth, courtesy of three walks and an error. Then in the bottom of the sixth, Gerlach got a hold of one again. He hit this one even deeper to left.
It wasn't initially apparent whether the ball was gone. The fence is directly next to a batting cage, so the netting and fence kind of blend together. But when the leftfielder put his arms up, Gerlach knew he'd hit it out, and he rounded the bases with Brooks Shepard's only run of the day.
"I knew as soon as I let go of it, I was like, oh no," Countryman said, then added the last time he gave up a homer: "Years. I don't remember."
Noah Gerlach takes Countryman deep. 3-1 Rayson Miller. Here's the celebration for Brooks Shepard. @PickinSplinters @FCSDSports pic.twitter.com/NhOwH9dL87

— Billy Heyen (@Wheyen3) June 30, 2018
The floodgates did burst in the seventh, as John Mason drove in one run on a single before Butler crushed a bases-clearing double to the left field wall. Sam Cestra closed it out for Rayson Miller in the bottom half, and the league leaders had another win.
The day meant more to that to the people involved, though. The rivalry between Brooks Shepard and Rayson Miller was fierce when Brenton, a 2004 East Rochester graduate, played for Brooks Shepard. For the sixth annual Brenton Jacob Memorial, the organizers were finally able to bring the rivalry back together for the first official league game to take place as part of the memorial.
All the players wore No. 5, Brenton's number. The game took place at East Rochester High School's field, where Brenton played his high school ball. There were fundraisers to raise money for the Brenton Jacob Memorial Fund, which states "our mission is to create opportunities for children to play community sports." There was still a charity home run derby and softball game to come. Sapienza appreciated the way that American Legion baseball brought these people together.
"What's really nice about it is that this young man, who passed away, was a Legion player," Sapienza said. "And the one who has been instrumental in putting it together, played Legion ball with him. My coaches are Legion players. What's kind of nice is seeing Legion players giving back. This purpose, this memorial fund, we were just thrilled to be invited."