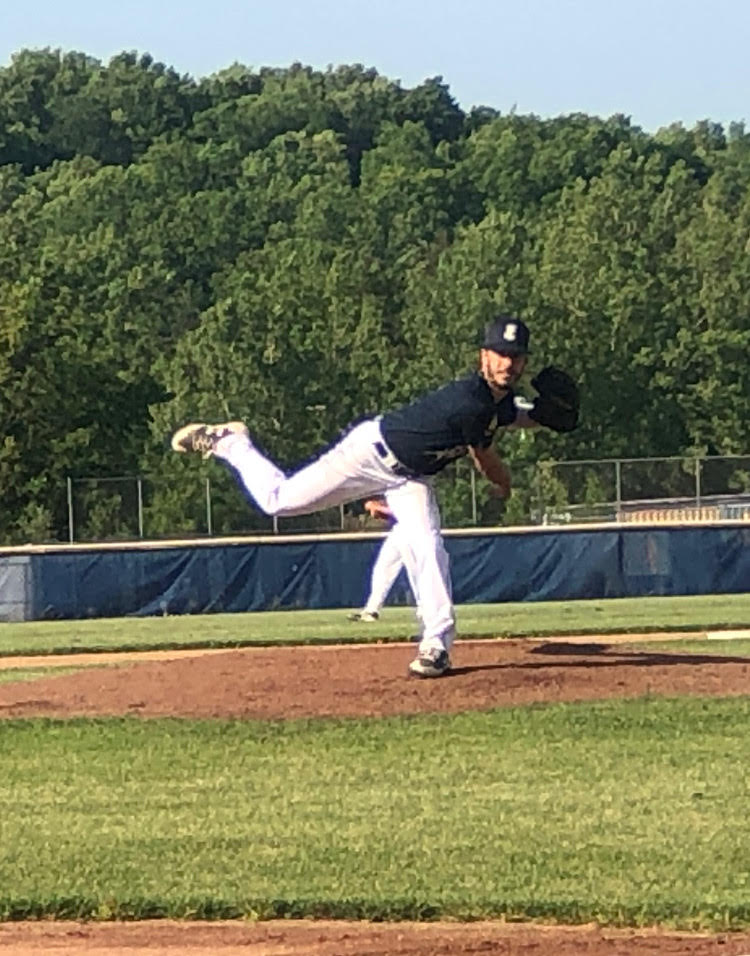 By BILLY HEYEN
VICTOR, N.Y. — It'd been almost a year since Owen Delforte had pitched in a game on the Victor High School mound. He'd been in the rotation for the 2018 sectional champion Blue Devils and pitched in American Legion ball last summer.
It'd also been almost a year since he'd pitched in a game at all, prior to last Friday. The Victor-alum didn't play ball as a freshman at MCC. Delforte has returned, though, playing Legion for James Cooke Post and just getting back into the swing of things.
"Coming back and going full force, it's tough," Delforte said. "But my arm will get there. It'll get there."
Delforte went four innings on the hill, earning the win in James Cooke's 9-5 win over Doud Post on Tuesday. He also contributed a two-run double as part of the fifth-straight game in which James Cooke put up at least nine runs. James Cooke becomes the first District 7 team to five wins with the victory.
"Having guys like this, top half of the lineup doesn't hit, bottom half of the lineup does," James Cooke coach Joe Kurnath said. "That's a team that'll be successful. I'm happy that all these guys are getting hits because like I said before, it's all about proving to themselves that they can do it."
Delforte's always been a good athlete, Kurnath said after Tuesday's game. But a year off from anything can cause rust on the transition back into it. The build-up back into pitching has been more difficult, Delforte said.
Last Friday, he threw just more than 40 pitches but struggled with command against Braman Post. Delforte walked four in 2.1 innings of work before Kurnath took him out, Delforte's right arm needing time to regain stamina. Much of his struggle came from an inability to get on top of the baseball, a sign that his mechanics weren't all back in sync.
In Tuesday's first inning, Delforte appeared to have synchronized the moving parts, working a 1-2-3 frame on 13 pitches with a good curveball for a looking strikeout. The erraticness returned in the second with three walks and a hit batter, but Delforte settled back in to work scoreless third and fourth innings.
Delforte works a 1-2-3 first. Colucci to the hill for Doud Post. @PickinSplinters @vshsbaseball pic.twitter.com/aJD9yLYSDS

— Billy Heyen (@Wheyen3) June 11, 2019
That's how it'll be for Delforte as he works to return to form: a bit bumpy.
"Started out great, loved him attacking the zone early and often," Kurnath said. "…Second inning got a little bit wild. But then settled down for the third and the fourth, which is nice. Just a big confidence booster for him."
The James Cooke bats were more than enough to support Delforte on Tuesday evening, though, maintaining a hot streak that's now seen James Cooke score 74 runs across its past five contests. Danny Melendez had the first big blow, a run-scoring triple over right field. In the fourth, Timmy Keohane flew a triple over the right fielder to score a run.
And right in the middle of the hitting, there was Delforte shaking off the rust in the batter's box. He took a third inning, 1-0 pitch and lined it to left center. As he stepped out of the box, Delforte gave his bat a good flip toward his dugout. He laughed about it afterward.
"I usually stay pretty aggressive at the plate," Delforte said. "If I see a pitch, I'm gonna swing at it. So I saw one, and I just pieced it up."
Owen Delforte flips the bat after smoking a two-run double to left center. 6-2 James Cooke after three. @PickinSplinters @jml5798 @vshsbaseball pic.twitter.com/wz8wIPYuTq

— Billy Heyen (@Wheyen3) June 11, 2019
As Delforte works his way back into baseball, his appreciation of an opportunity to play again is evident on his face. Delforte's the player who snatched the sectional trophy and raced off to scream toward his Victor fans after the Blue Devils' title in 2018. His mound persona has always been stoic, often turning into a scowl.
But it's in the off-moments, before and after the game, between innings, when Delforte can take it in. He's back on his high school ballfield, with many of his high school teammates, pitching and hitting and simply stepping between the lines.
"Just happy to be out here again," Delforte said after the game.
And as he spoke, Delforte couldn't help but smile.