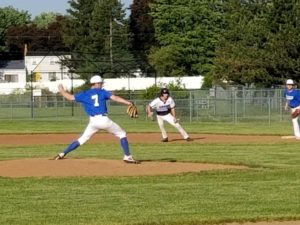 By JOHN LIKANJE
GATES, N.Y. – Ten days ago, Jayden Fayad was competing for a sectional title with his high school. Now, the Eastridge senior has transitioned to summer ball and brought his hot hitting along with him. Fayad collected five hits in five at-bats to lead Irondequoit Post to a 13-2 victory over Greece Post, Tuesday evening, at Gates-Chili Middle School.
"We just hit better early on in the game," Irondequoit Post coach Andrew Bonano said. "Yesterday, we had some guys put some good swings on, but it was right at somebody and they made some good plays. Today, they responded by finding holes, finding some grass and we were able to put some runs and our pitching was a little better today."
Fayad connected for five singles – three of which did not leave the infield. The senior shortstop sparked a six-run sixth inning by hustling for an infield hit to lead off the frame. After being caught stealing twice earlier in the game, Fayad stole second base and scored on Reece Correa's second base knock to give Irondequoit Post a commanding 8-2 advantage.
Eight batters later, in the same inning, Fayad came up to the dish and beat out a chopper to third base for his fifth hit of the game.
"He's (Fayad) one of the better players in high school baseball around here," Bonano said. "He's a really good baseball player and he has really good at-bats and he knows the game.
"A lot of kids don't really know their strike zone all too well and they just go up there taking hacks," the head coach continued. "He knows the zone really well and he knows what pitches he can handle and what he can't. He'll foul balls and get the pitch that he wants."
Fayad had a pair of RBI as well. In the fourth inning, the senior ripped a 1-0 pitch through the left side of the infield and brought in a run as Irondequoit Post took a 4-0 lead. Fayad would get caught in a rundown, but gave junior pitcher Caleb Delly enough time to steal home and extend the lead to 6-0.
Jacob Russo singled three times, drove in a pair of runs and crossed the plate once. The junior catcher had a sacrifice fly to bring in Frankie Fernandes as part of a three-run fourth.
"Yesterday, him and I, we worked in the cage before the first game," Bonano explained. "One of his at-bats, he got down 0-2 on swinging at pitches low and outside. That's not something he can handle. But he can handle the pitches up in the zone and he showed that with the fly ball. He had a couple of hits today."
Delly and Fernandes both drew two walks and scored a pair of runs. Delly was hit by a pitch twice and swiped three bags. Fernandes doubled in Nick Calarco in the fifth inning, reached on a fielder's choice and stole a base as well.
Correa sliced a double down the left field line and scored on Russo's base hit in the opening frame. For the game, Correa went 2-for-4 at the plate.
On the mound, Delly hurled five innings and allowed two unearned runs to notch the victory. Despite allowing five walks and four hits, the junior left-hander had two strikeouts and three double plays. Delly induced four outs in the air as well.
"He's a lefty that is not going to overpower you," Bonano said about Delly. "He's relying on his pitch location and he was able to throw his fastball and curveball and keep it low and keep them a little off balance. He's not blowing it by anybody, but as long as you throw strikes and with the defense that we're going to roll out here every single night, you're going to be successful."
For Greece Post, Jack Berbert singled twice in three at-bats. Mike Ruta and Isaac Yorkey both drew a pair of walks. Ruta reached on an error.
Nate Yantz singled to left field and hit a fly ball to center which was dropped and allowed Joey Alphonse and Yorkey to score in the fourth inning to cut the deficit to 6-2.
These squads will meet for the third straight game Friday at 6:00 PM at Eastridge High School.