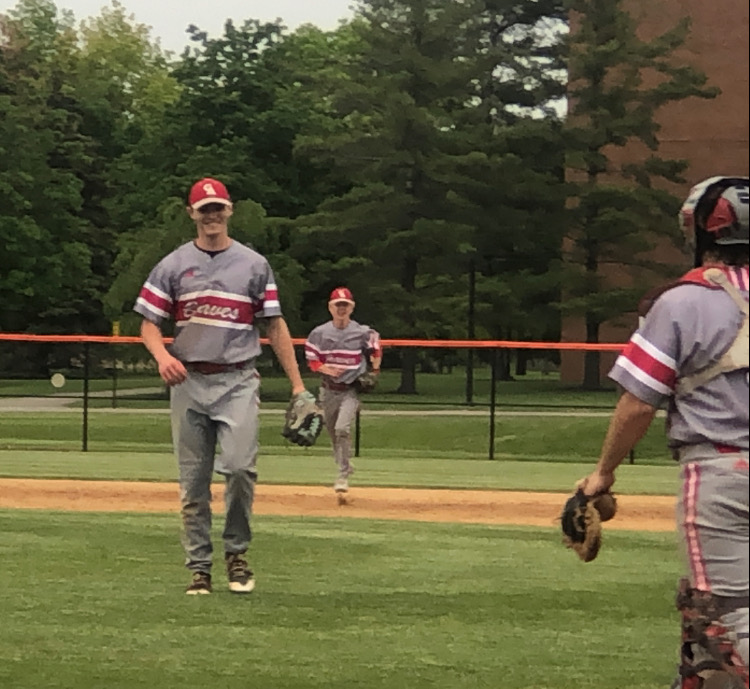 By BILLY HEYEN
HENRIETTA, N.Y. — Canandaigua's Cooper Crunick wished he hadn't noticed the Pittsford Sutherland hit column. Late in Tuesday's game, the Braves' pitcher had been thinking to himself that the 11 hits his team had amassed was impressive. But then, beneath that number, he saw it: 0. Crunick was throwing a no-hitter, and he'd just realized it.
That meant that in the seventh, when a blooper threatened to drop fair down the right-field line, Crunick was extra worried about it. He said he'd rather have not known and only realized it if that ball had turned into a hit. But it fell in foul territory, and on the next pitch, a popup found a Canandaigua glove to complete Crunick's feat.
"I believe in the mindset rather than superstitions," Crunick said. "I just thought maybe I would try not to change anything, and knowing that, I didn't want to change anything in my delivery or how I was pitching."
A no-hitter for @CooperCrunick ‼️ 11-1 @cabravebaseball @cabravessports beats Sutherland to advance to the Far West Regional. @PickinSplinters @jml5798 @BravesSupt @cabraves pic.twitter.com/9UXJpfJKwk

— Billy Heyen (@Wheyen3) June 4, 2019
With Crunick throwing his second no-hitter of the season — he's allowed one hit total in his last three starts — Canandaigua beat Pittsford Sutherland, 11-1, to represent Section V Class A in the state tournament. Crunick was aided by a Seth Vigneri home run and hits up and down the lineup. The win sends the Braves to the Far West Regional on Saturday, where they'll face Section VI champ Kenmore West. Their pitching, as it has done all season, will give them a chance.
"We always like playing with our backs against the wall and playing with the incentive that if we lose, we don't get to play anymore," Crunick said. "So why not just keep playing with our teammates, our friends?"
Before Crunick could even take the hill, he'd have a lead to work with. Crunick led off with a walk and stole second. That brought up Seth Vigneri, who's been locked in during the postseason. In the sectional semifinal, it was a Vigneri grand slam that accounted for all the Canandaigua runs.
Vigneri worked a deep count against Sutherland starter Nick Provenzale, seeing everything the righty had to offer. And on the eighth pitch, the Braves' catcher jumped on a fastball up in the zone, turning on it to lace a two-run shot to left field.
"I'm just feeling my swing right now, it feels great," Vigneri said. "… I was just thinking contact but he left one right over the middle, a mistake, and I took advantage of that."
Good start for @cabravebaseball. On the eighth pitch of the at bat, Seth Vigneri @sethyv18 hits a two-run HR. 2-0 Braves in top one. @PickinSplinters @CABravesSports @BravesSupt pic.twitter.com/CgidevdKlv

— Billy Heyen (@Wheyen3) June 4, 2019
Crunick's plan, only buoyed by an early lead, was to stick with his fastball the first time through the Knights' order. He figured he'd save his breaking stuff for later on. But he couldn't command his mid-80s heater, hitting two of the first three batters he faced. Then Crunick threw the ball away after it had deflected off of him, giving Sutherland it's only run of the game.
Plan aborted. Crunick's final five pitches of the first innings were tight, sweeping curveballs. The first was swung at and missed. The second was a looking strikeout. And the final three were all stared at for another punchout. His early struggles had revealed the real recipe.
"I thought maybe I could blow it by (early)," Crunick said. "Probably wasn't the right move. I didn't have command of the fastball, so then I started using the curveball… It started clicking and whatever happened from there, started getting into a groove, feeling good."
In Crunick's no-hitter two starts ago, against Greece Athena, he actually took the loss. The Trojans scored one run, and the Braves couldn't match it. But Tuesday, the Binghamton commit wouldn't have to worry about a lack of run support.
The Braves added three runs in the third and four more in the fourth to break the game wide open. That stretch included an RBI double by Joe Brinza, an RBI single for Dylan Mackenzie, a two-run single for Brinza, and an RBI double for Vigneri. It continued a torrid stretch for Vigneri, who in addition to his two home runs has missed two or three more by mere feet foul, Braves' head coach Dale Werth said.
"He's on the ball, right?" Werth said of Vigneri. "… He's such a strong kid, such quick hands. When he gets dialed in, he's tough."
With much more support than he needed, Crunick went to work. He continued to attack with his curveball, feeling after he'd gone to it that he actually had better command of that pitch than his fastball.
Ahead in counts, the curve became Crunick's putaway pitch — eight of his 10 strikeouts came on the breaker. Behind in counts, Crunick didn't shy away from the deuce, though, breaking it right over the plate as hitters stared at a nasty pitch during supposed hitters' counts.
"He was locating it," Werth said. "They just take a lot of those breaking pitches, and if you're throwing them for strikes, you're in a good spot."
Cooper Crunick, around a walk, strikes out the side in the fifth. 9 Ks, 77 pitches. And still an ellipse in the Sutherland hit column. @PickinSplinters @cabravebaseball @CABravesSports pic.twitter.com/UpqPdADCaL

— Billy Heyen (@Wheyen3) June 4, 2019
There were few plays that made the no-no seem in jeopardy. Mackenzie reacted well to his backhand side to snare a liner and end the fourth. First baseman Tristan Tyndall snagged a grounder down the line and stepped on the bag to end the sixth.
Mostly, Crunick's stuff was too good. He sprinted back out to the mound for the seventh, the first of the Braves on the field. His 19th out came on a flyball to center that Michael Sculli, he of two no-hitters already this year, sprinted in to grab. The 20th came on a five-foot roller in front of the plate that Vigneri threw to Tyndall. And then a popout to Andrew Dixon at second base started the celebration.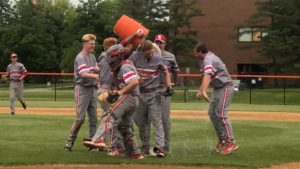 At first, Crunick wasn't quite sure what to do. After a few seconds, he broke into a huge grin and went to embrace Vigneri. But the Braves who'd sprinted out of the dugout cut him off, mobbed him, and even dumped a tub of water on his head.
"All year, him and Sculli," Vigneri said. "I don't know any other catcher that could do that, catch these two guys. It's the most fun thing in the world."
Crunick's no-hitter meant more than just one win. It showed how dangerous the Braves can be the rest of the way. Three more wins would end Canandaigua's season with a state title. Because of scheduling, Sculli and Crunick will be able to start the remaining three contests. Not many teams have one player with multiple no-hitters to turn to this time of year. Canandaigua has two.
"When you have that kind of dominant pitching, you're in every game," Werth said. "So when we play defense and get the bats going, I think we can compete with anyone… If we play the way we're capable, we feel like we can play with anyone in the state, which is a nice feeling."