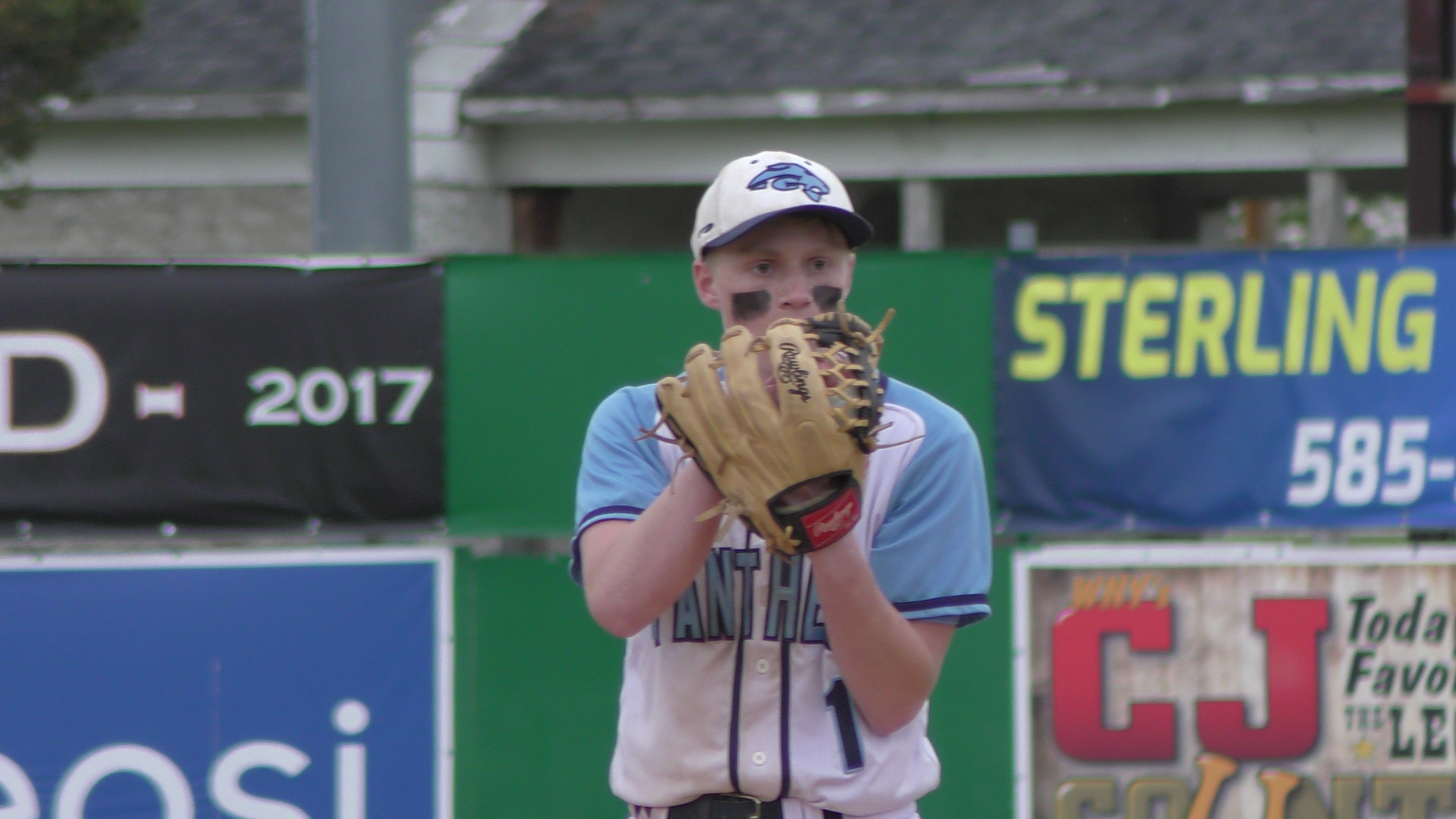 By JOHN LIKANJE
BATAVIA, N.Y. – With one out in the fourth inning, the Bolivar-Richburg Wolverines brought the tying run to the plate. Bill McClare knew he had to make a pitching change. The Gananda Blue Panthers head coach decided to bring on senior first baseman Zach Ciprich in relief.
"Cip just pounds the strike zone," coach McClare said after the Blue Panthers' 5-1 win over the Wolverines. "We knew we were going to get strikes from him. He did that job. If they (Bolivar-Richburg) put it in play, they'd hit it right at somebody."
Ciprich struck out the first batter he faced. The senior right-hander induced a groundball to first base and stranded the bases loaded to preserve the Blue Panthers' 5-1 lead.
"I was thinking fastball," Ciprich explained. "I just trusted my fastball. I was able to throw it for strikes and get some swings and misses, so that was huge."
"He has a lot of confidence," senior catcher Jayden Castrechini said. "He knows he can get the job done. Went more fastballs and curveballs and he got us out of that inning."
Ciprich hurled 3 2/3 scoreless frames of relief. The senior retired nine of the last 11 batters he faced, including seven straight from the fifth through seventh innings. He scattered a pair of hits and struck out five hitters on 46 pitches as well.
"I just threw strikes," Ciprich said. "Trust in my field and were able to get out of it.
"I just kept moving along as good as I could. Kept filling up the zone and throwing strikes."
"I set up more outside because if I set up more inside, he'll go with the batter a little," Castrechini said on his adjustments behind the plate when catching Ciprich. "He's really good with location."
"He's got a sneaky fastball," coach McClare explained. "He brings it low 80s and then he's got that nasty curveball that the kids were chasing. He mixes so well. He and Jayden work really well together. They've been playing together since they were nine years old."
.@baseballsectv C Regional Qualifiers – @gtownbsbl vs. @brcsDistrict: Ciprich's 5th strikeout in relief ends the game and clinches a trip to regionals for the Blue Panthers. Final score: Gananda 5 Bolivar-Richburg 1. @PickinSplinters @GHSAthletics1 @GanandaSports @WeAreGananda pic.twitter.com/qqrZ39m627

— John Mitchell Likanje Junior (@jml5798) June 4, 2019
The Blue Panthers scored all five of their runs in the first two innings, including three in the third. Leading 2-0, freshman Luke Ciprich singled to right field. Shane Pickering reached on an error and Zach Ciprich was hit by a pitch to load the bases with one out. Castrechini drove in Luke Ciprich with a sacrifice fly.
Senior shortstop Tim McClare tripled to right field and brought in Zach Ciprich and Pickering to give the Blue Panthers a 5-0 lead.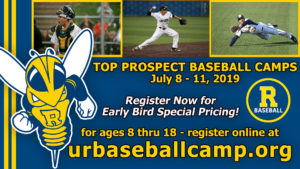 McClare went 3-for-3 at the dish. Castrechini doubled in the first run of the game in the opening frame, collected a pair of RBI and crossed the plate once.
Luke Ciprich and Zach Valetta both connected for a base knock in three plate appearances. Ciprich scored a run.
Zach Ciprich had a walk and two runs scored.
Starting pitcher Patrick Walsh threw 3 1/3 innings of one-run ball. The sophomore allowed five hits, two walks and struck out five batters on 61 pitches.
For the Wolverines, Alex MacDonell reached base in all four of his plate appearances. The sophomore singled three times and reached on a fielder's choice.
Micah Crump, Landon Danaher, Hudson Evingham and Camden Graves all collected a hit. Wayne Karnuth and Nikolas Rauch both drew a walk.
On the mound, Crump threw a complete game on 99 pitches. The senior right-hander allowed six hits, one walk and fanned nine batters.
Gananda advances to the New York State Far West Regional and will face Section VI Class C champion Falconer. Game is set for Saturday at 2:00 p.m. at SUNY Fredonia.