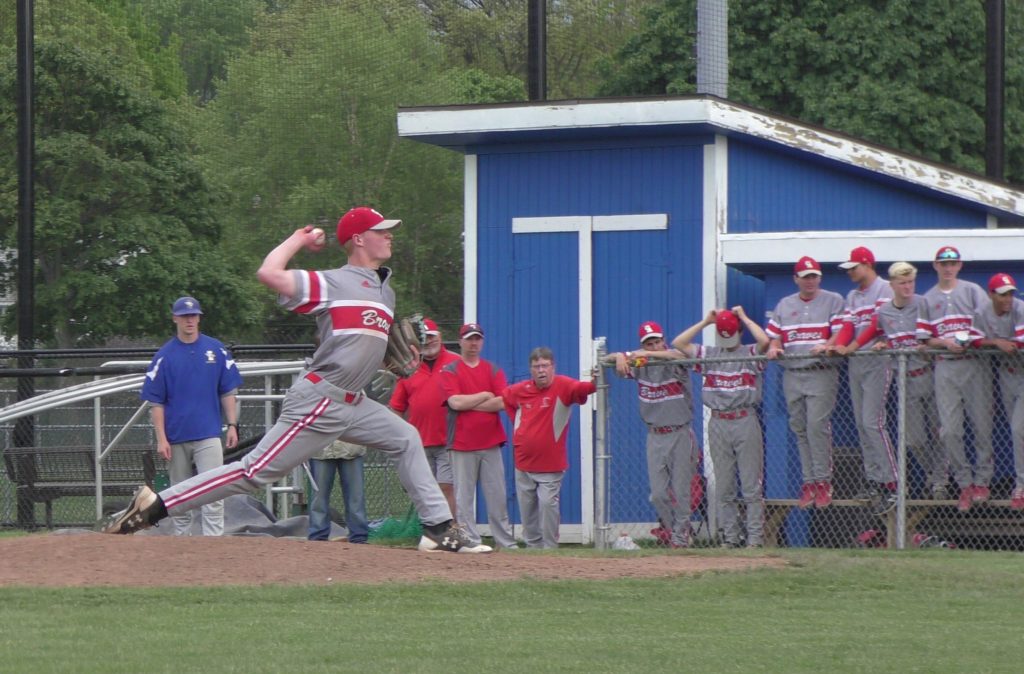 By PAUL GOTHAM
IRONDEQUOIT, N.Y. — One run separated Monroe County Division II rivals when Irondequoit beat Canandaigua twice during the regular season.
One swing of the bat was the difference in Thursday's Section V Class A1 semifinal.
Seth Vigneri's third inning grand slam provided all the offense needed as Canandaigua advanced to the finals with a 4-0 win.
"It feels great," Vigneri said after the win. "You know baseball comes with luck, obviously. One swing can change it like it did. They got lucky the first two. We got lucky this one. This game could have gone either way."
Vigneri turned on a two-strike offering from Irondequoit starter Nick Serce and sent a drive over the left field fence 343 feet from home plate.
Serce struck out nine over six and two-thirds scoreless innings when Irondequoit handed Canandaigua, the three-time sectional champion, its first loss of the year on April 29th. The senior left-hander allowed just two hits and four walks that day. The outing was part of a stretch where Sercce did not allow a run for the first 31-plus innings of work this season.
"He's a great pitcher, but he left a fastball right over the middle," Vigneri explained. "I took advantage of that and put a swing on it.
"I didn't see one curveball. I think he was scared to throw a curve because there was a runner on third and he could spike it and score a run."
The round-tripper was the first of the year for the junior catcher.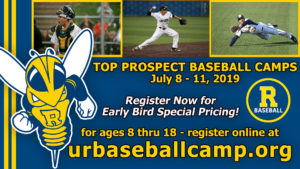 "Seth Vigneri's been hitting the ball really hard all year," Canandaigua head coach Dale Werth said. "He's really crushed the ball at people. He hit three balls hard in that at bat. He hit two right at me (in the third base coach's box) that I had to dive out of the way of. He stayed back a little bit better on that last one and hit it out. In games against top pitchers, your top hitters have to come through. Seth did that."
Cooper Crunick made good on Vigneri's blast. The senior right-hander hurled a 1-hitter in a complete-game effort.
"His location was spot on, perfection," Vigneri said of his battery mate. "His curve ball was there always."
Crunick worked out of two-on, no-out jam in the fourth with a strike out and a ground ball. He retired four of the next five batters. The SUNY Binghamton commit stranded a runner on second in the sixth with a strike out on a breaking ball. He worked a 1-2-3 seventh ending the game with another breaking pitch for a swinging strike.
"It's always good when I can get out there and be able to command the curveball and throw it for strikes whenever I want," Crunick said. "This is a great team (Irondequoit). I knew they were going to be able to hit me if they could sit fastball, so I needed keep 'em off balance. We got the job done."
Canandaigua (15-7) won their first seven games of the year before dropping three straight including two to second-seeded Irondequoit. The reigning NYS Class A semifinalists also lost three of four before closing the regular season with a win to finish as the third seed in sectionals.
"We're not done yet, but that's a pretty good start," Crunick stated. "As a team, we've always liked playing with a chip on our shoulder. We never like to come in there thinking that we're better than anyone. Once we came in with the lower seed, I think it was like 'let's prove ourselves. Let's get this done.'
"Mindset is a big part of baseball. Whether you like playing from the underdog or not, our team has thrived off proving the doubters wrong. Even if we aren't the underdog, I think we're trying make ourselves believe in that."
Canandaigua will meet top-seeded Greece Athena in the finals. The Trojans will be looking of their first title since 2007.