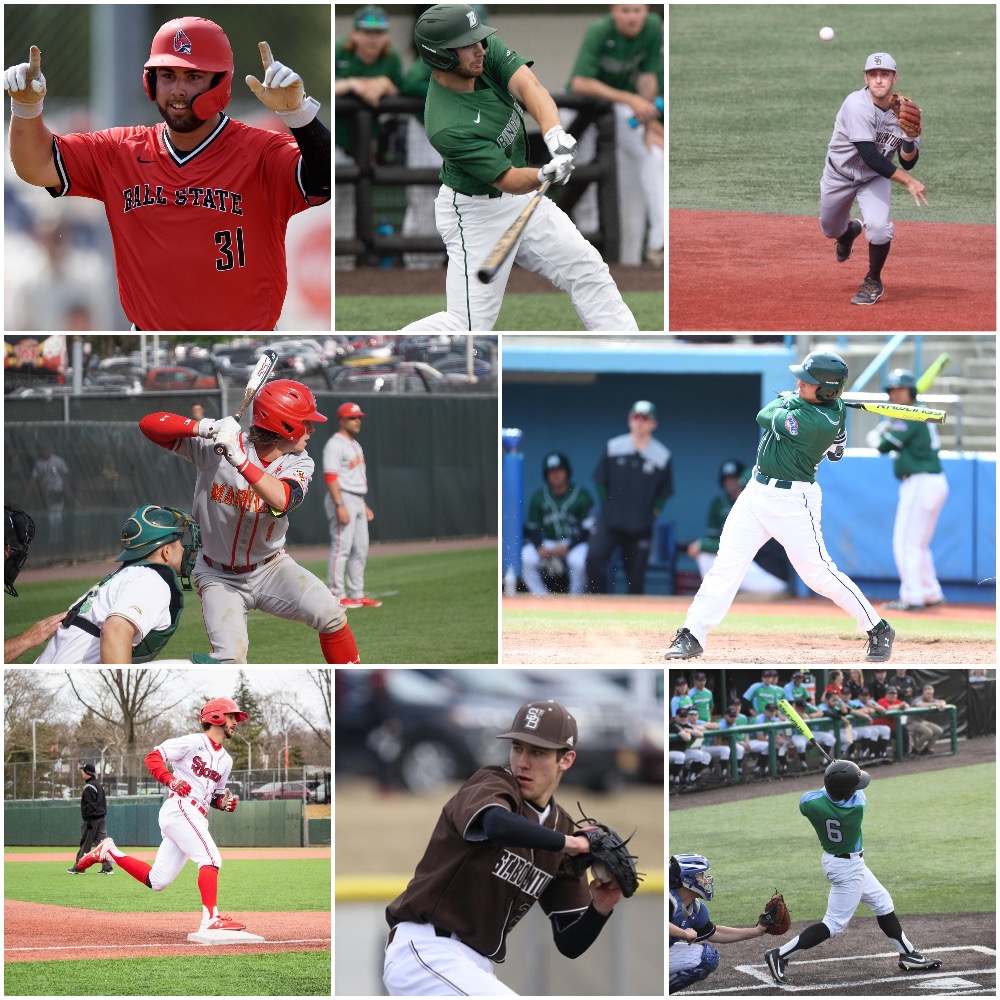 By BILLY HEYEN
Section V baseball was represented by 12 players in game action at the Division I level this season, along with three more who were rostered but didn't appear in a game. The three who didn't appear in game action were: Mike Magnanti (Greece Athena/St. Bonaventure), Brett Migliore (Wellsville/Canisius) and Zachary Kolodziejski (Livonia/Niagara). Here's a look at how the 12 who did play performed.
Donnie Moffat (McQuaid/St. Bonaventure)
The southpaw Moffat led the Bonnies in ERA with a 2.58 to go with a 4-4 win-loss record. He also recorded a team-high four saves. He held opponents to a .224 average, in part by racking up 53 strikeouts in 59.1 IP. He also limited opposing hitters to just 13 walks, for a more than four-to-one strikeout-to-walk ratio.
Brandon Henshaw (Brockport/St. Bonaventure)
Henshaw appeared in all but three of the Bonnies games, providing some secondary power. That included nine doubles, three triples and two home runs, to go along with a .247 batting average. Henshaw spent the majority of his time at first base, where he recorded an SBU-leading 260 putouts.
Ryan O'Connor (Brighton/St. Bonaventure)
In his final collegiate season, O'Connor was third on the Bonnies in hitting at .288. He finished 5-for-7 on the base paths stealing bags.
Dom Palma (Hilton/Manhattan)
Palma spent almost the entirety of the season as the Jaspers designated hitter. He used that role to hit .258, adding six doubles and two home runs to his production. Palma was able to drive in 12 runs while also working 15 walks.
John Ricotta (Greece Athena/Ball State)
The right-handed slugger Ricotta finished the season as one of the MAC's more productive hitters. He batted .308 with 17 doubles and 10 home runs. He also worked 22 walks and drove in 48 runs. Ricotta's 10 long balls tied for third in his conference. That included this homer in the MAC tournament.
Whoa. Today, former @athenabaseball @AthenaTrojans star @JohnRicotta21 did THIS. @PickinSplinters @TrabsMatt pic.twitter.com/DcPYNWro5W

— Billy Heyen (@Wheyen3) May 26, 2019
Alex Canty (Batavia/Southeast Missouri)
Canty struggled in limited playing time for SEMO, batting just .071 He was able to work eight walks and convert all his chances in the field.
Mitch Henshaw (Brockport/St. John's)
Henshaw finished the season as the third-leading hitter for the Red Storm, batting .284 across 41 games. That included four doubles, three home runs and 25 runs batted in. That included a 2-for-4 day in St John's season-opener against perennial power UCLA.
Mitch Henshaw (@bport_baseball @brockporths) went deep for St. John's baseball this afternoon against Columbia. Crushed it to dead center. @PickinSplinters @TrabsMatt pic.twitter.com/Csc90Ujkyr

— Billy Heyen (@Wheyen3) April 3, 2019
Shane Marshall (Webster Schroeder/Binghamton)
Marshall had a banner sophomore year for the Bearcats. He led the America East in batting average (.376), while ranking third in hits (65), fifth in triples (3), eighth in homers (6) and second in slugging percentage (.584). He also stole 8-of-11 bases. Marshall also included a home-run robbery among his season highlights.
Stick till the end here to see @SchroederSports grad Shane Marshall rob a home run. @PickinSplinters @TrabsMatt

— Billy Heyen (@Wheyen3) April 10, 2019
Reid VanScoter (Livonia/Binghamton)
VanScoter made just one early-season start for the Bearcats. The lefty allowed three runs across four innings while striking out three.
Ben Cowles (Newark/Maryland)
Cowles showed flashes as a freshman in the Big 10. He finished batting just .200, but the Terrapins played him in 54 of their 58 games. Cowles doubled nine times, tripled once and homered three times. He also finished the season 3-for-4 stealing bases.
The first career HR for Newark's own @benjamin_cowles gave Maryland a lead in #Big10 action today. @PickinSplinters @TrabsMatt pic.twitter.com/KNXGA6cimq

— Billy Heyen (@Wheyen3) April 14, 2019
Mike Sabatine (Fairport/Maine)
Sabatine was a near-everyday player early in the season for the Black Bears. He tailed off, finishing the season with a .167 average. He did finish 3-for-4 on stealing bases.
Alec Vaules (Pittsford Sutherland/Dartmouth)
Vaules pitched 12 times for the Big Green, racking up a 6.88 ERA in the process. The junior righty struck out 20 batters across 34 innings of work.