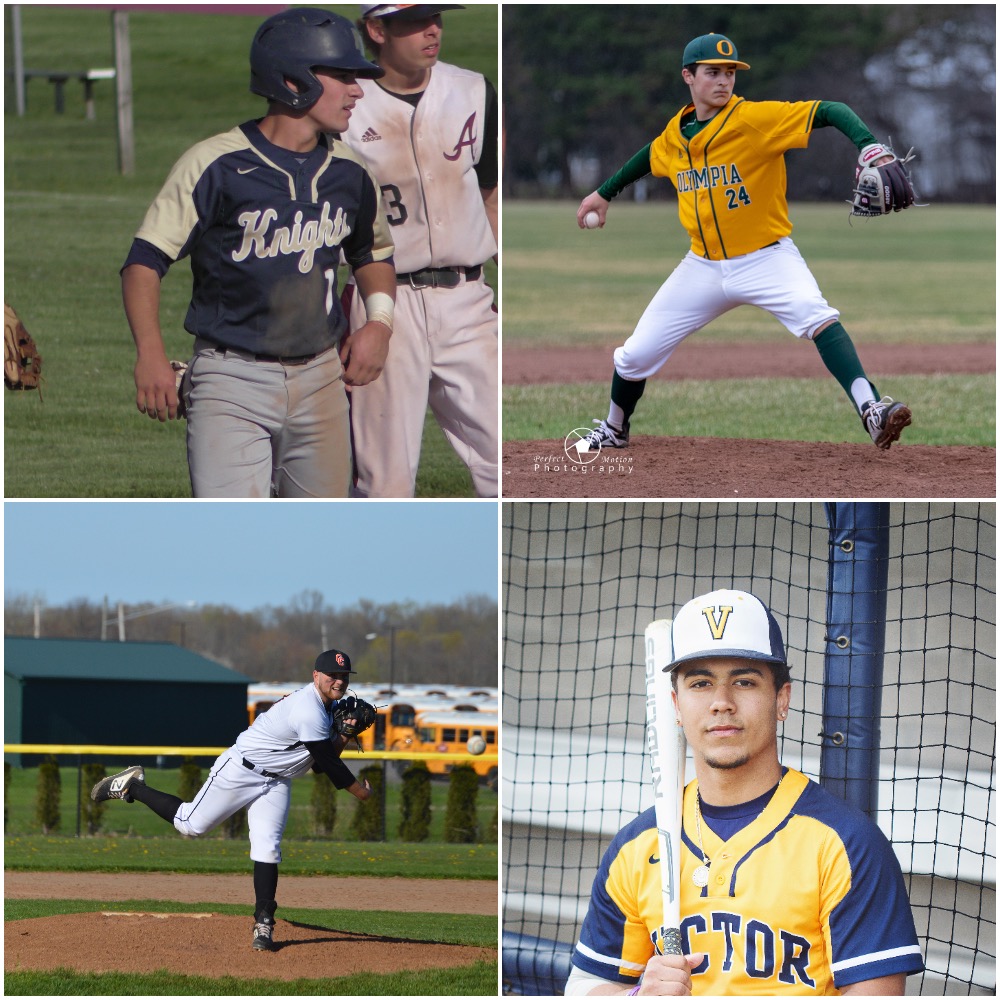 By CAITLIN McCLARE
Santino Rosso secured Victor's win early in the week with his arm and his bat. Joey Puglia capped off the regular season with a complete game no-no for Churchville-Chili. Keeghan Cummings accounted for six of Pittsford Sutherland's runs throughout the week. Greece Olympia's Joe Alphonse finished with a perfect day at the plate in Greece Olympia's final regular season game.
In the final week of the regular season, the quartet earned Monroe County's Player of the Week honors for their respective division.
Rosso earned the win FOR his relief outing against Greece Athena with the help of his walk off solo shot in extras. With runners on first and second in the fifth inning, Rosso took the hill and stranded the two baserunners by inducing a fly ball and striking out two. He finished with five strikeouts, two hits and one walk in four innings and 58 pitches. 
READ MORE.
 On Wednesday, he went 1-for-1 with two walks and two runs scored. No. 5 Victor will face No. 4 Hilton on Tuesday, May 28 at Hilton in the Class AA tournament's quarterfinals.

Puglia fanned 10 batters and allowed one walk in what ended as a no-hitter against East. Majority of his strikeouts occurred throughout the second and fourth innings. Behind his efforts, the Saints won 2-0. No.6 Churchville-Chili will open up its sectional play on Tuesday, May 28 with a Class A1 quarterfinal matchup against No. 3 Canandaigua.
Cummings finished the week with six hits, four RBI, and two runs scored in a win and a loss for Sutherland. The sophomore collected four hits in five at-bats, one run and two RBI in the 10-9 loss against Batavia. On Tuesday, he finished with two hits in three at-bats, including a two-out, two-run single in the fourth that gave Sutherland some cushion in the 5-1 victory over Greece Arcadia. No. 3 Sutherland is set to face No. 6 Monroe at home on Tuesday, May 28 for Class A2's quarterfinals.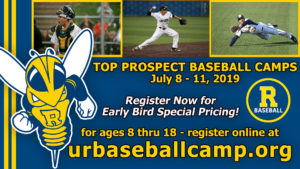 In a loss for Greece Olympia, Alphonse stood out with a 3-for-3 day at the plate. In his three hits, he recorded a double, a run scored, and an RBI to contribute to his squad's five runs scored. Olympia was eliminated in the Class B1's first round on Saturday, May 25 in a 7-3 loss to No. 8 Midlakes.