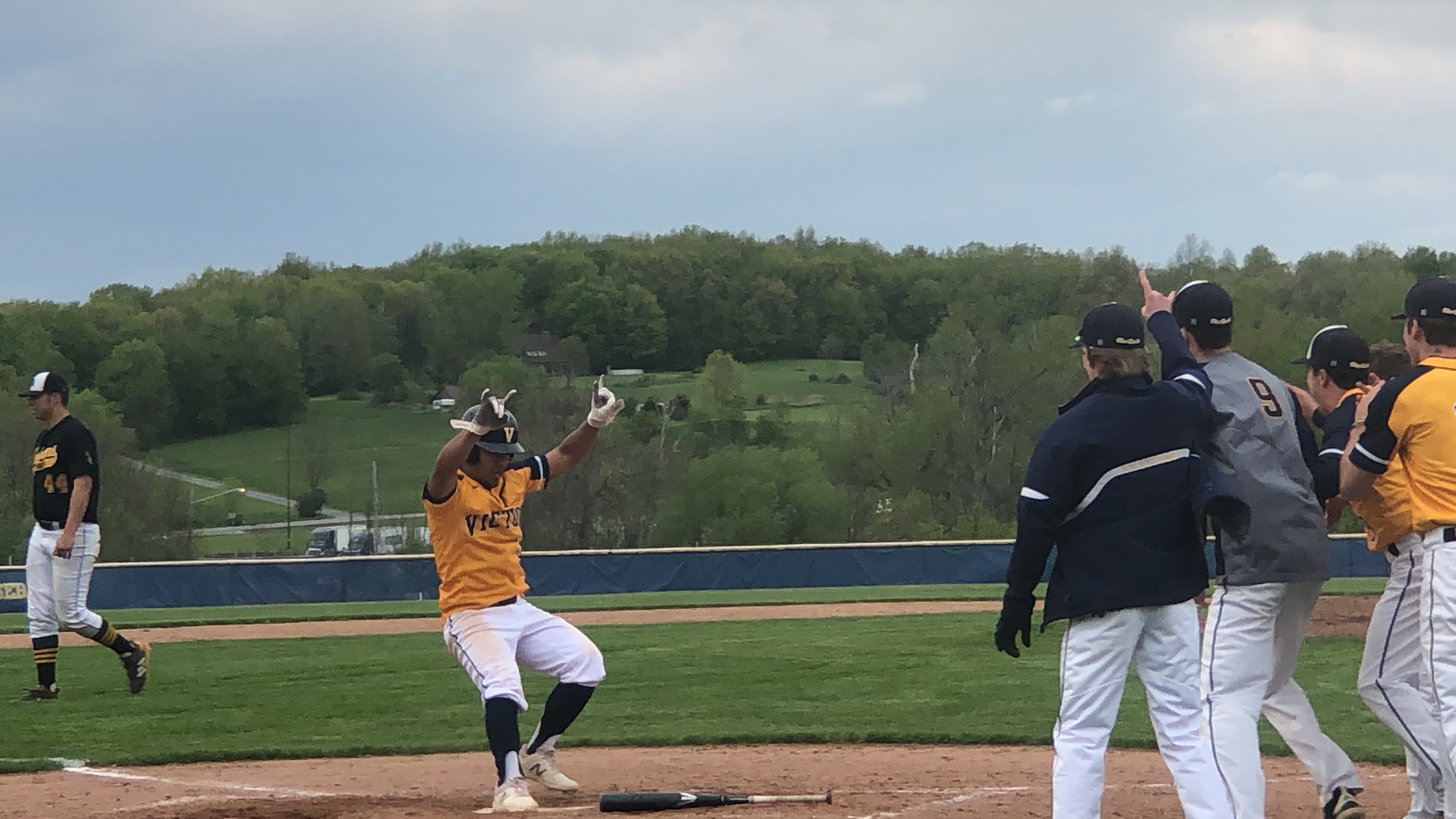 By BILLY HEYEN
VICTOR, N.Y. — Victor's two and three hitters, on deck and in the hole to start the bottom of the eighth inning Monday, both threw their bats into the air. They wouldn't need to hit, after all.
Santino Rosso had just turned on a 2-1 fastball right down the middle and lined it over the right field wall. As he ran toward first and the ball carried over the fence, he turned and pointed with both hands to his teammates before circling the bases. As he crossed the plate, Rosso raised both hands toward the sky before being mobbed by his screaming teammates.
"Best feeling in the world," Rosso said. "Just knowing that I did something good for my team felt really amazing."
BALLGAME! Santino Rosso walks it off and gets the win in relief. 6-5 @vshsbaseball beats @AthenaBaseball. @VictorBLDevils @PickinSplinters pic.twitter.com/fJyCVucPmL

— Billy Heyen (@Wheyen3) May 20, 2019
Rosso had set the stage for himself, Victor head coach Sean Rucker said afterward. The senior pitched four scoreless innings in relief with five strikeouts to send the contest with Greece Athena to extra innings, and his solo shot finished it. It gave the Blue Devils (10-9) a 6-5 win over the Trojans (16-2), snapping Athena's 12-game winning streak. At the start of the last week of the Section V baseball regular season, Rosso gave Victor a signature win.
"This just picks up our spirits a ton," Rosso said. "We know we're a very talented team. We just had a few games where we didn't play our best. They're a very talented team, as well. And when we play strong, we can compete."
The first of three homers to right field on Monday put the Blue Devils in an early hole. Virginia-commit Casey Saucke II launched a ball beyond the fence for a two-run shot in the top of the first inning. Then when Victor knotted it up at two in the second behind bottom-of-the-order production, Athena answered with three of its own in the third to lead, 5-2.
It's @AthenaBaseball @AthenaTrojans that strike first. Casey Saucke takes a 3-1 pitch out to right field for a two-run HR. 2-0 Athena in the first. @PickinSplinters pic.twitter.com/vjKgW364h6

— Billy Heyen (@Wheyen3) May 20, 2019
Rucker told his team to aim for one run an inning. Senior Matt Leonardo delivered the third's run back, driving a sacrifice fly to center field. But a 1-2-3 fourth inning by Athena's starter, Zachery Geist, and two runners on for the Trojans in the top of the fifth spelled trouble for Victor.
That's when Rucker called on Rosso: First and second, nobody out in the fifth, Rosso having warmed up in the bullpen a full inning and a half ago. He'd made a few throws at shortstop in the interim, but wasn't "extremely warm," he said.
"I got out there and just tried to stick to the basics and the mechanics," Rosso said.
Before this season, Rosso really hadn't been a pitcher since early middle school. But after a flyout advanced an Athena runner to third base, one would've been forgiven for not realizing that during the next two Rosso sequences. First, a curveball that dropped right to the outside corner for a strikeout looking. And then a fastball with too much heat up in the zone for a swing to catch up to it. Two strikeouts from Rosso stranded two runners and kept the Blue Devils within two.
Here's the curve Rosso threw to get our number two in that frame. @vshsbaseball @PickinSplinters pic.twitter.com/px1cgqUyya

— Billy Heyen (@Wheyen3) May 20, 2019
In the bottom half of the fifth, the Blue Devils made up for their scoreless fourth. Ryan Lukas laced a one-out triple over the center fielder's head, and he scored on a Timmy Keohane sac fly. Leonardo stepped in then, a sac fly himself his last time, two outs and no one on, down a run. He self-assessed himself after the game as "not the power hitter," although he also was aware of how the wind was blowing out to right field.
On a 1-1 offering, Leonardo lifted the ball the other way, toward the wind he knew was blowing out to right. He thought three out of the box, never giving thought to his hit clearing the fence. It did though, and all of a sudden, Victor had tied the game.
"Fortunately the wind picked it up for a little bit, and it got over the fence, which felt really great," Leonardo said.
And then some more @vshsbaseball celebrations: Matt Leonardo goes oppo to tie the game at five in the fifth. @PickinSplinters pic.twitter.com/iHgCpvwv2M

— Billy Heyen (@Wheyen3) May 20, 2019
Rosso dueled with Athena reliever Saucke for the next two innings, both putting up consecutive zeros to send the game to the eighth inning. Rosso, still getting reacclimated a bit to pitching and even moreso to relieving, said that when his teammates tied the game, that helped him really lock in.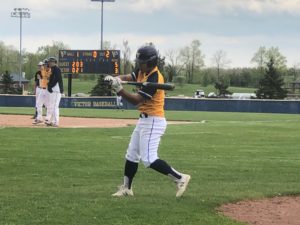 "That definitely, could add pressure, but for me it adds excitement, really," Rosso said. "Just to get back out there and keep shutting them down. I knew I had so much confidence in my team that if I kept shutting them down, we would win, we would get a big hit."
In the eighth, Rosso had a chance to crack. After he recorded his fifth strikeout and then a popup, he allowed a soft single into right field. Athena followed that up with a five-pitch walk during which Rosso threw a questioning look or two toward home plate after close ball calls. But having walked the nine-hitter, Rosso induced a first-pitch popout by Athena's leadoff man and sprinted off the mound, knowing he was due up.
Rosso hadn't been pleased with his first four at bats on Monday. The switch hitter, batting left, had rolled over for groundouts to second base three times, along with a swinging strikeout.
His third groundout, in his first at bat against Saucke, had been smoked, though, a one-hopper to the second baseman. Rosso hadn't quite timed it up right, but he'd found the barrel for the first time Monday. The second time Rosso found his barrel, he had his timing right, both on his swing and in the tie game's context. After setting the stage for himself with four scoreless innings in relief, Rosso delivered the resolution.
"I'd been struggling a lot at the plate today," Rosso said. "So it felt good. It felt really good."