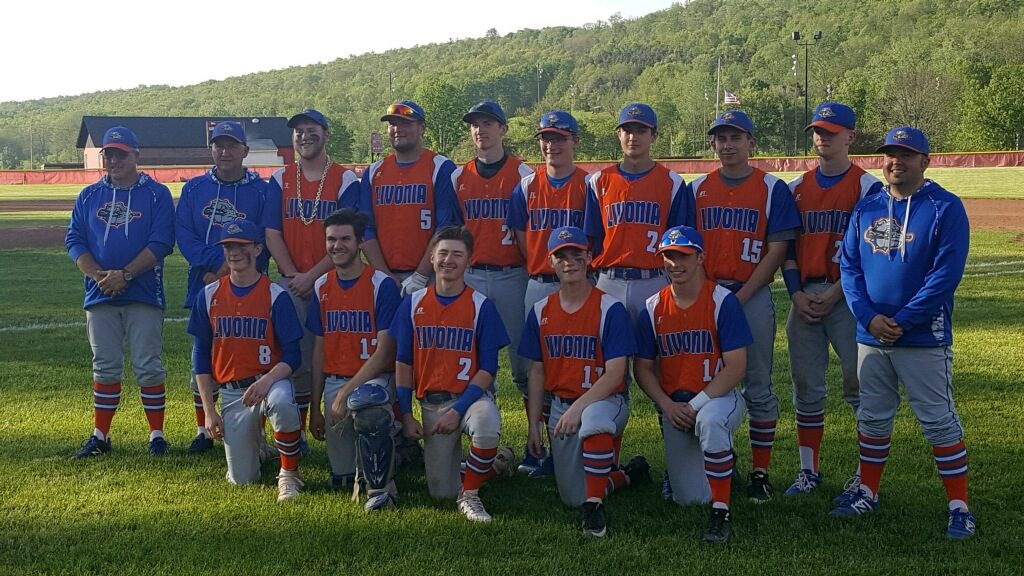 GREECE ARCADIA 17
GATES-CHILI 5
Nathan Yantz and Spencer Phillips combined for five hits and seven RBI as Greece Arcadia (6-14) took its regular season finale. Yantz finished the day 3-for-4 with four RBI, while Phillips contributed two doubles and three RBI. The offense did not stop there for the Titans, as Drew Southcott also turned in a 2-for-4 performance to go along with his two RBI. Ryan Rivera and Casey Amato also recorded multi-hit performances on the day, with Amato delivering a double. Evan Caufield, Travers MacNeal, Kyle Blum, and Sam Carducci added a hit apiece. For Gates-Chili Brian Georgetti and Jacob Vitale  two hits apiece in the contest.
FAIRPORT 7
McQUAID 9
Bailey turned on a first-pitch heater, sending it high and far and gone to left field. After the Knights blew an early lead on the final day of the regular season, Bailey delivered the blow that sent McQuaid into sectionals on a high note. READ MORE.
NAPLES 14
KESHEQUA 11
Owen Hulbert and David Ross both had big days at the plate for Naples (4-15) in a comeback victory. Hulbert collected four hits, one of those being a double, and three RBI for the Big Green Machines, while Voss tallied two hits and four RBI. Nick Green and Dylan Bozeman also helped Naples' cause, with three hits and one RBI and two hits and two RBI on the day, respectively. Jackson Brahm got the win despite his team trailing 7-3 after three innings. For Keshequa (10-7), Aidan Wood had a day to remember, getting four hits, including a double and a triple, and three RBI. Bryce Borden also collected two hits and two RBIs for Keshequa.
DUNDEE 10
MARCUS WHITMAN 25
NORTH ROSE-WOLCOTT 8
MARCUS WHITMAN 7 (6 INNINGS)
LIVONIA 16
DANSVILLE 1
Noah Fasso, AJ Davin and Shawn Minnehan led the offense as Livonia (17-2) claimed a share of the LCAA Division I title. Fasso finished the game 2-for-2 with a two-run home run and three RBI. Davin and Minnehan each drove in two runs, but Davin collected two hits to Minnehan's three. Jason Dutra also had two hits in four at bats. Austin Hawker guided the Bulldogs on the mound, throwing three innings and striking out three batters. Livonia secured its sixth LCAA 1 division title in the last seven years and also clinched the top seed in the upcoming Class B1 sectional tournament.
EDISON 10
HARLEY-ALLENDALE-COLUMBIA 11
Jack Wheeler hit a two-run walk-off home run to send HAC (11-7) into the sectional tournament on a high note. Wheeler's heroics were necessary due to a furious comeback by Edison. After HAC raced out to an 8-1 lead, but Edison scored nine runs in the fifth and sixth innings to take a 10-8 lead. Anuedy Reyes, Yadiel Cruz, Javion Moore, Michael Brewer and Angel Quinones all drove in runs for the Inventors during the rally. Max Brown, who drove in a two runs earlier in the game, walked with one out in the bottom of the seventh with his team down by one to set up Wheeler's home run. Brown finished 1-for-2 with two runs scored. Wheeler was 3-for-5 with three RBIs, one coming during the early stages of the game. The Wolves have now won 11 games in the team's first season back in varsity baseball since 2015.