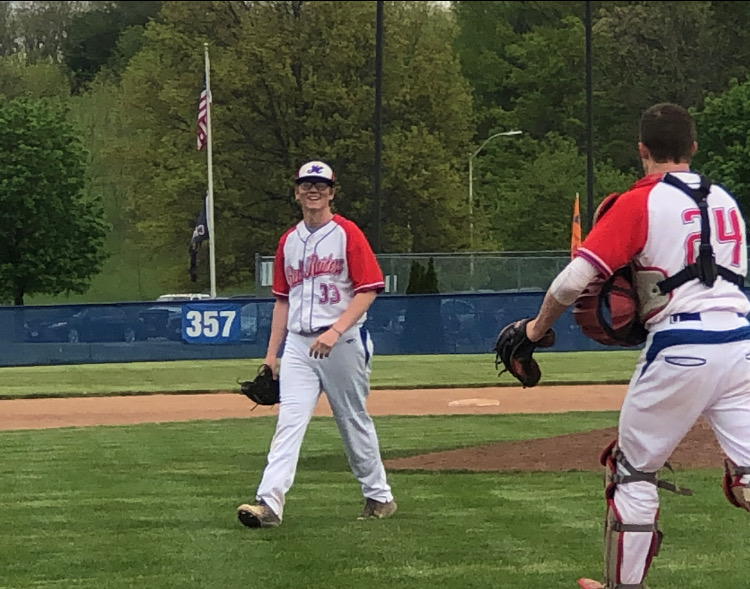 By BILLY HEYEN
LIVONIA, N.Y. — As Hornell's Collin Burdett walked toward his catcher, he remained stoic for a few seconds. He'd just struck out the side in the seventh inning to shutout the No. 2 team in the state. But as part of what his coach called an "even-keeled group," Burdett wasn't going to overdo it.
After nine steps toward the third-base line, though, Burdett broke into a huge grin. After taking the loss against Livonia earlier this season, he came through Wednesday.
"You got like that chip on your shoulder, because we lost last time and I pitched," Burdett said. "I just wanted to get revenge, and I think I did pretty good at that."
Collin Burdett strikes out the side in the seventh. An 89-pitch, two-hit shutout for the @HornellBaseball righty. 3-0 Red Raiders win at Livonia on the penultimate day of the regular season. @PickinSplinters @HornellTribune pic.twitter.com/rE3Rnth9TK

— Billy Heyen (@Wheyen3) May 22, 2019
Burdett twirled a two-hit shutout to lead Hornell to a 3-0 win over Livonia on Thursday at Baker Field, striking out seven across his seven innings. It was Burdett's second-straight start that ended in a two-hit shutout. He was aided by clutch hitting from the bottom of the Red Raiders' order. And that combination gives Hornell a chance at being co-league champs, or even outright champs, following its final game of the season Thursday.
"It's huge for our confidence," Hornell head coach Brian Dyring said. "… They won't get too high off of this. We still have another big one to play tomorrow."
For four innings, Wednesday's game was a classic pitcher's duel. Burdett and Livonia's Noah Fasso traded zeros back and forth, keeping their pitch counts low and the basepaths mostly unbothered.
In the third, Burdett got some help from his defense. After the Bulldogs notched their first hit, the following batter pulled a line drive to third base. But a sliding catch and throw across the diamond turned a double play to keep it scoreless.
Livonia got the game's first hit, but then this happened. L5-3, double play for @HornellBaseball, and it's scoreless after three. @PickinSplinters pic.twitter.com/mtoshdRGkx

— Billy Heyen (@Wheyen3) May 22, 2019
Burdett didn't tally a strikeout in the first three frames, but in the fourth, he struck out the side around a bunt single. All three punchouts came via his curveball, the last two to end the inning both looking. That strong inning woke up the Red Raiders' bats.
With Fasso dealing, an inning beginning with Hornell's six batter didn't seem overly interesting, on paper. Dyring has been urging his hitters to attack first-pitch fastballs, and that's what Jonas Sciotti did to open the frame, lining a single into left field. A successful sacrifice moved Sciotti to second and brought up eight-hitter Demetrice Cabic.
The junior Cabic fell behind 0-2 before taking two pitches to get back in the count. On 2-2, he got a pitch he liked, and drove it over the centerfielder's head for a run-scoring double.
"I was just waiting for a pitch I could get a hold of," Cabic said. "When I saw it, I swung as hard as I could. Tried to get around the bases as fast as I could, start something for the team … All we had to do was get a couple runs and stay ahead."
Cabic and the Red Raiders knew tacking on a few more might be all Burdett needed. Nine-hitter Nicholas Oyer lined an RBI single to right to bring home Cabic, and a few batters later, Connor O'Rourke delivered a run-scoring hit up the middle.
Burdett had watched his teammates turn a scoreless game into a 3-0 lead with just nine outs to get. At that point, he knew it was his game.
"That's been the mindset the whole time: If we get the lead, we got this," Burdett said. "We've got a great defense behind me, and I just tend to pitch pretty well."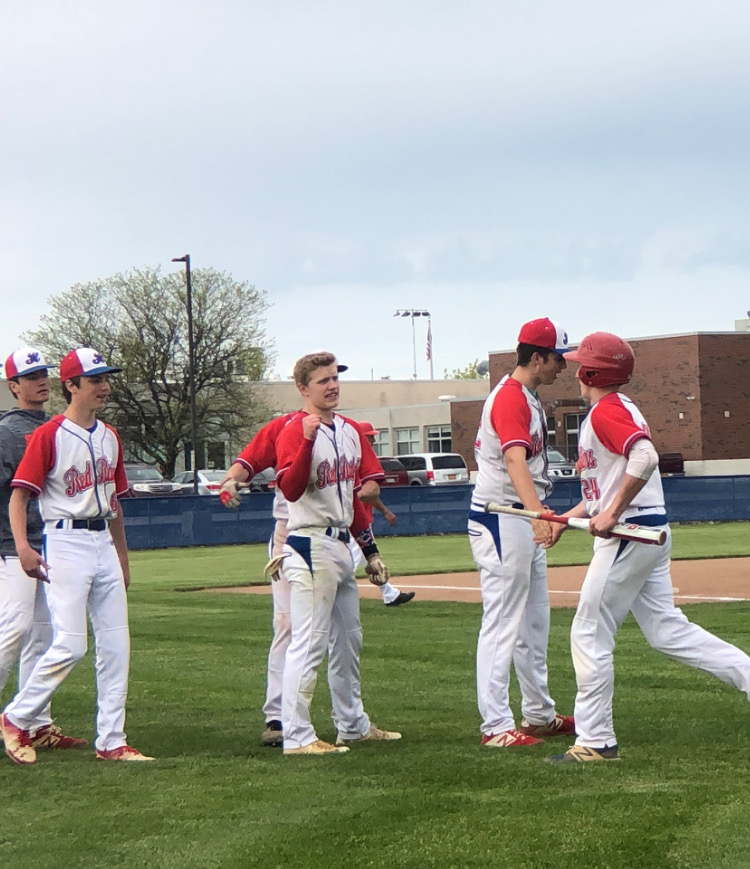 A 1-2-3 shutdown bottom of the fifth inning followed for Burdett. On a day when Livonia looked to lock up the league title and a one-seed for sectionals, a bounceback there for the Bulldogs could've swung all the momentum. But Burdett didn't let it happen.
He allowed his lone walk in the sixth, but otherwise had no issue getting through the frame. That set up for the final inning, against the heart of Livonia's order. Three times, Burdett worked the count to two strikes. And three times, he forced a swing and miss. High heat, curveball, curveball. Ballgame.
"He's been dominant," Dyring said. "… He's been a number one the last two, three weeks."
For the moments following the strikeout, Burdett could smile. But Dyring warned his team afterward: There's still everything to play for Thursday. The Bulldogs and Red Raiders both have one more league game, and currently sit tied atop the Livingston County Division I standings. Both teams have a shot to win, lose or tie for the league crown.
That wouldn't be the case if not for Burdett. He weathered the blow of losing to Livonia earlier in the season. He seemed to get stronger as Wednesday's game went on. And in the end, Burdett did the best he could do given the league standings: He gave Hornell a shot at the top.
"If we lose tomorrow, then tonight's win really doesn't matter," Dyring said. "This is a big win, we gotta enjoy it and move on and get ready for Way-Co, who always plays us tough."