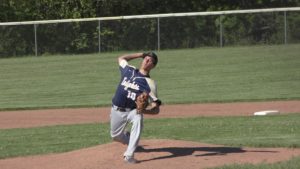 By PAUL GOTHAM
ROCHESTER, N.Y. — Making his longest outing of the season, Nick Provenzale improved to 3-0 as Pittsford Sutherland downed Greece Arcadia, 5-1 in Monroe County Division III action, Tuesday.
The sophomore allowed three singles while striking out three and issuing five walks.
"Curveball was really good towards the end of the game," he said. "I got that and I got command of my fastball. I used my lower half more, my legs. I stopped trying to be so perfect."
Provenzale retired the first two batters he faced before allowing back-to-back walks in a scoreless first. He faced the minimum in the second and six innings.
Nick Provenzale goes up top to get the final out of the first and strand 2. @SHSBSBL 2 @TitanBaseball 0 pic.twitter.com/u0zxPpP3VR

— Paul Gotham (@PickinSplinters) May 21, 2019

"Towards the end of the game, he was really getting ahead of guys more," Sutherland catcher Connor Fitzsimmons explained. "That was his issue in the beginning of the game. He couldn't get ahead, got down two-and-o, three-and-o and then throwing fastballs right down the middle."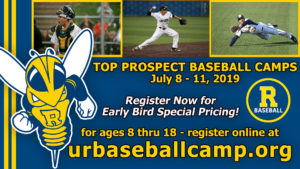 Arcadia took advantage of a leadoff walk to score a run in the third. The Titans threatened again in the fourth getting the first two batters on base before Fitzsimmons erased a runner at second with a pick off. Provenzale ended the inning with a ground ball and routine fly out.
"Towards the end of the game it was more first-pitch curveballs, even first and second pitch curveballs," Fitzsimmons added. "In the beginning of the game, it was fastballs. That was his issue. He couldn't get his fastball over the plate."
Tuesday was Provenzale's fifth appearance on the mound for the Knights (12-8). The right-hander threw five innings in his previous outing, an extra-inning win over Brockport. He also went five innings and picked up the win against Eastridge on April 25th.
"He's effective when he gets ahead in the count," Sutherland head coach Brandon DeRosa noted. "With anybody in pitching, you get ahead then you can dictate what you throw. That's what he did. I told him to rely on his defense. Make them put the ball in play and our defense played well today."
The win was Sutherland's seventh in their last eight games.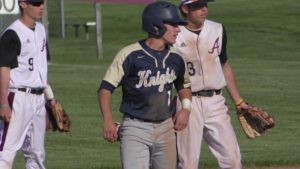 "We had some rough patches early on, middle of the year," DeRosa noted. "We're a young team. We had some growing pains early on, but we've started to play a lot better."
The Knights also have their full lineup now. Keeghan Cummings and John Messina both missed games with injuries early in the season.
Messina drove in a run with a single and scored on Tuesday.
Cummings finished 2-for-3. The sophomore's two-out, two-run single in the fourth gave the Knights the cushion they needed.
"Obviously, they are both huge parts of our lineup," DeRosa stated.
Provenzale led the game with a single. Cummings walked, and Jack Zawacki brought in the first run with a base hit to right field. Fitzsimmons made it a 2-0 game with an RBI groundout.
Connor Fitzsimmons RBI groundout gives @SHSBSBL a 2-0 lead after a half inning. Smooth play from @TitanBaseball 3rd baseman Evan Caufield. pic.twitter.com/sibDSNRaZa

— Paul Gotham (@PickinSplinters) May 21, 2019

Zawacki went 3-for-4 in the game. Provenzale scored twice. Chris Pietropaoli also crossed home.

Nathan Yantz drove in the lone Arcadia run with a two-out single in the third. Sam Carducci reached on a walk and moved to second on a Drew Southcott sacrifice bunt. Ben Bell's ground out pushed Carducci to third before Yantz delivered with a  line drive to center.
Travers MacNeal and Spencer Phillips also supplied a single apiece for the Titans.
First pitch @SHSBSBL and @TitanBaseball pic.twitter.com/VeiWTYFd0i

— Paul Gotham (@PickinSplinters) May 21, 2019

Robert Nolan hurled a shutout inning in relief for Sutherland. The right-hander struck out two.
BALLGAME: Robert Nolan gets the final outs including a pair of 🤜 outs. @SHSBSBL 5 @TitanBaseball 1 pic.twitter.com/9AI5X9eg5r

— Paul Gotham (@PickinSplinters) May 21, 2019

Ryan Rivera worked a three-up, three-down seventh for Arcadia getting a pair of pop ups on the infield and ground ball to complete the inning.