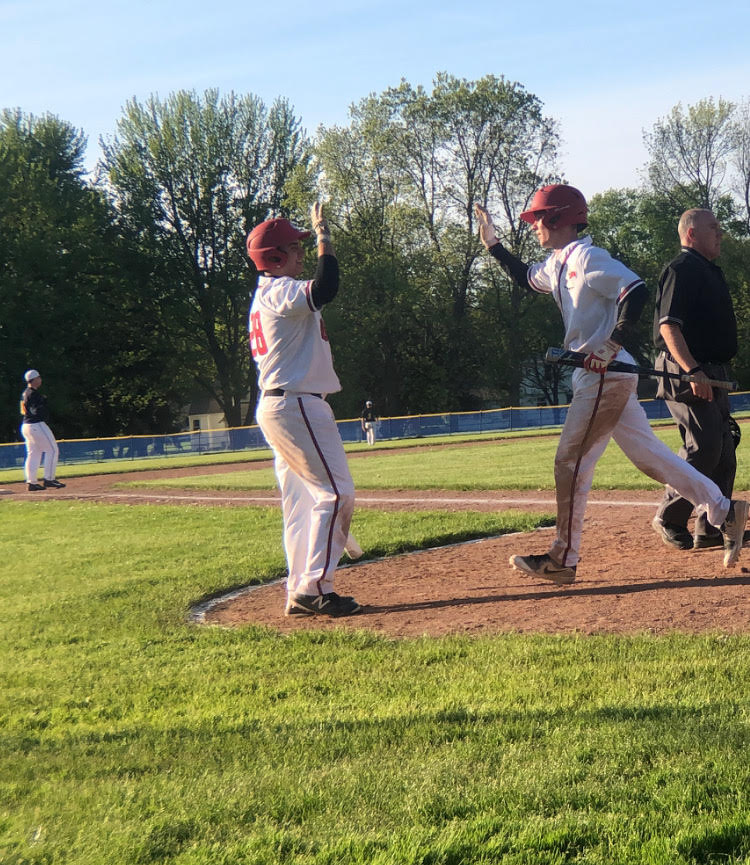 By BILLY HEYEN
PENFIELD, N.Y. — Bobby Bradley missed homering on his Senior Day by a foot. He crushed a ball to left-center field in the bottom of the first inning for Penfield. It hit the yellow tape at the top of the wall but bounced back into play.
His bench yelled at him to "Eat a burger one time." After the game, his dad said he'd have to fire up the grill to cook one. Bradley himself thought it was gone. But in the end, it was a double that gave Penfield a lead, and they would stay ahead for the duration on Tuesday.
"It's always nice to see the seniors contribute on Senior Day," Penfield head coach Nick Marcin said. "It is a special day for them."
Bobby Bradley hits the top of the left center field fence for a double to give @PHSPatriotsBB a 1-0 lead. His bench is imploring him to "eat a burger one time." @PickinSplinters @SBradleyDC pic.twitter.com/1ExxBGMQFe

— Billy Heyen (@Wheyen3) May 21, 2019
The Patriots (13-5) pulled out an 8-4 win over Webster Thomas (10-9) on Tuesday evening. Another senior, Sonny Burch, earned the win on the mound with six effective innings. With just one game left in its regular season, Penfield wasn't sharp as it committed three errors in the field. But its eldest statesmen made sure the final scoreboard would come out in their favor.
"We didn't bring our complete A-game today," Bradley said. "When we play a clean baseball game, I think we can beat any team."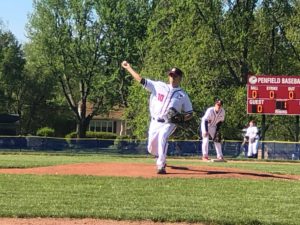 The Bradley run-scoring double was the opening salvo. He and his fellow seniors' pictures hung along the third-base side fencing, which Bradley ran right past as he scored on a Gage Ziehl single to make it 2-0 in the first. That gave Burch a lead to work with.
Although Webster Thomas got one run back in the third, Penfield broke the game open in the bottom half. The big blow came courtesy of another senior, Ryan Novy. The tall, right-handed hitter was unique among the five Patriots seniors: He's the only one to have had three Senior Days, football and basketball already in his past. And on his third and final senior celebration, Novy lined a fastball up the middle to put Penfield on top 6-1.
"He's kind of a dying breed," Marcin said of Novy. "… I love when our baseball players play other sports… For him to be able to have a career where he's a football, basketball and baseball player, and a contributor in all, it's the end of a great high school career for him."
Ryan Novy with a liner up the middle to score two more runs for @PHSPatriotsBB. 6-1 Penfield in the third. @PickinSplinters pic.twitter.com/2xEnxZ8ABk

— Billy Heyen (@Wheyen3) May 21, 2019
In the top of the fourth, the next half inning, Burch faced his biggest jam. The inning started with an error at shortstop, followed by a fielder's choice. Another error by the shortstop and a single loaded the bases, and then Burch walked a run home. Even worse, he'd just walked the nine-hitter, so the top of the Titans' order was coming up.
Burch knew he had to find a way to wiggle out of trouble, and he went to his fastball to do the deed. Twice, he worked the count to two strikes, and twice, he threw his heater on the outside corner, past a swinging Webster Thomas bat, for strike three.
"He picked his teammates up," Marcin said. "… Today, his stuff was great, and unfortunately we made him throw an extra 25 or 30 pitches, extended some innings. But one of the things that makes him special is his ability to minimize the damage. We did have a few where the wheels could've fallen off, and instead, he held them to single runs."
In the sixth, the error bug bit Thomas as the Titans committed their third and fourth errors of the contest. Penfield had one more shot to deliver, a chance to expand its lead heading into the last inning. Bradley stepped up, one more opportunity to come through on his Senior Day. Again, he came through.
Bradley worked the count all the way to 3-2 before getting a fastball on the outer half. Whether or not he ate a burger wouldn't matter on the swing he took this time, as he just lined the ball into right field to score Penfield's eighth and final run.
"I was kind of expecting curveball, it was full count, so I just sat back and took it to right field," Bradley said.
Penfield and Bradley had expanded the lead beyond the reach of Webster Thomas. And so when a popup landed in Danny Stapleton's glove for a final out, the person in charge of the field's music could turn on "New York, New York" to celebrate a victory.
I want to wake up, in a city that doesn't sleep
And find I'm king of the hill
Top of the heap
Burch didn't have much to say after his win. But he did note one thing: The only place Penfield wants to be on June 1 is celebrating with the "brick," the sectional championship trophy. The Senior Day win prompted a victory song. But even Sinatra's lyrics knew that "top of the heap" is still where Penfield wants to be.