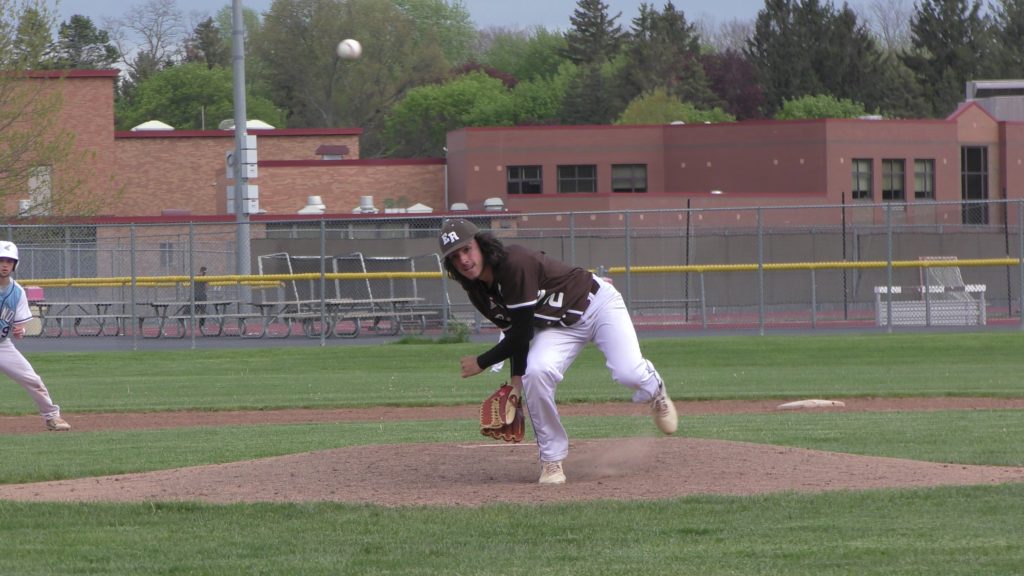 By PAUL GOTHAM
EAST ROCHESTER, N.Y. — Twenty-seven days have passed since the East Rochester baseball team last lost a game. Monday afternoon the Bombers turned the tables on that setback.
Mario Vega scampered home with the winning run as East Rochester clinched the Wayne County title with a 5-4 victory over Gananda.
"It was a gut check," Vega said of the seventh-inning rally. "We had the top of the lineup, so we were thankful for that. We just had to do what we've done all year, put the ball in play and score some runs."
Trailing 4-3, Sean Flanagan led the frame with a single to left. Vega reached on an error when his ground ball to the right side of the infield took a bad hop off the dirt. After a wild pitch put runners on second and third, Austin Mack knotted the game with a flare to shallow center.
"I knew the pitcher (Zach Ciprich) likes to throw a lot of curve balls," Mack explained. "I was waiting for the fastball. I was letting the curveballs go. It was a 3-1 count. I saw a nice fastball. He doesn't throw many fastballs."
John Krautwurst's groundball gets through the infield as the @ERBombers walk off with a 5-4 win and the Wayne County title. pic.twitter.com/XWM3XIO5ew

— Paul Gotham (@PickinSplinters) May 20, 2019

Corwyn Cleveland was intentionally walked to load the bases, and John Krautwurst's ground ball to the left side was mishandled allowing the winning run to score.
"We're a team that's able to take adversity and we're able to overcome it," Krautwurst said of the talk heading into the bottom of the seventh. "In the dugout, we were saying 'this is our chance, boys. This is a chance at a league title', and we're not going to slip through our hands."
Vega started and threw six innings. After minimizing the damages in the first inning, the senior left-hander struck out four and allowed two runs (one earned) on two hits.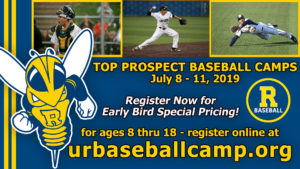 "When I was out there if I didn't throw a good pitch, I would take a deep breath," Vega noted. "Sometimes I get in my head a little bit. Every time I would take a deep breath and reset a little bit."
Vega retired the side in order in the second and seven of nine batters from the third through the end of the fifth.
"Playing Gananda definitely had something to do with it," Vega noted. "Knowing that we had a league title on the line. Gananda is always a big game for us. That was definitely in the back of my mind."
Kevin Jariel Marcial fouls off a pair of 2-strike offerings before taking this one up the middle for an RBI single. Going to the 3rd: @gtownbsbl 1 @ERBombers 1 pic.twitter.com/XpZaU5j1Y8

— Paul Gotham (@PickinSplinters) May 20, 2019

Flanagan gave ER a 3-2 lead in the fourth when the junior second baseman drove in Tim Swagler with a two-out single.
The game stayed that way until the top of the seventh.
Ciprich singled down the third-base line and moved 90 feet on a wild pitch. Tim McClare followed with an RBI double to left center. Patrick Walsh gave Gananda the lead with a one-out single to center field.
The win was the ninth straight for East Rochester (15-2/11-1), ranked fourth in the most recent Pickin' Splinters small-schools poll.
"Good way to end the season," East Rochester head coach Pat Walsh said. "We've been working hard all season and just talking to guys about how we wanted to finish, finish strong. That was a very good win. You want to play your better baseball at the end anyway."

Mack finished 2-for-2 with a walk and a run scored to go with the game-tying RBI. Flanagan went 3-for-4. Cleveland doubled and drove in a run.
Ciprich was 2-for-3 with a walk and two runs scored to lead Gananda (11-4/9-2). McClare drove in two runs and scored another. Jayden Castrechini walked twice and scored. Gananda had runners on second and third with no outs in the first inning. Vega limited the Blue Panthers to one run.
Gananda beat East Rochester, 5-2 when the two teams met on April 23.