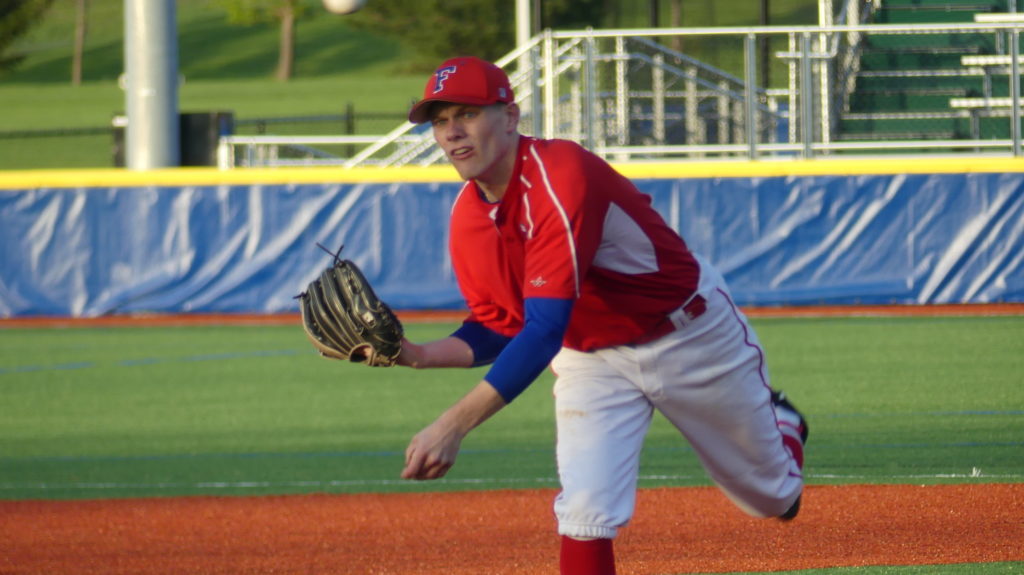 By PAUL GOTHAM
CANANDAIGUA, N.Y. — Josh Van Bramer got the better of a pitcher's duel and drove in the only run of the night as the Fairport Red Raiders downed Penfield, 1-0 in Monroe County Division I action from Finger Lakes Community College, Friday night.
Van Bramer took a no-hitter into the seventh before surrendering a one-out single. The senior left-hander didn't skip a beat, retiring the next two batters to nail down the win.
"I was able to mix my pitches well," he said referring to his fastball, curve ball and slider. "I was able to locate them."
He struck out 12, walked three and faced three batters over the minimum with the Fairport infield turning a double play in the third, and battery mate Tyler Holmes gunning down a runner attempting to steal second in the fifth inning.
"Holmes calls a great game," said Van Bramer referring to his catcher. "In the beginning, we were just working them fastball to off-speed and then later in the game we started mixing in the slider. We started pitching them backwards and that's what worked."
"He had a little extra on the fastball today," Fairport head coach Brian Reed said. "But he was locating. He was spotting. Every pitch he was throwing he was able to throw them for strikes whenever he needed to. That made him effective."
Congrats Josh VanBramer! Post-game bath courtesy @FHSBaseballFY13 @baseballsectv @PickinSplinters @FCSDSports pic.twitter.com/hFoT9QyGHB

— HS Sports Beat (@HSSportsBeat) May 18, 2019
Van Bramer threw just 87 pitches in the game (55 for strikes). He fanned the side in order in the first and third and struck out the side in the sixth.
"Josh was hitting his spots so well," Holmes noted. "His curve ball and his slider, the mix and the different angles at which they break they were really messing the hitters up a lot. We were getting a lot of swing and misses on those."
With the game being played at FLCC's new facility, the scoreboard was not in operation for the evening which only added to the intrigue. Van Bramer was well aware of the no-hit possibility. Holmes, though.
"I didn't even know it was a no-hitter honestly," the University of Hartford commit admitted.  "I had no clue. Out there, someone said 'you were one hit away from the no-hitter.' I was like, 'What?'"
Peyton Olinski connected on a one-out single in the sixth and moved to second on an Anthony Roides groundout. After Holmes was intentionally walked, Van Bramer delivered with an RBI base hit to right field.
"I didn't think I was going to be swinging first pitch on a curve ball," Van Bramer explained. "But that's what ended up happening. I just poked it into the hole and found us a way to get us a run."
The defensive highlight of the night came in the fourth when Fairport right fielder Aaron Jenks stretched out on the turf to take away a sure hit on a Bobby Bradley sinking line drive.
The win was the second straight for Fairport (8-10).
Penfield starter Gage Ziehl matched Van Bramer nearly batter for batter. Ziehl struck out 15 and walked just one batter. The sophomore right-hander  and University of Miami commit allowed four hits and worked ahead to 21 of 27 batters faced.
"I would be a part of games like this on either end any day of the week," Penfield head coach Nick Marcin said. "This was one of the best high school games I've ever been a part of, an absolutely phenomenal pitcher's duel. I was so proud of our guy. I though Gage was just great. But that young man that threw for Fairport, he was just lights out today. There's nothing you can do but tip your cap to him. I told our guys 'hold your head up high. We have nothing to be ashamed of. That was a fantastic game. They just did a little bit more than us today."
Penfield took the earlier meeting between the two teams, 4-1. Penfield (11-5) had won five straight coming into the game.
The meeting was the 10th Annual Strike Out Cancer Game hosted by the two rivals.
"Two communities coming together," Reed said. "A cause, I mean it's a great cause. It's something that affected me, personally. My father died three years ago from lung cancer. For this to bring two communities together in a common battle, I think that's a wonderful thing."
"It puts a lot of things in perspective," Marcin said of the game. "Especially during the baseball season, a baseball game. Things get very emotional. We have a lot invested this, but sometimes you forget that it is just a game that we're playing. To get the boys to realize that there are a lot of things more important than sports and to just enjoy the fact that they're young and healthy and able to play this game I think that's important lesson for them."