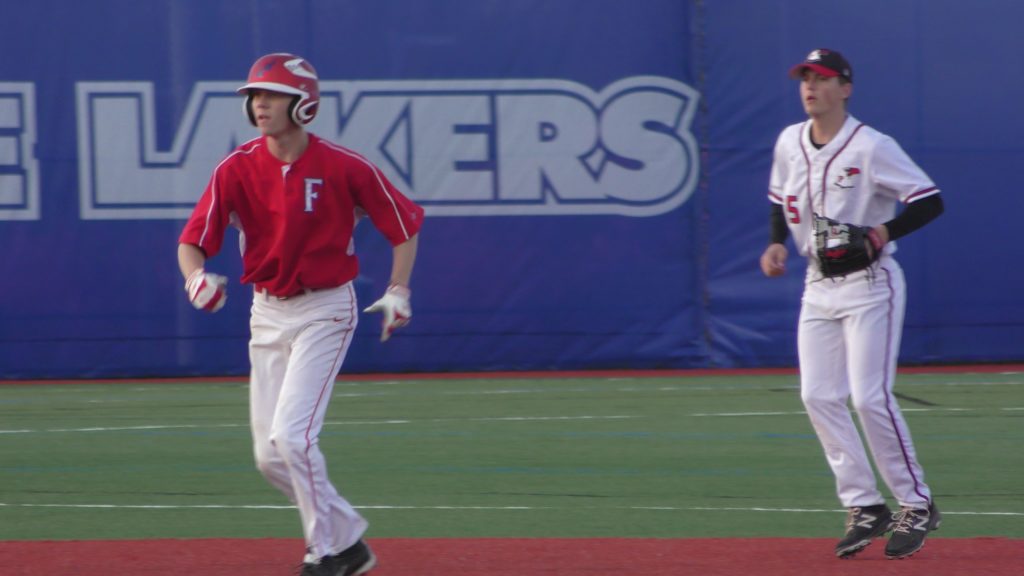 BRIGHTON 15
GREECE ODYSSEY 4
Sam O'Hora struck out seven batters in three innings and was 3-for-5 at the plate with four RBI for Brighton (12-7). Max Press and Chase Seibold also collected three hits apiece for the Barons. Press also drove in two runs while Seibold scored three runs and knocked in five runs. Nick Stodgell provided some pop, going 1-for-1 with a home run and three RBI.
GREECE ATHENA 10
BATAVIA 3
Greece Athena (15-1) scored double digit runs for the fifth time this season to capture its 11th straight win. Jake Cerone, Zach Geist and Justin Kimble drove in two runs apiece for the Trojans. Kimble, who went 1-for-4, laced Greece Athena's only extra base hit of the game. His fourth inning double drove in Jagger Nucci. Nucci was 2-for-2 at the plate with two walks and two runs scored and also started the game on the mound. He threw four inning and allowed three runs, two of them earned, on six hits and three walks. Nucci also recorded six strikeouts. Jared Pignato replaced Nucci on the bump and threw three scoreless innings to close out the game. Pignato allowed three hits and two walks and struck out one batter. The Trojans worked Batavia's (5-6) pitchers, drawing nine walks in the contest while only striking out six times. Andrew Francis led Batavia's offense, going 2-for-2 with two walks and two runs scored.
VICTOR 1
CANANDAIGUA 0
When reliever Drew Delaney notched a strikeout to end the game, all the Blue Devils rushed out of their dugout to celebrate. But it was Ryan Briggs who seemed the most ecstatic, leaping up and down three times, the third a jump directly onto Delaney. In his first start of the year, Briggs had outpitched Sculli and gotten the W. READ MORE. 
GREECE OLYMPIA 1
BROCKPORT 15
Brockport (5-12) scored five runs in the first inning and six more in the sixth to take its second straight game. Nick Nealon, Devyn Scheidt and Tyler Henshaw led a well-balanced attack for the Blue Devils. Nealon was 3-for-3 with one RBI, two walks and a double. Scheidt had similar production, going 3-for-4 with two RBI. Henshaw did the most damage on the scoreboard, driving in four runs despite a 1-for-5 day. Henshaw also started the game on the mound for Brockport, pitching five innings and allowing one unearned run and three hits while also recording three strikeouts. Nick Johnson, Sam Velletri, Ryan Judd and Hunter Westcott all also notched multiple hits on the day for Brockport. Zach Wright provided all of Greece Olympia's (2-11) offense in the game. Wright finished the game 2-for-3 with a run scored on an error.
GREECE ARCADIA 4
PITTSFORD SUTHERLAND 9
Tyler DePaolis drove in Jack Zawacki and Connor Fitzsimmons to retake the lead for good in the bottom of the fifth inning for Sutherland (11-7). After holding a 3-0 lead through four innings, Benjamin Bell and Evan Caufield scored runners on balls that did not leave the infield in the fifth inning to tie the game. John Messina walked Nate Yantz with the bases loaded to pull Arcadia (4-11) within one run in the sixth inning. Messina made up for his shaky inning on the mound by leading off the bottom of the sixth inning with a solo home run. Zawacki, Fitzsimmons and DePaolis all drove in one more run in the sixth inning also. Messina threw 5.2 innings and allowed four runs, two earned, on seven hits and four walks. He also struck out five batters in the game. Robert Nolan came on in relief and threw 1.1 innings and struck out two without allowing a walk or hit. Nick Provenzale and Keeghan Cummings each went 3-for-4 for Sutherland with Provenzale scoring three runs and Cummings coming across to score twice.
RUSH-HENRIETTA 5
WEBSTER THOMAS 1
Rush-Henrietta (9-8) jumped out to an early 4-0 lead in the first inning and never looked back. Trevor Gienau was 2-for-4 in the game with a double and two RBI for the Royal Comets. Chris Sleeper and Patrick Sherron both also went 2-for-4, but they each only drove in one run. Sherron was the starting pitcher for Rush-Henrietta and he went 6.2 innings and allowed one run on nine hits and two walks while striking out seven. Sleeper recorded the final out of the game. Caden Hann recorded three hits in four at bats with a triple on the day for Webster Thomas. Samuel DeGrace drove in his team's only run while also notching two hits. Ian McNabb threw three innings in relief, holding the Royal Comets to two hits and punching out five.
FAIRPORT 1
PENFIELD 0
Josh VanBramer hurled and drove in the game's only run with a two-out single in the sixth inning. READ MORE.
NEWARK 4
DANSVILLE 5
Dylan Race threw six no-hit innings for Dansville to propel them to a crucial league victory. Race, who was forced to exit the game due to his pitch count, struck out five batters and walked four. Once Race exited the game Newark's bats came alive. They scored four runs in the seventh inning and stranded the tying and go-ahead runs on second and third base. For Newark, Liam Childs recorded a double and knocked in two of his team's runs in the final frame.
CLYDE-SAVANNAH 5
SOUTH SENECA 12
Nicholas Twardeski hit a two-run double in the sixth inning to spark South Seneca's (9-4) comeback victory. Down 5-4 headed into the sixth inning, South Seneca's offense exploded for eight runs in the frame. After Twardeski's double, Spencer John stole home and Jonathan Siccardi, Ira Aman, Jack Mott, Lukas Day and Elijah Griffen all drove in one run. Despite scoring first, Clyde-Savannah (0-16) had the lead most of the game. Hunter Donselaar, Cody Brown and Jacob Hartnagel all drove in one run in the fourth inning for the Golden Eagles. In the next half inning, Day cut the lead to 3-2 with an RBI double. Clyde-Savannah answered right back for its final runs of the game in the fifth inning when both Steve Dunn and Jack Bastian stole home. Zachary Kelley and John did not get a hit on the day for the Falcons but they each drew three walks in the game. Aman, Day and Kelly combined to throw three innings of relief, with the trio giving up one hit and tallying three strikeouts.
GANADA 15
LYONS 0 (5 INNINGS)
Zach Ciprich hurled a no-hitter to help Ganada (10-2) improve to 8-1 in the Wayne County league. Ciprich recorded seven strikeouts and only allowed one walk during his sterling performance. In addition to his no-hitter, Ciprich was 1-for-3 at the plate with a walk, three runs scored and two stolen bases. Patrick Walsh, Zach Dier and Luke Ciprich anchored the lineup for the Blue Panthers. Walsh was 2-for-3 with four RBIs, Dier finished 2-for-3 with two doubles and two RBIs and Luke Ciprich collected three hits in three at bats and drove in three runs. Jayden Castrechini and Tim McClare each scored four runs while notching three hits and an RBI. Timmy Watson drew Lyons' (5-9) lone walk in the game.
HANNIBAL (III) 7
NORTH ROSE-WOLCOTT 8
PAVILION 1
GENESEO 11 (5 INNINGS)
Michael McCaughey, Liam Miskell and Noah Reilly each drove in two runs as Geneseo improved its record to 10-5. The Blue Devils scored in every inning and collected 12 hits. McCaughey drove in two runs after pinch hitting for Luke Harris, who was 2-for-2 with an RBI and two stolen bases. Owen Lyons contributed three hits in four at bats, including an RBI, a double and two stolen bases. Michael Walton was also 2-for-4 with a double. On the mound, Geneseo received four innings of shutout baseball from Evan Salvaggio. Salvaggio struck out three and allowed two hits without a walk. He was replaced the next inning by Lyons, who allowed the only run Pavilion (3-9) scored in his inning of work.
YORK 7
WARSAW 11
Warsaw (7-5) jumped out to an early lead in the first inning and held on to get back in the win column. York, who fell to 5-8 with the loss, was led by Clayton Harris, James Kennedy and Lucas Maggio. Harris and Kennedy were both 1-for-3 with an RBI. Harris drew two walks while Kennedy managed to draw one. Maggio was 0-for-1 with two walks and a run scored.
CALEDONIA-MUMFORD 12
LETCHWORTH 5
With the game tied at four headed into the seventh inning, Caledonia-Mumford (5-9) scored eight runs to put the game out of reach for Letchworth (7-6). Joe Laursen collected the win for Caledonia-Mumford, throwing 5.2 innings and allowing three earned runs. Laursen also punched out five in his time on the mound. At the plate, Laursen was 2-for-3 with four RBIs. Adam O'Donoghue finished off the game on the bump for Caledonia-Mumford, throwing 1.1 innings and striking out two. Eric Wilson and Ryan Carpino each had one hit and two RBIs to aid Laursen on the offensive side. Troy Kolb also added some power to the lineup with a double and a triple. For Letchworth, Brett Vasile and Evan Reding led the offensive attack. Vasile was a perfect 3-for-3 with an RBI. Reding was close to matching that output, going 2-for-3 with an RBI.
NE NW DOUGLASS 1
WILSON MAGNET 4