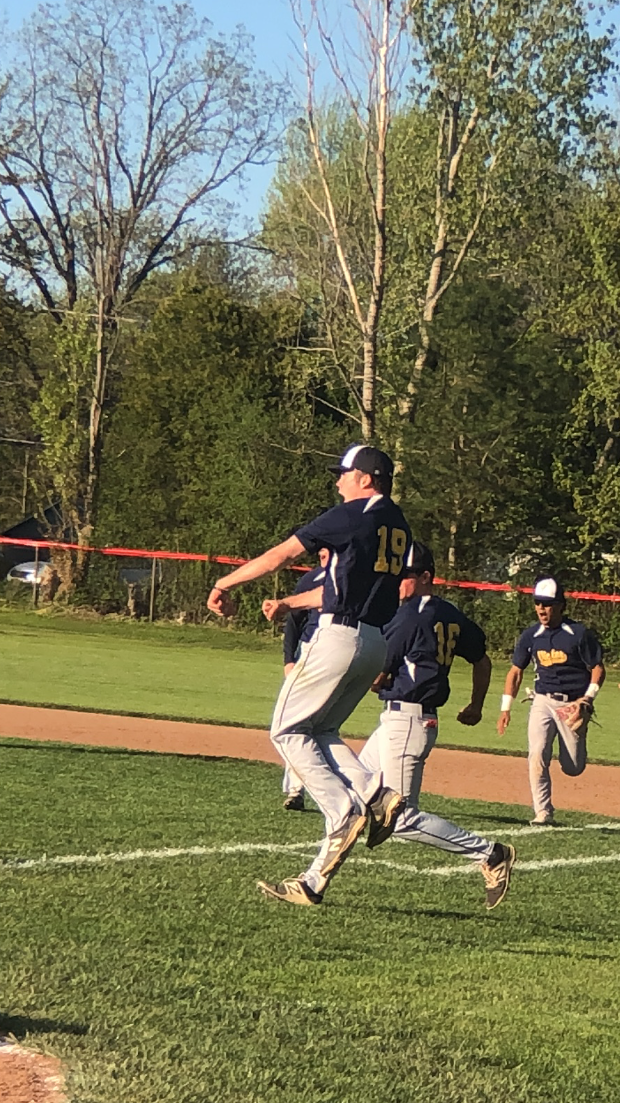 By BILLY HEYEN
CANANDAIGUA, N.Y. — Victor pulled out a 1-0 victory on Friday evening over Canandaigua at Evans Field. The Blue Devils relied on six shutout innings from Ryan Briggs to notch the victory.
But for a pitchers' duel in which the teams combined for seven hits, the game wasn't just about the guys on the mound. All over the diamond, plays were made, or not quite made, that were enough to lead to the slightest of margins on the centerfield, in-play scoreboard in Canandaigua.
Here's a look at the matchups and moments that led to such a tight contest.
The pitching dichotomy
On paper ahead of Friday's game, the starting pitchers didn't have a lot in common. Michael Sculli, Canandaigua's ace, has thrown two no-hitters this season. He made All-Greater Rochester a year ago. Even down to appearances on the mound: Sculli is a thin lefty with long hair.
Victor's Ryan Briggs, a tall righty with a crew cut, doesn't have the resumé of Sculli. He hadn't even started a game this year before Friday. He "struggled" earlier this season, Victor outfielder Sam DiGiacomo said. Briggs tried to keep the idea of matching up with Sculli as simple as he could.
"You know he's gonna bring his best and you just gotta try to match him and do your best to help the team win," Briggs said.
Sculli had a normal Sculli outing: 6.2 innings, 10 strikeouts, the majority coming on his "power curve." But Briggs matched him with zeros on the scoreboard, mixing speeds and getting outs early in counts. By the time Briggs took the mound for the seventh, he had thrown just 72 pitches.
Briggs' goal was to keep the Braves "off guard," and that's what he did. He finished with three strikeouts, but he was able to induce groundouts and popups, for the most part staying away from allowing line drives.
The outing finished for Briggs after one batter in the seventh, a leadoff single. But as he strolled off the field, he received a loud ovation from the Victor supporters along the first-base line. And he'd get a chance to celebrate his efforts a few batters later.
When reliever Drew Delaney notched a strikeout to end the game, all the Blue Devils rushed out of their dugout to celebrate. But it was Briggs who seemed the most ecstatic, leaping up and down three times, the third a jump directly onto Delaney. In his first start of the year, Briggs had outpitched Sculli and gotten the W.
"Briggs is just a great kid," Victor head coach Sean Rucker said. "He's a grinder. He shows up every day, whether he's in the lineup or not, he grinds for us… I'm so happy for him."
Briggs throws the breaker for a strikeout to end the fifth and strand two. Scoreless between @vshsbaseball and @CABravesSports. @PickinSplinters pic.twitter.com/BiLn9Cnfes

— Billy Heyen (@Wheyen3) May 17, 2019
Did he call rock?
Before the game, it appeared that Sculli and Victor leadoff hitter Santino Rosso were playing rock-paper-scissors across the diamond. They both turned away with smiles on their faces. In the top of the third inning, the intensity was raised a bit higher.
Rosso came up with a man on second and one out. He'd hit a ball hard but to the center fielder in his first at bat. If Victor was going to breakthrough, it seemed it might have to come then, with its best against Canandaigua's best.
"He's an absolute stud," DiGiacomo said of Sculli afterward. "That curveball he throws seems just as fast as his fastball. It's tough, man. He's a great player."
Rosso battled Sculli. He took the first four pitches as the count went to 2-2. Sculli threw him his curveball on three of those four. Then Rosso fouled off a fastball before fouling off three-straight curves. On the ninth pitch of the at bat, Rosso pushed a grounder toward first.
It moved the runner up, but the Braves got the force at first base. Sculli got a grounder back to himself in the next at bat, which he chose to throw home for a tag out to end the inning. The bottom of Victor's order had set up the top, and the Blue Devils hadn't delivered after a marathon at bat.
Sculli gets Rosso out after nine pitches, than an odd 1-2 putout ends the frame. Scoreless after two and a half. @cabravebaseball @PickinSplinters pic.twitter.com/OprAKD4j5Y

— Billy Heyen (@Wheyen3) May 17, 2019
Backup backstop
Victor was playing for the third-straight day on Friday, so Rucker chose to give starting catcher DiGiacomo the day off from behind the dish. That meant that junior Kaden Helmer got the start receiving Briggs.
Briggs credited Helmer's pitch-calling for much of his success. But it was in the bottom of the fourth that Helmer had his biggest influence on the game.
Sculli had caught a break a couple batters earlier, blooping a ball into left center that both outfielders in the area watched instead of going for. It fell just feet between them.
With two outs, Sculli broke for second. He's one of the Braves' fastest players — he often plays center field when he's not on the mound. But Helmer, having not caught yet this week, was up to the task. On a pitch up and out of the zone, he popped up and unleashed a rope of a throw to Rosso covering second. They got Sculli, sliding headfirst, barely with a tag at the back of the bag.
Instead of Canadaigua moving one of its fastest runners into scoring position, the game was still scoreless. Helmer, usually the backup, had made sure of that.
"Kaden Helmer, can't say enough about him," Rucker said. "Junior catcher, big time throw out."
Kaden Helmer with the cannon to catch Sculli stealing and send this one to the fifth scoreless. @PickinSplinters @vshsbaseball pic.twitter.com/6qlC8LJthq

— Billy Heyen (@Wheyen3) May 17, 2019
Keeping it in the infield
Victor wasn't going to turn down luck in breaking through against Sculli. An error and hit by pitch put two runners on with one out. After a groundout to the first baseman left that base open, Werth chose to intentionally walk Ryan Lukas.
On paper, Werth rationalized it: He knew Lukas had hurt the Braves in the past, and the on-deck batter, Jared Signorelli, had already struck out twice.
Signorelli's second at bat had shown potential, though. He hit four foul balls in fourth before striking out looking on a nasty curveball. Now in the top of the sixth, he had three teammates on base in a scoreless game. Signorelli took a pitch below the zone, then swung and missed on a curveball.
Then, "a dribbler in the right spot," as Werth described it.
Signorelli didn't appear to get his barrel to another curve from Sculli, but he did get the bat to it enough to roll it toward Joe Brinza at third base. It only traveled about two-thirds of the way down the grass, and Brinza had no choice but to try and barehand against the speedy Signorelli. He couldn't pick it up cleanly, but he may not have had a play even if he had.
"That was clutch," DiGiacomo said of Signorelli's hit. "It didn't even get out of the infield. He's just sprinting. He just wants to be that guy. Today he was, and it was big time."
Victor had scored one run in their last four games, not coming away with any wins. But that one run Friday, in an inning where no balls left the infield, looked to maybe be enough.
Signorelli with an infield single to give @vshsbaseball the lead 1-0 in top six. @PickinSplinters pic.twitter.com/I0iMAkoXDu

— Billy Heyen (@Wheyen3) May 17, 2019
'I wanted to hug him'
Signorelli's hit would only hold up with two more scoreless innings. Briggs retired the first two guys he faced in the sixth, but then Sculli laced a triple to right-center. DiGiacomo, supposedly resting his legs from catching, had run most of the way over toward that ball but not retrieved it before his right fielder. How much he had left in his legs mattered on the very next pitch to Cooper Crunick.
The Braves' right-handed hitter turned on a ball to left center. DiGiacomo took his first two steps in. Werth thought for sure Canandaigua had just tied the game up. Briggs knew "it was gonna be a close one." But then DiGiacomo heard his left fielder, Dale Turner, directing him toward the baseball.
So on the border of the shadows at Evans Field, DiGiacomo laid out toward his backhand side in the left-center gap. He snatched the ball with the last inches of his glove.
"If that was on good TV, I bet that'd be on ESPN for plays of the week," Werth said. "That was an amazing catch."
At third base, Lukas leaped in the air and pumped his right fist. The Blue Devils burst out of their dugout, cheering for their starting catcher who got his day off in centerfield and made the play of the day. And Briggs, the man on the mound whose day had just been saved?
"I wanted to hug him," Briggs said.
Sam DiGiacamo with a phenomenal diving play in left center to strand Sculli at third after a triple. 1-0 @vshsbaseball heading to the seventh. @PickinSplinters pic.twitter.com/QNZTozgBFQ

— Billy Heyen (@Wheyen3) May 17, 2019
Near-misses
Right before DiGiacomo's catch, Canandaigua catcher Seth Vigneri flew out to left field, where Turner caught the ball with his back right up against the fence. Earlier in the game, Crunick had crushed a ball to left center that DiGiacomo found a bit of room to settle under.
"We hit balls right at guys," Werth said afterward.
On a day that baseball truly proved to be a day of inches, it couldn't end quietly. Of course, the Braves' leadoff man singled to start the seventh, forcing Rucker to bring on Drew Delaney to close it out. Canandaigua successfully advanced him to second on a bunt, and then to third on a groundout.
A pinch-hitter would hit with two outs, in the bottom of the seventh, with the tying run on third. There was no other way Friday's game could end than with one more high-intensity moment. But Delaney made as quick of work as he could. Strike one, swinging. Strike two, looking.
Then strike three, swinging, in the dirt. A chance for the backup catcher to complete the game with a throw down to first, check. A chance for the unsung starting pitcher to leap onto the field in celebration, check. A chance for the winning run to be stranded one base away from home, check.
As Werth said: "Baseball's a weird sport. It really is. It's just a strange sport."