By JOHN LIKANJE
ROCHESTER, N.Y. – The Rochester City Athletic Conference (RCAC) varsity championship is in its 15th year. During that time, there have been two common trends. The first is the East High Eagles have advanced to the final every year. The second is the Eagles have won 67 percent of the time.
Both of these trends continued Thursday evening as the Eagles held off the School of the Arts Silverhawks, 7-5, and notched their 10th RCAC championship title.
"This one, I said to the kids, may have been the most meaningful one that we've gotten," Eagles head coach Kyle Crandall said. "We have five freshmen and a sophomore. We only have two seniors on the team. We graduated so many kids from last year."
In the bottom of the second inning, the Eagles (12-4) sent eight batters to the dish and scored four runs on a pair of hits. Freshman pitcher Michael Conrow led off the frame with a four-pitch walk and a stolen base. After junior center fielder Willito Soto drew a walk as well, Conrow advanced to third on a passed ball and scampered home on a throwing error by the catcher.
"Obviously, we knew that Ross (Janezic) is a tremendous pitcher and he went 6 2/3 (innings) yesterday," Crandall explained. "We knew that they (School of the Arts) didn't have him and Reece (Correa) was clearly their next, best option. We figured that if we could try to force his pitch count up and knock him out of the game early that hopefully, we would be able to do some damage to them."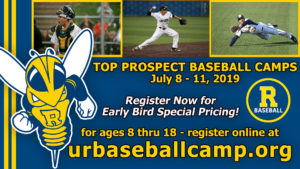 Senior Alex Figueroa singled in Soto for the second run of the frame. Catcher Tyrone Roundtree followed by drawing the third walk of the inning, forcing a Silverhawks' pitching change. Figueroa and Roundtree both swiped a bag and scored on Angel Silva's double to center field as the Eagles took a 4-0 lead.
The Eagles responded to the Silverhawks' three-run third inning with three in the fourth. Roundtree led off with a triple to the right field fence. Silva drove in Roundtree in the same fashion as the second inning: with a double over the center fielder's head to give the Eagles a 5-3 edge.
Sophomore left fielder Jose Ramos drew a four-pitch walk. Ramos and Silva both scored on wild pitches and extended the Eagles' lead back to four runs.
"We left the bases loaded a couple of times again today, which we did yesterday, too," Crandall detailed. "We had some missed opportunities, but capitalized in enough spots."
Roundtree and Silva both connected for a pair of hits in four plate appearances. Roundtree tripled, singled, drew a walk, stole two bases and scored two runs. Silva cracked a pair of doubles, had three RBI and crossed the plate once.
"They (Roundtree and Silva) had some back-to-back hits which really proved huge," Crandall said.
Figueroa collected a hit, an RBI, a stolen base and a run scored. The senior second baseman came in relief with the bases loaded and secured the remaining two outs to earn the save.
Alex Figueroa comes in relief and gets the last 2 outs. @GoEastEagles defeats School Of The Arts 7-5 to win the @baseballsectv RCAC tournament championship. @PickinSplinters @Wheyen3 pic.twitter.com/gYnsViro0R

— John Mitchell Likanje Junior (@jml5798) May 16, 2019
"That was a great play to end the game," Crandall said. "That ball gets through, we're still playing right now."
Conrow battled back from his previous outing on Wednesday. After facing four batters and getting zero outs against the Franklin Quakers, the freshman right-hander pitched to 31 hitters and came two outs shy of a complete game. Conrow struck out five as well.
"Michael went out with tremendous composure today," Crandall explained about his freshman starter. "He's a kid that, when he is relaxed, is a great pitcher. Today, it was all about letting Michael know that we had tremendous confidence in him and we were going to ride him as long as we could. He made a lot of good pitches to get out of some jams and the defense backed him up."
At the dish, Conrow and Soto both drew a pair of walks.
For the Silverhawks (8-7), Abel Austin and Correa both singled twice and drove in a run in four at-bats. Austin was hit by a pitch for the first baserunner of the game in the opening frame. Correa swiped a bag as well.
Ezekiel Randolph got on base in all three of his plate appearances. The sophomore doubled, reached on a fielder's choice, was hit by a pitch and scored two runs.
Janezic and Steven Lepki both connected for an RBI single at the plate. On the mound, Lepki fanned five batters in two innings of relief.
Senior first baseman Brennen Johnson had two walks in three at-bats.
Junior Zach Parson went 1-for-4 with a single and a run scored.
"They (School of the Arts) got us hard the first game," Crandall said as he praised the Silverhawks. "We kind of stunned them over at Cobbs Hill with an eight-run second inning to win 9-5. Credit to School of the Arts as well. Those kids didn't quit. They had the tying run on second base with two outs and they forced us into our bullpen. "
This was the seventh consecutive victory for the Eagles as well.