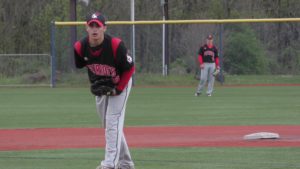 By PAUL GOTHAM
WEBSTER, N.Y. — Playing their first of three games in four days, Nick Marcin and his Penfield Patriots needed a strong performance from their staring pitcher on Tuesday.
Sonny Burch delivered.
The senior right-hander threw six-plus innings, and the Penfield bats pounded out 12 hits in an 8-4 win over Webster Schroeder in Monroe County Division I action from Basket Road Field.
"He was great," Marcin said of his starter. "With the games piling up and playing almost every day, it's really important to have your starter that can give you some length and minimize how many bullpen innings you got to fill."
Burch struck out five, walked two and improved to 2-2 on the season.
"He had command over all his pitches today," Marcin noted. "He can throw more than just a fastball for a strike. He's able to keep hitters off-balance. He's able to get guys to roll over on off-speed pitches or just get them with the knuckle ball.
"He's got enough velocity to get fastballs by them. He's somebody that comes in, and we know is not going to be a one-pitch pitcher."
Sonny Burch ends a clean sixth with his 5th K. @PHSPatriotsBB 7 @SchroederSports 2 pic.twitter.com/HA3esbkt1I

— Paul Gotham (@PickinSplinters) May 14, 2019

The win was the fourth straight for Penfield (10-4) which improved to 4-4 in league play and moved into a third-place tie with Fairport.

"They're all good wins in this league," Marcin said. "You look at our league right now and everybody is kinda hovering around that .500 mark. We just take turns beating each other."
Penfield put crooked numbers on the scoreboard in three separate innings. The Patriots used a pair of sacrifice flies and a double steal in the third inning to take a lead it did not surrender.
Trailing 1-0, Ryan Novy led the third with a single through the box. Colin Pichany reached when his sacrifice bunt was mishandled. With runners on the corners, Peyton Pace drove in his first of three RBI on the day with a fly ball. Nathan Sobko put runners on first and third again with a single. Sobko stole second allowing Pichany to come home on the play.
Bobby Bradley capped the inning with a fly ball to right field that brought home Sobko. Penfield led 3-1.
"We got guys who can do the small ball stuff," Marcin said of the approach on offense during the third inning. "That's something we've been working on because we know the importance of trying to be able to try to separate and tack on when we have a lead."
One inning later, Danny Stapleton connected on his first of two triples on the day. The junior second baseman sent the ninth pitch of an at-bat to right center and brought in Connor Stuewe as part of a two-run fifth.
"That's text book," Marcin said of Stapleton's effort. "That's what you try to teach in the two-strike approach: fouling off tough pitches, just keeping the at-bat alive and having the up-the-middle-away approach. He did a lot of things well in that at-bat, a confidence builder. He's been swinging the bat really well over the past week or so. Certainly having an at-bat like that sets the tone for the rest of the game."
Stapleton tripled and scored on a Ryan Novy base hit in the sixth. Pace added an RBI single later in the frame for an 7-2 Penfield advantage.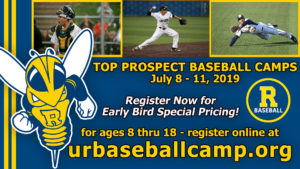 Novy finished the day 2-for-4 with two runs scored. Pace went 2-for-3. Nick Ianiello tripled and had two hits. Gage Ziehl doubled and drove in a run.
"We hit some balls really hard today," Marcin stated. This is a pretty big place here. We hit some balls that I think in other parks and certainly back home would have been out."
Burch retired eight of nine batters heading into the seventh inning.
"I was just trying to throw a lot of strikes and get us the win today," Burch said. "My knuckleball was working in any count today. I can usually throw that over the plate.
Gage Ziehl makes the play from third as Sonny Burch escapes runners on second and third with one out. @SchroederSports 1 @PHSPatriotsBB 0 pic.twitter.com/DPZEowTxOK

— Paul Gotham (@PickinSplinters) May 14, 2019

Pace came on with bases loaded and no outs in the seventh and faced three batters to close the game.
Schroeder's Jack VonAhnen tripled and scored in the first inning to give the Warriors an early 1-0 lead. Nick Vogt singled and scored a run. Corey Spooner went 1-for-3 with an RBI and a run scored. Matt Piccarreto and Ben Conrow both drove in a run for Schroeder (8-9). The Warriors had won four straight coming into the game.
Also on Tuesday, Rush-Henrietta beat Fairport. The Royal Comets (8-7/5-4) moved into sole possession of second place in the division behind Victor (7-7/6-2). Schroeder is 3-6 in the league. Hilton is 7-7/3-5.