PITTSFORD SUTHERLAND 5
HONEOYE FALLS-LIMA 4
Sutherland was able to hold off HF-L in the bottom on the seventh to secure a close victory. Robert Nolan secured the win in relief. Tyler Depaolis pitched 5 2/3 innings, striking out five and allowing five hits. Offensively, Keeghan Cummings was a problem, stealing a total of four bases for Sutherland, as well as adding a hit, a run and an RBI. Derek Childs pitched five innings for HF-L, allowing a run off four hits. Cary VanNewkirk had a thre-run home run for HF-L in the sixth inning to tie the game at three. Connor Fitzsimmons went 2-for-3, and Jack Zawacki had the go-ahead single in the seventh inning that was the deciding factor for the Knights. Hayden Smith also added two doubles for HF-L and scored a run.
EASTRIDGE 9
WAYNE CENTRAL 2
Dylan Hanley led the way for Eastridge offensively, hitting 3-for-4 with a home run in the fourth and four RBI. Brady Booher pitched 5 2/3 innings for the Lancers, allowing two runs, striking out eight and picking up a win. Booher also contributed to the offense, hitting a solo home run and scoring two runs. Jacob Russo added a double with three RBI and a run scored. Logan Holgado collected two hits, including a double, and a run for Wayne. Jaiden Burlee added two hits and Josh Armstrong scored a run. Keenan Calenzo also contributed for Eastridge with two hits, and both him and Jayden Fayad scored two runs.
WEBSTER THOMAS 13
SPENCERPORT 8
Caden Hann led Webster Thomas offensively in a high scoring win over Spencerport. Hann went 5-for-5, including two doubles, two RBI and scored three runs. He also started the game on the mound, pitching four innings and allowing six runs on five hits with three strikeouts. Jake Canfield came in for relief and finished the game pitching three innings and picking up the win. Canfield also starred offensively, going 3-5 with a solo home run and scored two runs. Devin Mulcahy added three hits with two RBI, and Jim Marasco scored two runs and had two RBI. Gino Pellett had a solo home run for Spencerport and scored two runs. Mark Neu also had a two-run triple, and Colton VanBrederode went 2-4 with two RBI. Gino Pellett pitched 5 2/3 innings and allowed 10 runs off 11 hits, while striking out five.

FAIRPORT 3
CHURCHVILLE-CHILI 4
Churchville's two runs in the bottom of the fifth propelled them to a close win over Fairport. Amaury Samalot Monroig led the way for them, going 3-3, hitting a two run homer in the fifth and batted in every run for Churchville. Wesley Colucci pitched a complete game, allowing three runs on eight hits and adding two strikeouts. Jacob Carroll had two hits, and Ethan Putney added a hit and scored two runs. Gavin Palo added a triple as well. Peyton Olinski was big for Fairport, going 2-4 including a triple and scoring two runs. Jake Conklin pitched five innings, allowing four runs on seven hits and striking out two. Jared Drake added two RBI for Fairport, and Anthony Roides went 2-4 with an RBI and a run.
BRIGHTON 9
BATAVIA 7
Brighton was able to overcome a seven-run deficit and hold off Batavia's seventh inning comeback attempt, with Tanner Frank picking up the win on three innings pitched with three strike outs. Frank also added a two-run double and scored one run. Ryan Watson went 3-for-5, including a triple, two stolen bases and scored three runs. Jack Falter also had a triple, stole three bases and scored two runs for the Barons. Trent Wasserman added two hits and he, Sam O'Hara and Nick Stodgell each scored one run. O'Hara also added three RBI. Hale scored three runs for Batavia as well as being walked twice. Iburl Bethel pitched the first 2 2/3 innings, allowing six runs off six hits and striking out seven.
HILTON 9
CANANDAIGUA ACADEMY 3
Hilton scored five runs in the first inning to pull away early from Canandaigua. Tyler Cerame and Alex Noto had two hits and scored two runs each to lead Hilton offensively. Dylan Boprey went 2-for-4 with two RBI, and Kyle Douglas added two hits and an RBI. Carter Clark started the game pitching two innings, allowing three runs on four hits, struck out three and ultimately picked up the win. Michael Sculli had two hits, and Dylan Mackenzie added a hit and a run. Caden Lefave, Luke Pawlicki and Tristan Tyndall each had an RBI for the Braves.
WEBSTER SCHROEDER 10
PITTSFORD MENDON 0
Jake Dunn was dealing at the mound for Webster Schroeder, striking out eight batters and pitching a complete game shutout. Dunn only allowed Mendon three hits, as well as adding an RBI. On the offensive side, Tommy Winn went 3-for-3, hitting two doubles, scoring two runs and had an RBI. Alex Vogt went 2-for-2 while scoring two runs, had an RBI and reached by walks twice. Corey Spooner went 2-for-5, adding two RBI and scored two runs, and Ben Conrow added two hits and scored a run. For Mendon, Karthik Mathew-Malik, Jack Keagle and Lucas Anaya each had a hit. Karthik Mathew-Malik fanned four batters in 2 1/3 innings.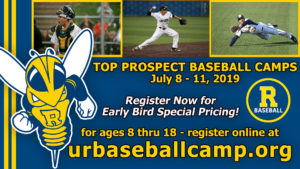 PENFIELD 5
IRONDEQUOIT 2
The Penfield Patriots scored four runs in the third inning to propel them to a win over Irondequoit. Nick Ianniello had an RBI double in the third, scored a run and got walked once. Danny Stapleton went 2-for-2 with an RBI, and Connor Stuewe had a hit and an RBI. Jack Josephson picked up the win, pitching four innings and allowing two runs off three hits. Ryan Davis and Collin Fuller each added an RBI for Irondequoit, as well as Chad Gartland and Frank Fernandes adding a hit and a run each. Nick Serce pitched four innings for Irondequoit, striking out four and allowed five runs on five hits.
GREECE ODYSSEY 14
WILSON MAGNET 0
Korey Canton pitched a one-hit game and dealt eight strike outs in Odyssey's shutout over Wilson Magnet. Dave Crawford, Canton, Joe D'Angelo and Jake Mykins each had two hits for Odyssey.
FRANKLIN 15
EDISON 10
Franklin moved to 8-4 overall and 7-3 in league play. Yadiel Cruz went 3-for-4 for Edison including a two run homer and four RBI. Angel Quinones went 2-3 with a double and a triple and added two RBI. For Franklin, Julian Cotto went 3-for-4 including two RBI and scored two runs. Greiram Ramos also played very well, hitting 3-for-5 with three runs scored and two RBI. Nomar Quinones came in after eight runs were allowed in three innings for Franklin, and proceeded to pitch 13 strikeouts and pick up the win.
LEADERSHIP ACADEMY 7
NE DOUGLASS 2
Roman Rivera pitched a complete game for Leadership, allowing two runs off five hits and fanning eight batters as the Lions improved to 7-5 on the season. Justin Morales led the way offensively, going 2-for-4 with two doubles, an RBI, two runs scored and a stolen base. Alex Rodriguez had a double and scored two runs with two stolen bases.
SCHOOL OF THE ARTS 3
MONROE 4
Javier Aponte came up clutch for Monroe, hitting the walk off hit in the bottom of the seventh with two outs to give Monroe the victory. On the mound, Joaquin Diaz pitched six innings, only giving up one run. He also contributed offensively with two RBI. For SOTA, Ross Janezic led the way going 2-for-3 at the plate.
DANSVILLE 5
BATH-HAVERLING 2
Dansville scored four runs in the fourth inning to take down Bath-Haverling. Brody Stone pitched a complete game, allowing two runs off four hits and striking out one. Tyler Manahey led the way with a two RBI double, and Ryan Carnevale went 1-for-2 with two runs. Hayden Meyer and Elliott Mapes each contributed with an RBI. Alec Sestak drove in a run for Haverling.
PERRY/MOUNT MORRIS 1
YORK 11
James Kennedy led the way for York going 3-for-3 with three RBI and one run scored in a crushing win over Perry/Mt. Morris. Matt McFarland also had three RBI and Clayton Harris went 3-for-4 with two RBI and three runs scored. Timmy LaGeorge Jr also went 3-for-4 and scored two runs with an RBI. York moves to 5-7 overall.
SOUTH SENECA 11
MARCUS WHITMAN 7
South Seneca scored nine runs in the second to win over Marcus Whitman. Kyle Shields pitched three innings with three strikeouts to pick up the win. Jack Mott and Lukas Day each had two RBI, and Ira Aman went 3-for-3 with two runs scored. Dylan Howell went 2-for-3, scored four runs and had an RBI for Marcus Whitman.
WAYLAND-COHOCTON 2
CALEDONIA-MUMFORD 4
Joe Laursen led Cal Mum on the mound, pitching 6 2/3 innings, striking out eight and allowing no runs off three hits. Eric Wilson went 1-2 with two runs, and Jake Burnett went 1-for-3 with two RBI. Conner Englert had an RBI double for Wayland-Cohocton. Jaime Carman pitched six innings, allowing four runs and striking out five.