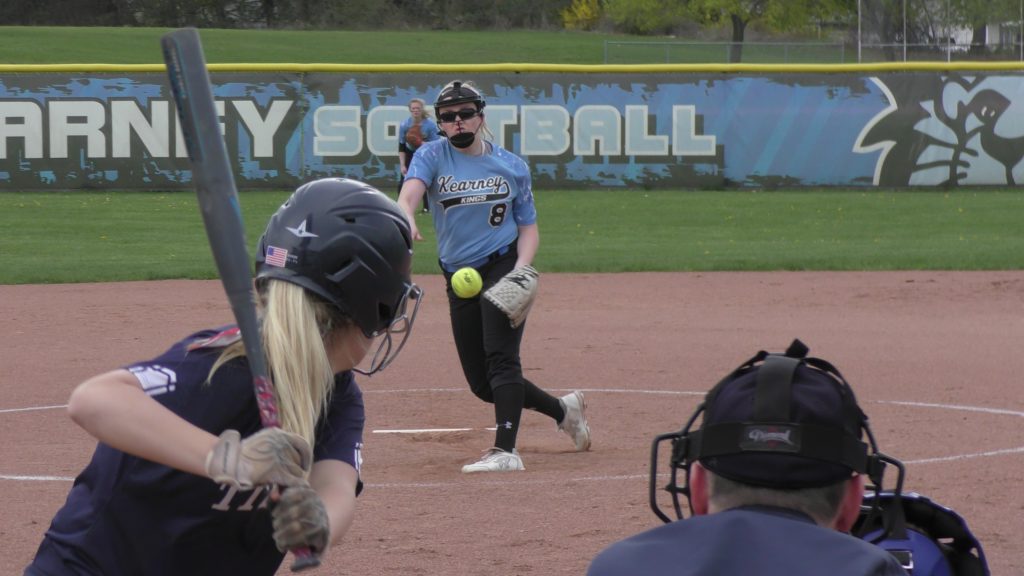 By PAUL GOTHAM
ROCHESTER, N.Y. — Facing an early deficit, the Bishop Kearney softball team turned to its leaders for answers.
Mack Emery and Emily Phelan didn't disappoint.
With Phelan's and Emery's bat, Kearney rallied from five down for a 6-5 win over Webster Thomas.
"That felt really good," Phelan said. "Coming from behind like that was really fun. It was an exciting game."
Phelan struck out 18 in the win. The junior right-hander allowed five runs on six hits through the first two innings. She surrendered four hits over the remaining five frames.
Having that slow stuff is just unfair with the rest of @EmilyPhelan4's arsenal! https://t.co/hS8f5hZ73D

— Billy Heyen (@Wheyen3) May 9, 2019
"It was a matter of getting things going," she said of the early-inning struggles. "I had to make a couple of adjustments. I knew I wasn't throwing as good as I definitely could.
"I wasn't getting as much drive off the mound as I wanted. Just a little tweak there. I guessed it worked."
Final out: @SoftballKearney 6 @ThomasAthletics 5 Emily Phelan strikes out 18. pic.twitter.com/QGmpTk7sAa

— Paul Gotham (@PickinSplinters) May 9, 2019
Phelan set down the final batter of the second on strikes. It was the first eight straight strike outs.
"I don't really think about it when they start piling up," Phelan said of the strike outs. "It's just another out for me. I'm just thinking of getting to the next batter and through the inning for my team."
She fanned the side in order in the third, fourth and seventh innings. The total fell one short of her career high of 19.
"They have strong bats one through nine," Kearney coach Dave Herbst said. "For her to do that against that lineup is impressive. She needed to get them off-balance. Throwing the changeup more often was important."
Emery finished 4-for-4 at the plate. The first baseman got Kearney on the scoreboard with a two-out triple in the second when she brought in Brie Boon and Mackenzie Brown.
Mac Emery gets @SoftballKearney on the board with this 2-out triple. pic.twitter.com/1OHadx7jJg

— Paul Gotham (@PickinSplinters) May 9, 2019
Emery, also a defenseman on the Selects Academy at BK hockey team which advanced to the national tournament in early April, singled in the fourth when BK took the lead and did not surrender it.
"Once we were down a few, heads started to hang," she said. "Me and Em we both knew we had to get up. Her with the strikeouts. Me with the bat. We both knew we had to do something."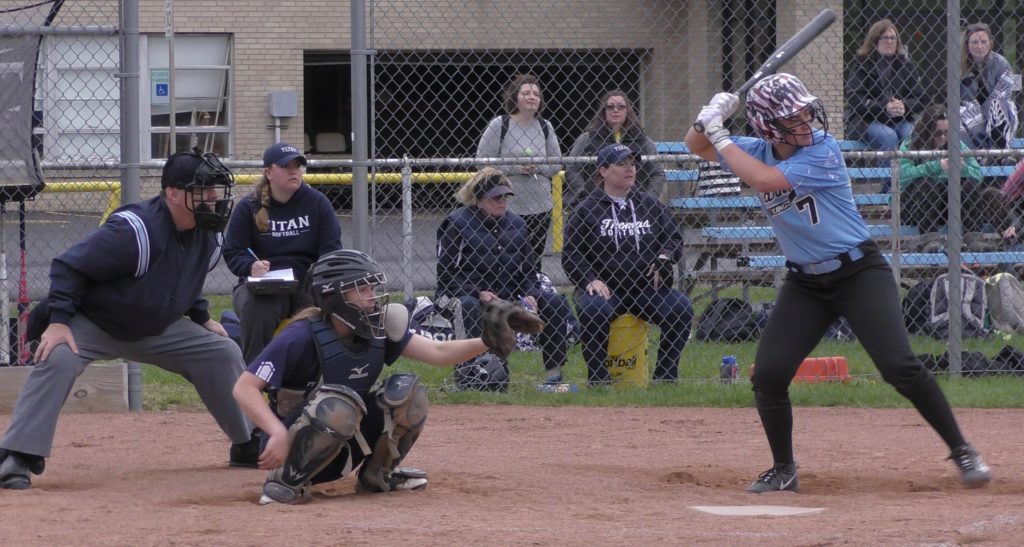 Stella VanGee paced the Thomas (10-5) offense going 2-for-4. She led off the game with a double and scored on a two-out single from Caitlyn Parsons. VanGee reached on an error and scored in the second.
3 more score on this Caitlyn Parsons fly ball. Mid 2: @ThomasAthletics 5 @SoftballKearney 0 pic.twitter.com/SNtommg4Vt

— Paul Gotham (@PickinSplinters) May 9, 2019
Julianna Klimow and Samantha Wesley both finished 2-for-4 for the Titans. Abby Suhr and Cassidy Anschutz both singled and scored a run. Isabella Giorgione was 1-for-3.
The loss snapped a five-game Thomas win streak.
Mac Emery and Anna DiChristina connect on a single apiece for @SoftballKearney Julianna Klimow gets this fly ball to end the threat. End 1st: @ThomasAthletics leads 2-0 pic.twitter.com/OdQFrS2m2s

— Paul Gotham (@PickinSplinters) May 9, 2019

Kearney's Anna DiChristina was 2-for-3 with a run scored. Kateri Maurer singled and scored a run for BK (7-3).