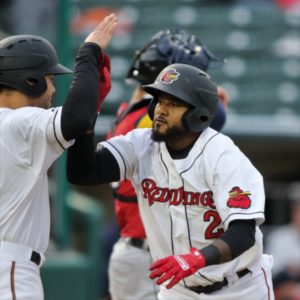 By KEVIN OKLOBZIJA
For Jordany Valdespin, May 7 will always be a special day.
On the seventh day in May of 2012, 11 days into his big-league career, he belted a pinch-hit three-run, ninth-inning homer off Jonathan Papelbon to lead the New York Mets to victory over the Philadelphia Phillies.
"It was something special for me, something I will never forget," Valdespin said. "That's the great moment I have in my career."
He was 24 years old then and hit four more pinch-hit homers for the Mets that summer.
Now, seven years later and four years removed from his last major league appearance, Valdespin is trying to show with the Rochester Red Wings that his bat can still work some magic.
The veteran second baseman is hitting .329 in 21 games for the Wings, going 1-for-4 in Tuesday's 10-5 loss to the Toledo Mud Hens at Frontier Field.
The one hit was, appropriately, a home run. He belted a Spencer Watkins pitch far over the wall in right field to give the Wings a 2-1 lead. It was his third homer, but much more impressively, his 12th hit in 22 at-bats.
VIEW MORE JOE TERRITO PHOTOS HERE. 
"I'm just trying to be aggressive in the strike zone," he said. "The cold weather, it's a little tough. I'm a little bit of a slow starter but it's starting to warm up and I want to continue to help my team."
The Wings can use him, certainly. He has yet to spend an entire season in the big leagues and wasn't even in affiliated ball the past two years. He spent 2017 playing in Mexico and last year was with the Long Island Ducks in independent ball. He had a great year for the Ducks, however, winning Baseball America honors as the Independent Leagues player of the year.
During the off-season he signed a minor league deal with the Minnesota Twins and he's hoping to be a mainstay in the Wings lineup.
"He lengthens the lineup," Wings manager Joel Skinner said. "We have some younger guys up in the order logging some at-bats and he's gives the lineup length (hitting eighth). He's not trying to do too much and as a result you stay on the ball and let your hands do the work."
The Wings hit three homers on Tuesday, with Luke Raley and Brent Rooker going back-to-back in the seventh inning.
By then, however, the Mud Hens were still ahead 8-5, thanks to two big innings.
They scored three times on five hits against Ryan Eades in the fourth inning to take a 4-3 lead, then scored another three runs in the sixth when Jake Reed and Gabriel Moya struggled to throw strikes. There was one single and five walks.
"They had one inning where they had five hits in a row, and one inning where we walked five guys; those are the two innings we'd like back," Skinner said.