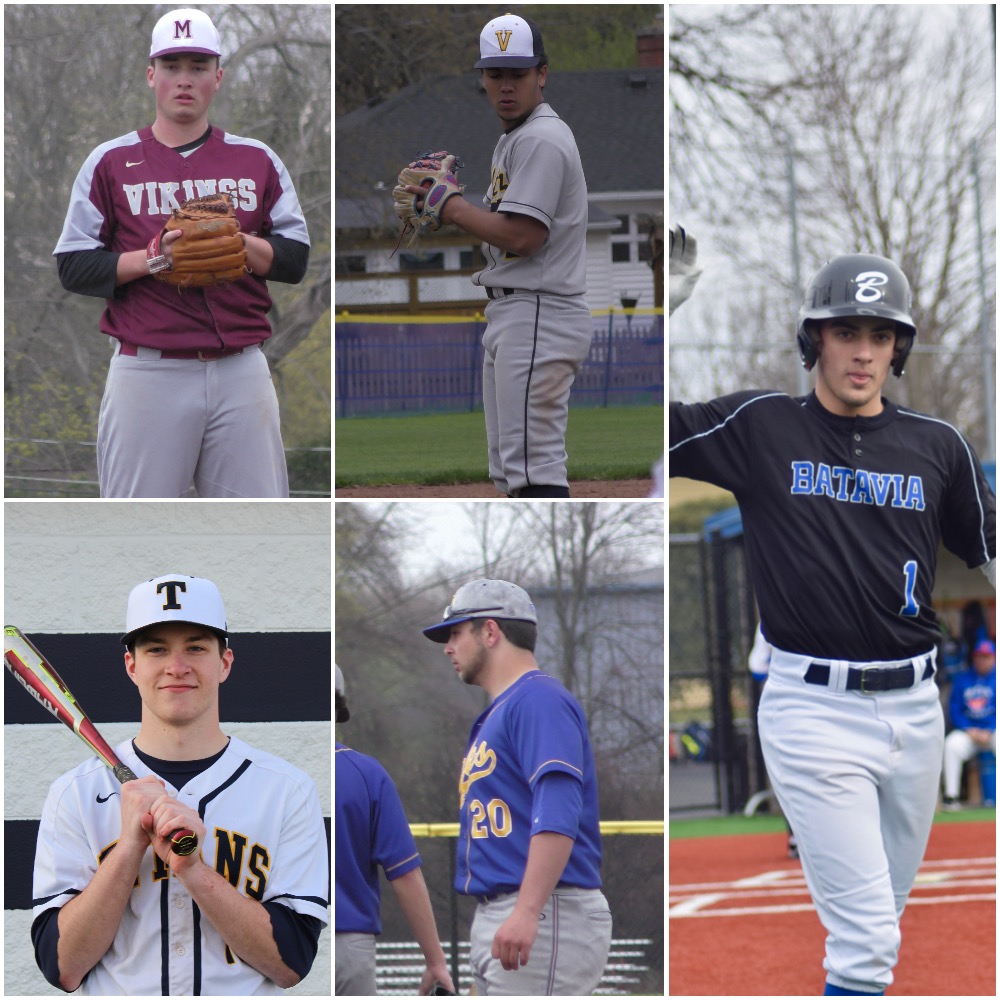 By CAITLIN McCLARE
Victor's Santino Rosso recorded double-digit strikeouts in a start, put up a zero in a relief outing and hit .500 on the week. Webster Thomas Titan Devin Mulcahy and Irondequoit's Nick Serce continued their pitching streaks. Pittsford Mendon's Hudson Bockmier hurled two complete game shutouts and knocked a walk-off homer to cap his stellar week. Sam Sallome posed a threat at the plate and around the bases in Batavia's three games this week.
Monroe County notched the five as Players of the Week (Apr. 29-May 4) in their respective divisions.
Rosso, the middle infielder turned pitcher, boosted Victor in two wins to earn Division I honors The senior right-hander threw 5.1 innings in the Blue Devils' 8-1 win over Penfield, fanning ten along the way. In his third appearance on the mound, he allowed only five hits. Hitting out of the leadoff spot, he went 3-for-5 with three runs scored. READ MORE. His dominance continued in Victor's 7-2 win over Churchville-Chili. He hit a solo shot in the fourth to put his squad up 5-2. In his relief outing, Rosso put up a zero in the sixth frame. Victor will be at Fairport on Monday, May 6 at 5 p.m.

Mulcahy led the Titans to an 8-2 win over Fairport on Friday and shared Division II recognition with Serce. He earned his third consecutive win and contributing offensively. Mulcahy struck out eight and gave up three hits in his six innings of work. At the plate, he went 2-for-2 with a double and two RBI. He drew two walks, one of which helped Thomas regain the lead. The Titans will face Spencerport on Tuesday, May 7.
After extending his scoreless innings streak and posting a .545 on-base percentage, Serce is named Player of the Week for the second time this season. On Monday, with Serce on the hill, Irondequoit handed Canandaigua its first loss of the season. A scoreless start, the senior southpaw put down nine straight from the third until a single landed in sixth inning. In the 1-0 win, he reached base all four times with a hit and three walks. Serce threw six innings on Saturday against Brighton, allowing four hits and sitting down four. With yet another scoreless outing, he has not allowed a run in 31.2 innings, since his first inning of the season. READ MORE. At the plate, he finished the week with two hits and three RBI. Irondequoit travels to Gates-Chili on Monday, May 6 for a 5 p.m. start.
Bockmier appears as the Division III Player of the Week for the second time this season after hurling two complete game shutouts to help Mendon improve to 10-3. On Monday, the senior lefty fanned ten in the Vikings' 4-0 win over Greece Arcadia. His line read: seven innings pitched, three hits allowed, zero runs, ten strikeouts, and one walk. He threw 95 pitches, 65 of which were strikes. On Saturday against Honeoye Falls-Lima, he did it again except this time he allowed only two hits. READ MORE. He is currently undefeated on the mound. At the plate, he went 5-for-14 on the week with two doubles, seven RBI, and a walk-off two-run shot against Greece Arcadia on Wednesday. Mendon is scheduled to face Brighton on Monday, May 6 at 5 p.m.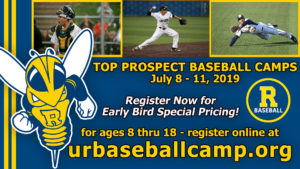 In a 1-2 week for Batavia, Sallome posted a .600 batting average with two extra base hits to earn Division IV Player of the Week. Batavia fell to Eastridge 14-13 on Monday. In the high-scoring game, Sallome went 2-for-2 with a double, two runs scored, and a RBI. In the Eastridge-Batavia rematch the follow day, Sallome recorded two more hits. Sallome backed Batavia's 12-4 rout of Pittsford Mendon by scoring one run and recording two hits. On the week, he stole four bases. Batavia is home on Tuesday, May 7, for a 4:30 p.m. start against Greece Arcadia.