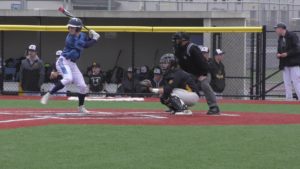 By PAUL GOTHAM
IRONDEQUOIT, N.Y. — It wasn't the best contact of Zach Geist's career.
That doesn't matter.
The Greece Athena junior sent a one-out flare to shallow right center that allowed teammate Jagger Nucci to score from third as the Trojans walked off with a 3-2 win in 10 innings over Eastridge on Friday.
"I was trying to stay within myself," Geist said of the game-winning hit. "Line drive up the middle, that's what I'm trying to do with every at bat."
With the infield drawn, Geist connected on Brady Booher's two-strike offering. Two pitches earlier in the at-bat, Booher got Geist swinging on a breaking ball in the dirt.
"He fooled me on a pretty good curveball there," Geist recalled. "I swung and missed at  a ball that was 58 feet."
The game winner was Geist's second hit of the day.
"All year he's been making contact," Athena head coach Jason Bunting said of Geist. "I had him down in the lineup earlier in the year. Just watching his at bats, he was the kid when he had two strikes on him would just battle and battle and battle until he got his pitch. He would do something with it. That's what he did today."
Zach Geist flare to shallow right center brings home Jagger Nucci with the game winner in the 10th. @AthenaBaseball 3 @eridgebasebal 2 pic.twitter.com/JAz0ZIQdsB

— Paul Gotham (@PickinSplinters) May 3, 2019
That Geist was in the position to win the game seemed unlikely at best just minutes earlier.
Vic Alongi reached on a hit by pitch to start the inning. Nucci looked to move the runner with a sacrifice bunt. He squared and pushed the ball down the first baseline but it slipped into foul territory.
On a pitch in the turf, Alongi took off for second and reached the bag before the throw, but the turf still slick from rain earlier in the day caused Alongi to slide past the bag and he was called out.
"I was thinking it just wasn't our day," Bunting said. "We were trying to do everything we can. I thought Vic made a good read on that play. I thought it was a good play. I thought it was a good aggressive play. He was safe. It's turf, and it's wet."
Nucci eventually reached on a dropped third strike. Justin Kimble dropped a bunt, but the throw to second was off the mark, and Nucci was safe. Jake Cerone walked to load the bases and set up Geist with one out.
"He swung at that one-one pitch that was not a good pitch," Bunting said of his two-hole hitter. "To his credit, he comes back and he fouls off another one and then he gets his pitch. In the book, it's a line drive.
"For him it's about battling. It's a lesson that some guys on our team could learn. I was proud of him for that."
Casey Saucke II retired all six batters he faced to pick up the win. Ryan Dineen started and threw seven innings before giving way to Brandon Smith who worked one inning.
"We came away with a lucky one," Bunting said. "I thought Eastridge outplayed us. I really did. They did some things that put them in a good position. They just couldn't get the big hit when they needed it."
Eastridge (7-5) took a 1-0 lead in the fourth. Caleb Delly led with a walk. Jayden Fayad doubled, and Delly came home on a Shane Harisis RBI ground out.
Saucke singled and scored in a two-run Athena fifth.
Booher singled and singled and scored on a Keenan Calenzo base hit in the seventh.
Booher finished 2-for-4 at the plate on the day. Austin Robinson went 2-for-2.
Anthony Bonacci singled and drove in a run for Athena (9-1). Jayson Russell added an RBI. Cerone and Jagger Nucci both scored.