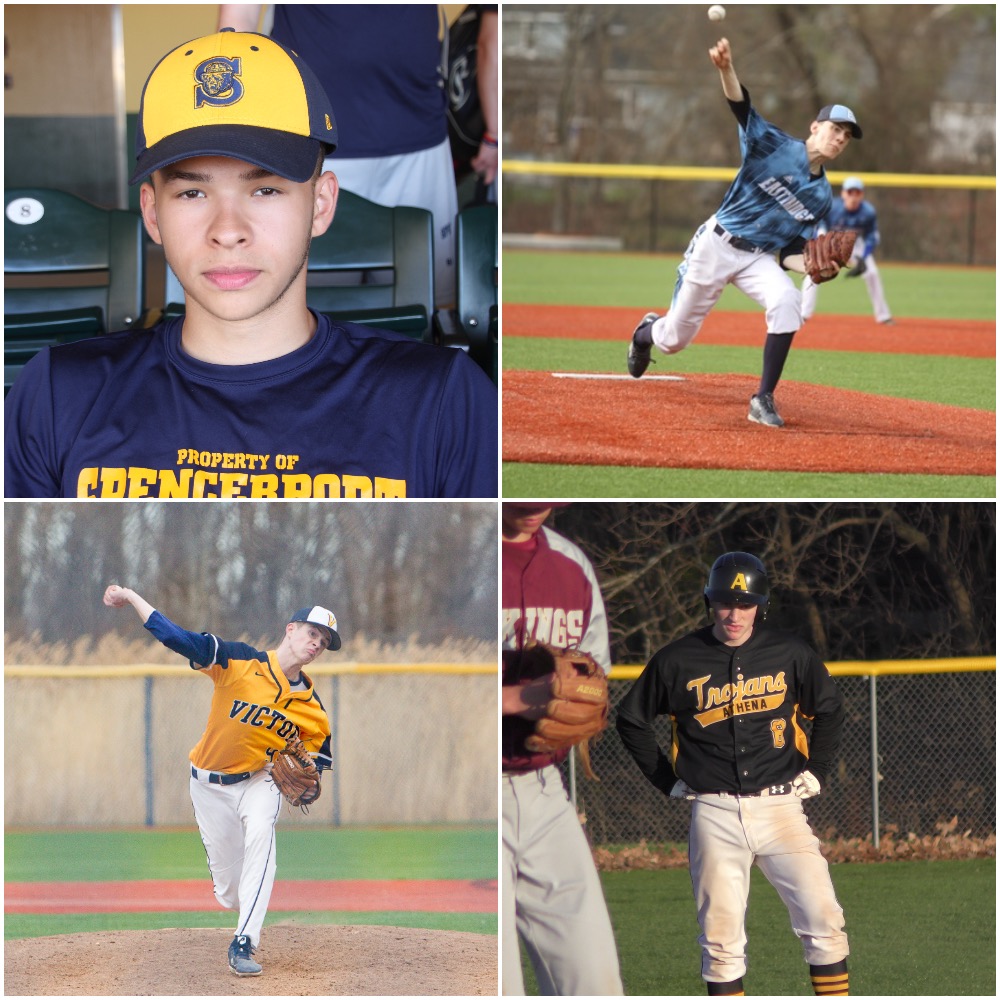 By CAITLIN McCLARE
Drew Delaney threw a complete game shutout in Victor's win over Rush-Henrietta. Arielis Lora flirted with a perfect game for Spencerport. Greece Athena's Casey Saucke II tallied five extra base hits in his dominant week at the plate. Brady Booher contributed on both sides of the ball in Eastridge's split week.
Monroe County recognized these four as the players of the week (Apr. 22-27) for their respective division.
Delaney hurled a complete game shutout to help Victor bounce back from four spring break losses. He allowed three hits and struck out seven. Victor is back in action at Penfield on Monday, April 29.
Lora threw a no-hitter in Spencerport's second shutout win against Gates-Chili on Wednesday, Apr. 24. On his way to the no-no, Lora retired the first 18 batters he faced and struck out 12 hitters on 91 pitches. Of his 91 pitches, 61 were strikes. Before an error in the seventh inning, he was working with a perfect game. Spencerport travels to Basket Road on Tuesday, April 30 to face Webster Thomas.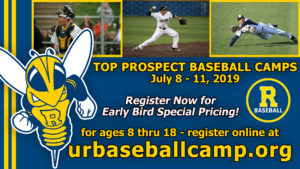 Saucke finished the week 8-for-10 with four runs and four RBI. His career day occurred in a late-game victory over Pittsford Mendon. Not only did he launch the walk-off two-run shot, he also rocked a double and an RBI triple earlier in the game. READ MORE.  In Athena's following game, Saucke collect three hits, including one double, against Brockport to finish with 13 total bases in two games. In the 6-1 win, he singled and scored the go-ahead run in the bottom of the first. Athena will face Pittsford Sutherland at home on Monday, April 29.
Booher homered in one game and earned a win in another in Eastridge's split week. Booher went 3-for-7 with two doubles, one homer, and two runs in the Lancers 10-8 loss to Sutherland. He earned the win in 4.1 innings against Aquinas. He allowed five hits, three runs, one earned, and two walks in 101 pitches. Booher tallied eight strikeouts. Eastridge is home against Batavia on Monday, April 29.