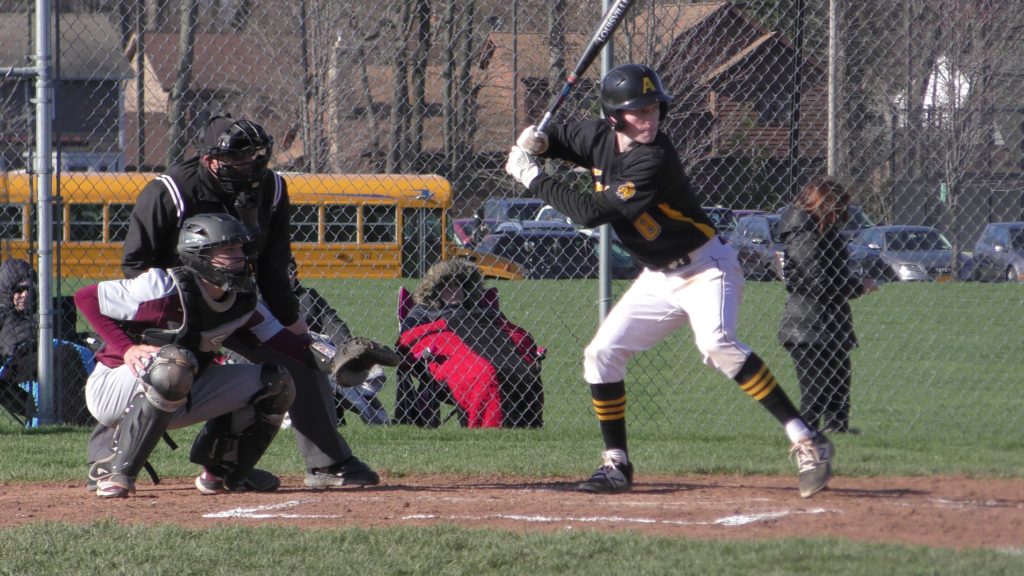 By PAUL GOTHAM
ROCHESTER, N.Y. — If one hasn't already been started, let the trail of lore narrating the baseball career of Casey Saucke II begin on April 24, 2019.
On that day the precocious Greece Athena Trojan used one swing of the bat to touch off an eruption.
Saucke's two-run, walk-off home run capped a late-inning rally as Athena avenged a loss from earlier this week with a 7-5 win in extra innings over Monroe County Division III rival Pittsford Mendon.
He connected on the third pitch of the at-bat.
Casey. Saucke II. Walk. Off. ???? @AthenaBaseball 7 @MendonBaseball 5 pic.twitter.com/Q6qOnpsakE

— Paul Gotham (@PickinSplinters) April 24, 2019
"As soon as I had two balls on me I knew he was throwing a fastball," the Trojans' second baseman explained.  "It was inside. It was a perfect pitch to hit, so I took advantage."
The home run, a towering blast to left field, didn't clear the fence as much as it left it in its wake. Grade school kids were sent to retrieve the ball. They returned with a water-logged, mud-covered pearl from a batting practice past. Who could blame the urchins. They went searching in the area where home runs usually land at the Greece Athena varsity field.
This was no usual home run.
Saucke's swing while economic in motion was an unleashing of violence. Once the bat struck ball, those in attendance turned their chins skyward like they were gazing upon fireworks on the Fourth of July.
When it finally landed, the ball settled into the shortstop area of the adjoining field – an estimated 400-plus feet from home plate.
"As soon as it left the bat, I knew that was gone," teammate Jagger Nucci said. "That was the farthest ball I've ever seen hit."
Another view of Casey Saucke's walk-off blast. pic.twitter.com/j6mkD1evKH

— Paul Gotham (@PickinSplinters) April 25, 2019
Protection in the lineup proved to be key. One inning prior, teammate Jayson Russell drove in Saucke with a base hit. Russell waited in the on-deck circle during the game winner. With Jake Cerone on first base, Mendon had little choice.
"Do you want to put the winning run on second base in the bottom of the eighth inning? That's a dilemma," Athena head coach Jason Bunting said of the possibility that Saucke could have been intentionally walked for the second time in the game. "I know that they were contemplating it. I heard some talk in the dugout because I'm so close (standing in the third base coach's box). I don't know what I would have done in that situation either.
"Jayson is behind him and drove in a run in the seventh inning. I was confident with a runner on second base that we had a shot at that, too. They did pitch to him and what happened, happened."
Teammates mobbed the sophomore and University of Virginia commit at home plate.

He finished the day 3-for-4 at the plate with an intentional walk. A cycle of sorts, he doubled and tripled to go with his first round tripper of the season. He drove in three runs and scored three.
"His work ethic is second to none, and it pays off," Bunting added. "Obviously he's talented, but what he does with that talent is what I'm most impressed with. He's not the kinda kid who says 'I'm good, so I'm just going to sit on that.' He works at the game. He loves the game. He's very much a student. He's not afraid to learn. I can't say enough good things about him."
Saucke plated Zach Geist when he tripled to straightaway center as part of a three-run first inning.
"I didn't hit a curveball today," Saucke noted. "I took advantage of the opportunities they were giving me, I guess. They threw a lot of curveballs to me that were out of the strike zone."
After jumping to the 3-0 lead in the first, the Trojans found themselves trailing 5-3 going into the seventh.
Karthik Mathew-Malik and Tyler Procious connected on back-to-back two-out singles in a four-run Mendon fourth. Procious added another run in the sixth when he plated Jon Surtel with a single to right center.
Mendon (7-2) looked ready to win its seventh straight game.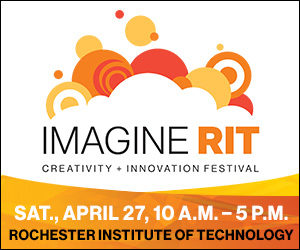 "We stayed together as a team and pulled through for the win," Saucke said. "Everybody was up in the dugout. Nobody was sitting. That type of energy is going to always take us to victory."
Not to be overlooked but understandable considering the outcome, Nucci worked 2.1 innings for the win. The junior right-hander took the mound with two on in the sixth. He retired the first batter he faced on a ground ball.
After giving up a leadoff double to start the seventh, he received some help from teammate Ron Vignari who snared a line drive off the bat of Jack Keagle and doubled off the runner at second. He finished the inning with a strike out.
"I trust my defense, but I was definitely looking for strike outs," Nucci said. "It was great defense all around and good teamwork."
Nucci gave up a two-out single in the eighth before ending the inning with an infield pop up.
"I depend more on my breaking ball usually, but they couldn't touch the fastball so Junie (Athena catcher Jorge Oropeza III) kept calling it. I kept filling it and it worked out well."
Mathew-Malik threw 3.2 shutout innings for Mendon. The left-hander struck out one, walked two and allowed just one hit.
"We couldn't touch him," Bunting said of the Vikings pitcher. "We just couldn't get anything going. I tried a double steal that didn't work. Just to try and get something going. They executed very well. That was a big play."
Russell finished 2-for-4 for Athena with two runs scored. Vic Alongi drove in the tying run in the seventh with an infield single.
Procious went 4-for-5. Mathew-Malik was 2-for-5. Andrew Bernacki and Keagle collected two hits apiece and both scored a run. Surtel crossed home twice.