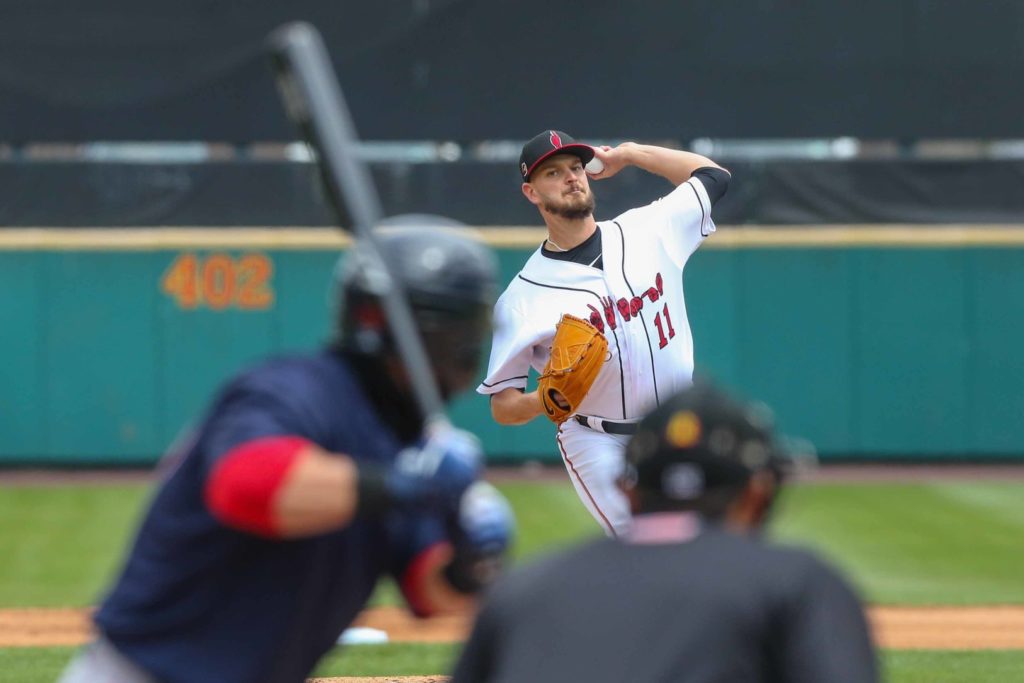 By KEVIN OKLOBZIJA
Justin Nicolino left the bullpen after his pre-game warm-up on Sunday afternoon thinking he was ready to mow down the Pawtucket Red Sox.
Four batters into the game, he was trying to work out of a bases-loaded jam thanks to three walks.
"It's weird," Nicolino said, "because in the bullpen I felt great."
This much we learned, however, during the 5-2 Rochester Red Wings loss at Frontier Field: Nicolino is going to battle.
While the veteran left-hander surrendered a two-out, two-run single to Sam Travis before ending the first inning, he refused to roll over and, despite throwing 29 pitches in the frame, was still pitching in the seventh.
"I've never been one who gives up," he said. "I'm going out and competing until the ball is taken away."
By the time he left the mound, the score was tied 2-2 and he had scattered five hits and walked just one other batter in his 6 1/3 innings.
It was just what the doctor — or in this case, pitching coach Stu Cliburn — ordered for a team whose bullpen needed a rest.
"We're looking for exactly what we got today, to get some innings from him," Cliburn said.
The Wings overcame the early 2-0 deficit in the sixth inning when Luke Raley hit a solo home run and Adam Rosales drove home the tripling Zander Wiel with a sacrifice fly.
Pawtucket, however, scored the decisive runs in the eighth against reliever Mike Morin — also with two outs. Josh Ockimey led off with a single and Chad De La Guerra followed with a double. Morin fanned Travis and retired Cole Sturgeon on a pop to second but fell behind Juan Centeno and surrendered a no-doubter home run into the Wings bullpen on a 3-1 pitch.
"The 3-1 count, the fastball was kind of centered down the middle and that's what you're supposed to do when it's 3-1," Cliburn said of Centeno's blast.
A Wing for the first month of the 2016 season, Centeno never homered at Frontier Field wearing a Rochester uniform.
Nicolino is 1-1 with a 5.12 ERA and 1.55 WHIP in his four appearances for the Wings. He was signed as a free agent in the off-season by the parent Minnesota Twins.
It was evident after Pawtucket leadoff hitter Mike Miller walked that the Wings started didn't have his best stuff.
"When you're bouncing fastballs 55 feet, something's not right," he said. "That's not something I do."
Said Cliburn: "He didn't have a feel for his fastball, and that affects other pitches. But he made adjustments."
The first-inning runs for the PawSox certainly weren't a surprise in the big picture. The Red Wings have been outscored 30-4 in the opening inning this season, which plays a part in their 8-14 record.
"The first inning sometimes sets the tone for the game," Cliburn said.