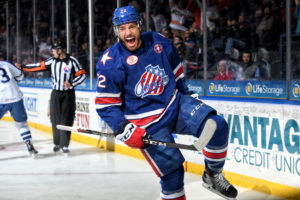 By KEVIN OKLOBZIJA
When the Rochester Americans' 2017-18 season came to a yet another premature end, Zach Redmond was prepared to explore his free-agent options.
He wasn't getting any younger, and NHL teams weren't as interested in his talents as they once were. Europe was becoming an appealing alternative.
But then in mid-June the Buffalo Sabres made him an offer he couldn't refuse — with one catch: He'd get two years of financial security with the Rochester Americans, but he'd be on an American Hockey League contract.
He said OK.
Now, with the 2019 Calder Cup playoffs about to begin, Redmond knows he made the right decision. So does the entire AHL.
The 30-year-old native of Traverse City, Mich., on Tuesday was named winner of the Eddie Shore Plaque as the league's best defenseman after voting by coaches, players and media.
Amazingly, he's the first Amerk to win the award since Hockey Hall of Famer Al Arbour — 54 years ago.
"I've heard of that guy," Redmond said, pretending naivety. "That's pretty neat."
The only other Amerk named the AHL's best defenseman was Steve Kraftcheck in 1958-59.
"There's so many good defensemen out there these days," Redmond said, "so it's such a nice honor."
Redmond led AHL defensemen in goals with 21 and, together with 29 assists, finished third in points with 50 in just 58 games. His 0.86 points-per-game average was best among AHL defensemen, and his nine game-winning goals tied for first overall among all skaters.
He also broke Rick Pagnutti's franchise record of goals by a defenseman (18), which had stood for 46 years.
When told on Tuesday that he had won the award, he said he really didn't reflect too much because he was in the middle of strategy preparations for the playoffs.
His solid play at both ends of the rink helped the Amerks finish 46-23-5-2, the fourth-best record in the league. The best-of-five first-round playoff series against the defending Calder Cup champion Toronto Marlies begins at 7:05 p.m. Friday in downtown Rochester.
He did miss 17 games due to a lingering lower body injury, and while he maybe didn't look as sharp down the stretch as he had before he was hurt, he said he's good to go.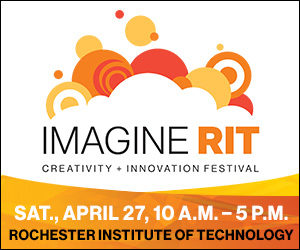 "I'm good enough to be ready to play," he said. "Health isn't an issue."
The eight-year veteran defenseman has found a home with the Amerks. He was voted the team's MVP by his teammates and most popular player by the booster club. The feelings are mutual, too.
"I've been with four different organizations now (Atlanta/Winnipeg, Colorado, Montreal and Buffalo) and it isn't every day you get to play for people that you love," he said. "All the way through the organization, they care about the right things. There's just a bunch of good people and they care about us.
"And at the AHL level, they're trying to win."
It's now up to the players to do the rest. The Amerks haven't won a playoff series since 2004-05. The last of six Calder Cups for the franchise came in 1995-96, John Tortorella's rookie year as a head coach.
"During the long regular season, you can forget why you're doing it all," Redmond said. "But this time of year is why you're doing it. This is why we played the regular season and no one is ready to go home."