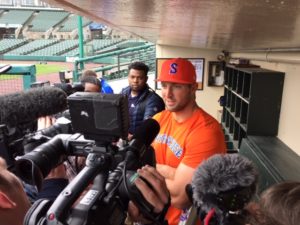 By KEVIN OKLOBZIJA
If you wonder how Tim Tebow, a guy who gave up baseball for 10 years, has gone from a rookie-ball social media spectacle to a Triple-A suspect prospect, this is all you need to know:
When he sets his mind to doing something, he's going to do it.
In 2003 he swore off (in a non-cursing manner) soda pop and says he hasn't had one since. No Pepsi, no Coke, no Mountain Dew, no Grape Nehi. Nada. He's big on what he sees as healthy eating.
Which is why he won't be sampling a Garbage Plate from Nick Tahou's during his visit to Frontier Field Tuesday and Wednesday with the Syracuse Mets.
"I'll try the hamburgers, I can't eat the potatoes or the macaroni," he said. "I'm on a low-carb diet, I'm on a keto diet."
He doesn't allow go-ahead-and-splurge days, either. Cheating won't get you to your goal.
"I haven't a soft drink since I was 15," Tebow said Monday afternoon, after the Mets at Red Wings game was postponed by miserable weather. "Now, my thoughts on what's healthier have changed, but things that I knew weren't healthy for me, I've stayed away from since I was 15.
"It's really tough for me to splurge, my brain doesn't really allow me to," he continued. "Even though some people have a cheat day or a cheat weekend, it's hard for me to wake up that day and say, 'Today's the day I'm not going to get better at something,' where I'm not going to be at least focused on trying to get better. I'm more at peace if I feel like I'm doing the best thing to get where I want to go. Every day I want to take another step towards it, not 'Oh this is a good day to relax' so I'm farther from it."
Now you know how he hit .273 in Double-A last season in just his second season of pro ball. No, he didn't display Hall of Fame abilities, but he did enough for the New York Mets to justify his roster spot in Syracuse this season.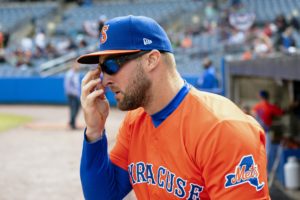 Tough beginning in Triple-A
Thus far he has looked overmatched. He has just five hits in 34 plate appearances, with two doubles, three walks and 13 strikeouts.
So, yes he's a suspect prospect, especially at age 31. But that's not a criticism. Look around Triple-A; look at the Rochester Red Wings roster. Most players listed will never get a big-league at-bat or face an MLB hitter.
Yet every now and then someone won't take no for an answer. Like 2018 Red Wings MVP Willians Astudillo. Name one scout before last season who ever thought he could get a Major League hit, let alone 41 in his first 123 plate appearances. Now he's the toast of the Twin Cities.
Which brings us to Tebow. Three seasons into this baseball thing, he'd still like to believe he can be another who fooled them all.
That's why, after all, he showed up in the 2016 Arizona Fall League to begin his pro baseball career, four years after his NFL career fizzled. So what if he hadn't played the game since his junior year in high school, 10 years earlier.
You see, when he dedicates himself to a mission, he's all in. That's how he won two national championships as quarterback of the Florida Gators. How he won the Heisman Trophy as a sophomore in 2007. How his overtime pass to Denver Broncos wideout Demaryius Thomas went for an 80-yard touchdown to oust the Pittsburgh Steelers from the 2011 playoffs.
Right now he's the most famous player in the International League, with 4.8 million Twitter followers and 29 NFL touchdowns (17 passing, 12 rushing).
Another city, another meet-and-greet
So when Syracuse arrives in a different city for the first time, he has a little scrum with the media. Just part of the job, like hitting off the tee and working on his outfield defense.
"I don't think this part really gets old," he said. "I'm grateful people are interested in what you're doing. At the same time, there are times it gets busy and you don't always want to go out of your way but it's just part of it. Also, every time you get an opportunity to speak and share with people, you get a chance to share your message and what you believe and what's on your heart, so I appreciate that opportunity as well."
His time back in baseball has provided many reminders of how cruel the game can be. That line drive to the shortstop with the 101 mph exit velocity is nothing more than a hit-less at-bat.
"Baseball can be a very frustrating game," Tebow said. "You can think, 'Oh, my gosh, I feel so good, I'm crushing this dude.' And then all of a sudden he sits you down on three pitches."
How baseball emulates football?
Striking out isn't fun. Hitting weak ground balls isn't fun. Going 0-for-a-week isn't fun.
"I hated throwing interceptions, too," he said. "As a quarterback I think it really prepared me for this, having to be mentally tough, knowing that as a quarterback, it wasn't really all on you but sometimes it looked that way, so you're going to get way too much of the glory and you're going to get way too much of the criticism.
"That form of mental toughness of dealing with the highs of football and the lows of getting cut and everything I went through in football has really helped me with the mental side of being a minor-league baseball player."
On the football field, however, his persona and leadership allowed him to seemingly will his team to victory. He's learning that doesn't happen in baseball.
"The player I was in football with the passion, the excitement, the enthusiasm, all those things that I tried to be, that it's a little bit different in baseball," he admitted. "That comes into play more so in the dedication every day and the work ethic and the focus on the little things.
"In baseball you can't impose your will as much, it's just not that way. You can't go to the plate and impose your will on a pitcher; it just doesn't work that way. The swing, the rhythm, everything, that's how you impose your will so I think it's more the determination, the dedication to just keep going right back to the cage, working, working, working, I think that's how you're able to take it to the game."
And he intends to do that until he's at Citi Field.