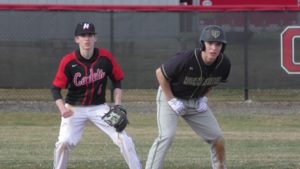 By CAITLIN McCLARE
Tyler Cerame out together an impressive streak at the plate to help Hilton to two wins this week. Irondequoit's Nick Serce did not allow a run, but played a part in five runs scored. Tyler DePaolis earned the win in a complete game for Pittsford Sutherland. Honeoye Falls-Lima's Hayden Smith threw four innings and earned a win, while standing out at the plate as well.
For their standout performances, Monroe County awarded the quartet with player of the week (Apr. 8-13) honors for their respective divisions.
Before popping up in his final at-bat of the week, Cerame was eight for his last eight at-bats. The sophomore shortstop finished the week 8-for-9 with two triples, one double, three walks. He knocked in six runs and reached base in 11 consecutive plate appearances over the three-game span.
Serce sparked Irondequoit's offense with a 3-for-4 day against Spencerport on Monday, April 8. The senior knocked in three runs and crossed the plate once. In the 8-0 win, he hurled six shutout innings with eight strike outs and allowed three hits. On the week, Serce went 4-for-8 with three RBI and two runs scored. Irondequoit is at home Monday, April 15 to face Greece Arcadia at 12 p.m.
Sutherland's DePaolis worked the win against Mendon on Wednesday, allowing five runs, three earned, on eight hits in a complete-game effort. In Sutherland's sixth inning comeback, DePaolis worked a bases-loaded walk for the go-ahead run. He went 1-for-3 with four walks, one run, and one RBI on the week. The Knights' second game of their spring break trip is against Radnor on Monday, April 15 at the Cal Ripken Experience.
HFL's Hayden Smith recorded two two-baggers, knocking in one run. Smith finished 3-for-4 on the week. Against Greece Arcadia, Smith struck out four in four innings with one earned run on his way to grabbing the win. The Cougars will face Rush-Henrietta on Monday, April 15 at 11 a.m.