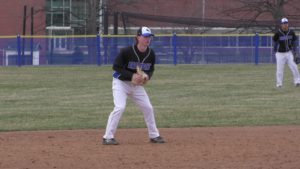 McQUAID 4
VERO BEACH HIGH SCHOOL (FL) 2
Noah Campanelli and Hunter Walsh both drove in two runs apiece in the fifth inning to help McQuaid erase a two-run deficit. Campanelli homered for his only hit while Walsh finished 1-for-2 at the plate with a run scored. Charlie Merkley and Zach Lee scored the other two runs for McQuaid. Ryan O'Mara allowed two runs on four hits over six and a third innings. O'Mara struck out out nine and walked two on 96 pitches. McQuaid is 8-0 on the season. 
HARRITON (PA) 8
PITTSFORD MENDON 11
Hudson Bockmier led a group of seven different Pittsford Mendon players who recorded an RBI in the double-digit offensive effort. Bockmier went a perfect 3-for-3 with four RBI, scoring one run. He collected a double and a triple while also giving up two runs on five hits and a walk over three innings of work He struck out five. Karthik Matthew-Malik doubled as part of a 1-for-3 effort at the plate, scoring two runs and driving in one. Charlie Bennett, Kyle Hennessey, Zach Janson, Kevin Keneally and Jon Surtel all recorded one RBI for Mendon. Tyler Procious walked three times and scored twice. Zach Janson was 1-for-3 with a walk, an RBI and a run scored. Surtel earned the save, giving up three runs on four hits while striking out five and walking one over three innings of work. The Vikings led 11-1 after three innings.
RADNOR (PA) 7
PITTSFORD SUTHERLAND 11
Nick Provenzale connected on all four of his trips to the plate, driving in five runs to lead Pittsford Sutherland (3-2). Connor Fitzsimmons and Jack Zawacki both knocked in multiple runs, with Fitzsimmons going 3-for-4 with three RBI while Zawacki was 2-for-3 and two RBI. John Messina and Robert Nolan combined for the win and nine strikeouts on the mound.
HEDGESVILLE (WV) 4
BROCKPORT 5
Tyler Henshaw drove in two runs and tossed two shutout innings for Brockport. Henshaw struck out two on 23 pitches while allowing no hits for the win. Sam Velletri finished 2-for-3 at the plate with one RBI and one run scored. CJ Wiest and Esten Schalge drove in the other two runs for Brockport. Troy Leibert started the game on the mound, giving up four runs on seven hits and striking out four through five innings of pitching. Leibert, Nick Nealon, Joe Herman and Ryan Sigillo scored the rest of the runs for Brockport.
NITRO (WV) 4
NEWARK 5
Trailing by two with the bases loaded in the bottom of the seventh, Kyle Wood cracked a walk-off triple. The sophomore shortstop finished 2-for-4 at the plate, with all three of his RBI on his final at-bat. Julius Teabout, who singled and scored on Wood's game-sealing triple, went 3-for-4 at the plate with two runs scored. Teabout started the first four innings on the mound, giving up two runs on four hits while walking three and striking out three. Dylan Blanchard-Rieke picked up the win in relief, allowing two runs on five hits through three innings. He struck out one and walked one, going 2-for-3 at the plate.
PENFIELD 8
LORIS (SC) 7
Bobby Bradley, Connor Stuewe and Gage Ziehl collected two hits apiece as Penfield jumped to a 7-1 lead and held on for the win. Ziehl finished 2-for-3 with a triple and a double. The sophomore walked twice, scored twice and drove in a run. Stuewe drove in a run and was 2-for-5. Bradley doubled and 2-for-5 on the day. Danny Stapleton started, struck out three and allowed two runs on four hits over four innings to pick up the win. Brendan Miller doubled and scored a run. Ryan Novy scored and drove in a run with a hit and two walks. Peyton Pace had a hit and scored a run. Collin Pichany crossed home plate twice. Loris scored four runs in the seventh, three with two outs.
CANANDAIGUA 23
BENITO JUAREZ HIGH SCHOOL (IL) 0
Cooper Crunick recorded five RBI on a 3-for-4 performance at the plate with three triples to lead a four-inning offensive explosion for Canandaigua. Joe Brinza went 2-for-4 and drove in three runs while scoring twice. Dylan Mackenzie was 3-for-3 with a double, two RBI and four runs scored. Seth Vigneri finished 3-for-4 with a triple, two RBI and two runs scored. Sam Werth doubled and was 3-for-3 scoring one run and driving in two. Michael Sculli went 2-for-3 with a triple, two RBI and two runs scored. Beau Norris, and Fletcher Hanford scored a run apiece for the Braves. Tristan Tyndall and Nate MacClean both crossed home twice. Mackenzie and Austin Miller combined on four innings of shutout pitching, giving up only two hits while striking out seven. Canandaigua scored six runs in the first, eight in the second and six more in the third before capping the game with three runs in the fourth.
BRIGHTON 7
SOUTH CHARLESTON 1
Ryan Watson finished 3-for-4 including a two-run single in the fifth inning when Brighton (4-0) scored five times. Nick Stodgell gave the Barons an early lead with two-run home run in the second. Stodgell added a sacrifice fly later in the game to finish with three RBI. Trent Wasserman fanned six over four shutout innings to pickup the win. Wasserman allowed just one hit in the outing. Jack Falter, Matt Falter, Sam O'Hora and Chase Seibold all singled and scored. Wasserman collected a walk, RBI and run scored.
FAIRPORT 2
BUTLER (OH) 7
Anthony Roides plated Tyler Holmes and Parker Houde with a two-out triple in the third to give Fairport a 2-1 edge. Holmes finished 1-for-2 with a walk in the game. Josh Van Bramer and Peyton Olinski had a hit apiece. Nolan Hicks and Aaron Jenks both reached on a walk in the game. Van Bramer fanned four and allowed two runs (one earned) on two hits over four innings of work.
MORGANTOWN (WV) 9
VICTOR 2
Hudson Alread tripled in the sixth inning to drive in both of Victor's runs in the losing effort. Santino Rosso finished 2-for-3 at the plate in Victor's first loss of the season.
LIVONIA 7
MARCELLUS 1
Alex Minnehan struck out nine in a complete-game effort and improved to 3-0 on the season. Noah Fasso finished 3-for-4 with three RBI. Jake Smith was 2-for-4. Livonia improved to 5-0 with the win.
WAKEFIELD 4
GENESEO 12
Geneseo sent 15 to the plate and scored 10 runs in the first inning to put the game out of reach early. Russell Brownell, Jake Hamilton and Luke Harris each had two hits in the opening stanza. Hamilton finished the game 3-for-4 with three RBI and two runs scored. Brownell was 2-for-4 with two RBI and three runs scored. Harris collected two hits in four at bats and crossed home twice. Liam Miskell doubled and drove in a run. Evan Salvaggio started and allowed four runs (three earned) on eight hits over six innings for the win. Salvaggio struck out six and walked two. Salvaggio was 1-for-3 at the plate with a walk, run scored and an RBI. Noah Reilly scored once and drove in two runs with a hit. Dan Kelly was 1-for-3 with an RBI and a run scored.