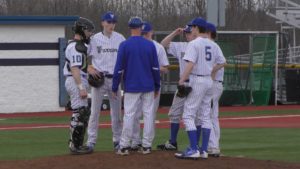 By PAUL GOTHAM
WEBSTER, N.Y. — What Nick Vogt started, Alex Vogt ended.
And the Webster Schroeder Warriors reaped the benefit.
Alex Vogt connected on a walk-off double as Schroeder came-from-behind to beat Churchville-Chili, 10-9 in high school baseball action at Basket Road Park, Friday.
Vogt's first hit of the day plated pinch runner Jack VonAhnen.
"I didn't get the job done in my first three at bats," Vogt said. "Coming through at the end like that means a lot."
The senior right fielder turned on a two-ball, one-strike fastball up and in.
"I knew I won it," he said. "I got ahead in the count and was looking for my pitch."
Twin brother, Nick Vogt (0-for-15) came into the game looking for his first hit of the season. Schroeder's three-hole delivered at the right time with a three-run shot to left field in the fourth inning.
Trailing 9-3 midway through the third inning, Vogt's home run knotted the game at nine.
"I just knew I had to pick up my teammates and put a good swing on it," he said. "We knew we had a good chance. We always know we have a good chance."
Matt Piccarreto and Ben Conrow worked back-to-back base on balls to start the Schroeder fourth. Two outs later, Vogt connected on the first pitch he saw.
"Everybody goes through those stretches in the season," Schroeder coach Matt Knight said of Vogt's slump. "His happened to be at the start of the season."
Jake Dunn scattered three hits over 4.2 shutout innings in relief to pick up the win.
"When Jake came in, he started slowing everything down," Nick Vogt said of his teammate. "The game had sped up on us little. That was the problem. Jake came in, slowed it down and controlled the pace. We just built off it."
Dunn entered the game with a runner on third and three runs in. The Saints Ethan Putney greeted him with an RBI single.
After surrendering a leadoff single to Joe Puglia to start the Churchville fourth, Dunn induced a comebacker for a 1-6-3 double play. It was the first of six straight batters the junior right-hander retired.
"The first inning I was out there I was short arming it, spiking it," he explained. "I just started reaching through, dropping them in there."
Using his breaking ball to set up batters, he struck out six and did not allow a runner past second for the remaining four innings.
"I'll be honest, I got mean," Dunn said. "I was in a mood. I was thinking I was sitting this person down right now. He's not getting the best of me. That just kinda kept me going through. It's like you think you can hit against me? You're getting shut down."
Gavin Palo connected on a two-out, two-run single to pace to Churchville (3-2) to a 3-0 first inning lead. The Saints added two more in the second and four in the fourth. Wes Colucci plated Palo and Johnny Bagley with a single and scored on a Jake Carroll triple as part of the fourth inning.
C-C's Brandan King finished 3-for-3 with three RBI and three runs scored. Palo was 3-for-4. Carroll went 2-for-5, and Colucci was 2-for-4 as part of 13-hit Saints attack. Churchville had won three straight coming into the game.
Tommy Winn paced Schroeder (2-2) going 2-for-4 with two triples, three RBI and and two runs scored. Robby Merkov tripled and drove in a run.
The Warriors had lost two in a row coming into the game.
"We needed to get a win today," Knight said. "We aren't playing our best baseball right now. I like the fight in these guys."