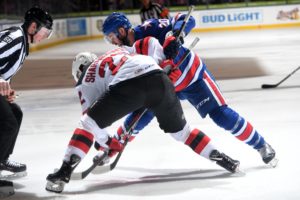 By KEVIN OKLOBZIJA
Call it poetic justice. Or, in this case, puck justice.
Nathan Bastian's goal with 14.8 seconds left in overtime never should have been allowed, since the Binghamton Devils were offside upon entry into the Rochester Americans' zone.
But since an error by the off-ice officials early in the period — posting the wrong penalty time on the scoreboard, resulting in Binghamton's penalized player being kept in jail longer than required — led to a "power-play" goal by the Amerks, justice was served.
The Devils departed Blue Cross Arena at the War Memorial on Friday night with a 4-3 victory and the Amerks fans in the crowd of 8,367 left utterly disappointed.
Imagine watching a team 36 points superior to the opponent, a team that says it is fine-tuning for the playoffs while the other has had April 15 tee times booked for a month, open a 2-0 lead and then collapse in the second period.
But it's safe to say the fans' malaise was topped only by that of Amerks coach Chris Taylor, who is beyond perturbed over an inability to win at home (21-14-2-1 compared to 24-8-3-1 on the road), especially in front of big crowds.
The Amerks opened that 2-0 lead on late first-period goals by Will Borgen and Victor Olofsson, then displayed little over-the-top effort in the second period and watched the Devils score three times.
When the home crowd has topped 6,000, the Amerks are 4-7. When there have been more than 7,000 in the building, the home team is 1-4, including 0-2 the past two Fridays.
"To me, it's disappointing on fan appreciation night, to play like that," Taylor said. "That bugged me the most."
That the Amerks (45-22-5-2) were idling in neutral heading into the second period wasn't too surprising. They had every right to suspect the Devils (28-40-6-0) were done, especially since Rochester had won seven of the previous nine meetings this season.
But the Devils had other ideas, scoring twice in 19 seconds to tie the score before Eric Tangradi's rebound goal at 14:15 gave Binghamton the 3-2 lead.
"A 2-0 lead, we have to close the game," said rookie Rasmus Asplund, who converted a Taylor Leier pass into the tying goal 1:55 into the third period. "We have to work on a lot of things."
Namely, their ability to close out games, to play shut-down defense. Now, the Amerks have been pretty much assured of finishing first or second in the North Division since Christmas. They knew long, long ago that they were playoff bound, and talk week after week about the potential they possess for a real playoff run.
This final weekend, while winning the division remained a possibility, was still as much about cleaning up bad habits and gearing up for the first round as it was about overtaking Syracuse.
Except playing such a poor second period — outscored 3-0, outshot 13-7 — was about as far from playoff-esque as a team could be.
"There's a process," Taylor said, "and if we don't play the right way, we'll be out in three straight."
To have any chance of winning the division, the Amerks must win at Syracuse in regulation on Saturday night, then get more points on Sunday at Belleville than the Crunch do at Utica.
"We have to finish hard," captain Kevin Porter said.
Amerks awards
MVP: Zach Redmond.
Rookie of the Year: Rasmus Asplund.
Most Improved Player: Asplund.
Rob Zabelny Unsung Hero: Wayne Simpson.
Fairand/O'Neil Sportsmanship: Danny O'Regan.
McCulloch Community Service Trophy: Nathan Paetsch.
Booster Club Most Popular Player: Redmond.