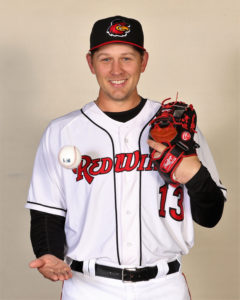 By PAUL GOTHAM
ROCHESTER, N.Y. – Dictionary.com lists the definition of efficient as performing or functioning in the best possible manner with the least waste of time and effort.
Friday night, that definition took the size and shape of Wings reliever Tyler Duffey.
The 6-foot-3 right-hander entered a 3-0 game and gave Rochester two shutout innings.
"I threw a good change-up today," Duffey said. "Threw some sinkers as well. Just kinda mixed it up a little bit. If you just throw two pitches for a while eventually they're going to sit on one. These guys are professional hitters so you got to make some adjustments. I think it worked today."
Duffey struck out five of the seven batters he faced in the seventh and eighth innings.
"He threw the ball well tonight," Rochester manager Joel Skinner said. "He's been working on his pitch mix and sequencing. He's been aggressive, throwing strikes and keeping the ball out of the middle of the plate."
Duffey fanned Lehigh Valley's Malquin Canelo to start the seventh. He surrendered a a four-pitch walk to Shane Robinson before getting Phil Gosselin to line out and fanning Dylan Cozens.
He set down the IronPigs in order with three strike outs in the eighth.
All told, he hurled 37 pitches to seven batters – little more than five per hitter faced.
"Some of those feel like they're a little bit longer than that," the Houston native said. "Going 3-2 on guys is never fun. Getting out of it on the right side pays off. I'll take it. My last outing in Syracuse was a little wild breaking ball and fastball for that matter. Got back in the zone better today and it paid off."
Lehigh Valley starter Enyel De Los Santos was perfect through 4.2 innings before giving up a walk to Wynston Sawyer. John Andreoli broke up the no hitter one inning later with a two-out double.
Lane Adams scored on Sean Rodriguez triple in the second to give the IronPigs all the runs they needed.
Cozens and Mitch Walding added solo shots for the final count.
"Obviously, you'd like to have those back," Skinner said of the home runs.
Rochester fell to 2-7 with the loss.
The same two teams meet again on Saturday. A 1:05 PM first pitch is scheduled. Gates-Chili graduate and recent WNBA draft pick, Cierra Dillard will throw out the first pitch.