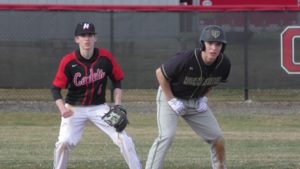 SPENCERPORT 2
HILTON 7
Tyler Cerame finished 2-for-3 with a walk and connected on a two-run single in the fifth inning when Hilton broke open a 2-2 game. Cerame plated Gavin Moore and Jason Story as Hilton (2-2) won for the second straight time. Cerame, who went 4-for-4 on Monday and 2-for-2 with two walks on Wednesday had reached base 11 straight times with his fifth-inning single. Dylan Boprey struck out three and scattered three hits over 3.1 shutout innings in relief to pick up the win. Boprey also had a hit and scored a run. Story finished 3-for-4 on the day with two runs scored and an RBI. Carter Clark and Jackson DiPalma scored a run apiece for Hilton. Spencerport's Mark Neu finished 3-for-4. Jason Nau went 2-for-4 with an RBI. Greg Ranieri drove in a run with a hit. Nathan Hueber had a hit and scored a run. Gino Pellett was 2-for-4.
EDISON TECH 1
CHURCHVILLE-CHILI 15
Josh Ferris hurled three shutout innings to pick up the win. Aiden Coykendall and Ferris led the Saints' offense with three hits including a double apiece. Gavin Palo, Johnny Bagley and Jake Keller each added two hits. Yadiel Cruz had a single and run scored for Edison.
EAST 6
MONROE 4
Michael Conrow plated Willito Soto with the game-winning RBI as East rallied from a 4-1 deficit in the fifth inning. Angel Silva struck out seven over six innings of relief to pick up the win. Conrow left the game in the second inning when he took a line drive off the leg. He reentered in the seventh for the game winner. Christian Diaz singled and scored in the sixth inning. Jose Ramos walked and eventually crossed home. Tyrone Roundtree reached on an error and scored the tying run on a Victor Arroyo sacrifice fly. Monroe's Greg Romero finished 2-for-4 with an RBI and a run scored. Joaquin Farina Pimentel singled and scored a run. Andruis Batismi singled, stole a base and scored a run.
LYONS 0
GANANDA 10
Tim McClare and Zach Ciprich combined to throw five no-hit innings as Gananda (3-2) won its second straight game. McClare struck out eight and walked two over four innings of work. Ciprich worked a perfect fifth in the run-shortened affair. Jayden Castrechini doubled home a pair of runs in a four-run first. Christian Clarq finished 2-for-3 including a two-out double in the first to bring in Castrechini. McClare was 1-for-2 with a walk, two runs scored and two RBI. Caprice had a hit, three walks, two runs scored and an RBI. Patrick Walsh crossed home plate twice. Andrew Gleason also scored a run for the Blue Panthers.
LIVONIA 11
RED JACKET 8
Jake Smith finished  3-for-4 with two RBI and two runs scored to lead Livonia (4-0). Jason Dutra was  3-for-4 with two runs scored. Alex Minnehan drove in three runs with a triple  and a single. Noah Fasso made his first appearance on the mound this season and came in with a runner on in the seventh and struck out the side.
SOUTH SENECA 12
HARLEY ALLENDALE COLUMBIA 2
The Falcons from South Seneca (1-1) broke HAC's (2-1) modest two-game winning by putting together nine runs over the last two innings to break open a close game and went on to prevail 12-2.
South Seneca starter Spencer John went the distance, scattering four hits over seven innings and struck out twelve for the victory.  John did not walk a batter the entire game and the Wolves managed just three base runners over the find five innings.  Offensively, Kyle Shields delivered a two out, two run double in the fifth to give South Seneca the lead in the game and they didn't look back.  Nick Twardeski scored three runs for the Falcons, as did Chris Lucus.
HAC's Jake Dockum continued his hot hitting, going 2-3 with a run scored.  The Wolves got RBI singles from Henry Nicosia and Spencer Dworkin for their two runs.
WAYLAND-COHOCTON 2
BATH-HAVERLING 15
Griffin Yastremski struck out seven and two unearned runs on three hits to pick up the win. Cayden Mattison paced the Bath-Haverling offense going 3-for-3 with two doubles, four RBI and two runs scored. Justin Marshall went 3-for-4 and scored twice. Austin Sestak drove in three runs and scored one with two hits.  Austin Palmer was 2-for-3 with two runs scored and a stolen base. AJ Brotz collected a hit, a walk, an RBI, two runs scored and a sacrifice bunt. Blake Hess was 2-for-2 with an RBI and two runs scored. Bath-Haverling (2-2) scored 34 runs on 31 hits in two wins this week. Wayland-Cohocton's Trevor Sly finished 1-for-2 with a run scored. Connor Englert walked and scored the other Wayland-Cohocton run.
DANSVILLE
CAMPBELL-SAVONA
GENEVA
PALMYRA-MACEDON
FRANKLIN
C.G. FINNEY
CLYDE-SAVANNAH
NORTH ROSE-WOLCOTT