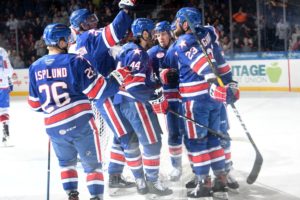 By KEVIN OKLOBZIJA
Tage Thompson finally played for the Rochester Americans on Friday night; emphasis on finally.
The question: What took so long?
This is a debut in red, white and blue that should have come five months ago, or four months ago, or three months ago; but certainly not this late, in the waning weeks of the regular season.
He's here now, though, sliding into his reserved roster spot on an Amerks team with high hopes — and maybe even higher expectations — for the Calder Cup playoffs.
The second-year right winger is just what the Amerks can use, too: a big body (6-foot-6, 205 pounds) with speed, a heavy shot, a presence in front of the net and the potential for tenacity on the wall.
He showed a lot of that Friday, scoring the tie-breaking goal and the clinching empty-netter after assisting on the Amerks' second goal and helping to set up the first in a 4-2 victory over the Laval Rocket.
That was some serious production. A nice welcome-to-Rochester night for the 21-year-old Phoenix native. The kind of night that revives the confidence and re-energizes the mind.
"Obviously you want to contribute as much as possible," he said after the Amerks improved to 42-21-4-2. "It definitely feels nice."
He had showed flashes of those things with the parent Buffalo Sabres this season, yet just flashes, so it was clear in October, November, December, January and February that he wasn't ready for full-time NHL duty. In 65 games, he produced 7 goals, 5 assists and 12 points. The 26th overall pick in the 2016 draft by the St. Louis Blues, he struggled with defensive-zone assignments and adjustments.
That points-per-game average of 0.18 among all Sabres forwards who played at least a dozen games, except Patrik Berglund, and he quit in December. Not that anyone in Buffalo can score, but he really didn't do enough to justify the Extended Stay Buffalo booking at KeyBank Center.
Ah, yes, did someone say Berglund? He's part of the reason Thompson didn't join the Amerks sooner. By retiring from hockey to tend to the mental health issues, Berglund created a little pressure for Sabres second-year general manager Jason Botterill.
After all, when you trade one of your top three forwards (Ryan O'Reilly), you need to show the fan base that you received something in return, even if the 2019 first-round draft pick was supposed to be a big part of the haul. In retrospect, that draft pick is falling farther and farther down the draft order as the Blues continue to show they could win a round or two in the playoffs.
Still, it's puzzling why the Sabres didn't flip-flop Thompson and Victor Olofsson long ago. Olofsson is two years older, he had four years of experience in the Swedish league, and last year he led the Swedish league in goals.
So now Olofsson finally has a chance to test his skill-set in the NHL after his Wednesday promotion to Buffalo, and Thompson has a chance to find himself and refine his game with the Amerks. A chance to fuel his drive for full-time NHL duty next season.
This stint with the Amerks indeed could be the best thing for his career. We've seen it here before.
Like in 1995-96, when Brian Holzinger returned from Buffalo late in the regular season to fill a prime-time role in the Calder Cup playoffs. All he did was score the Cup-winning goal on June 13, 1996, and then was never seen in these parts again.
Or in the spring of 2000, when J.P. Dumont came to the organization from the Chicago Blackhawks with 72 games of NHL experience over two seasons and some of the sweetest goal-scoring hands around. He scored 14 playoff goals during the Amerks gallop to the finals and never saw the AHL again.
"We want him to get better, like everybody," Amerks coach Chris Taylor said after Friday's victory.
It's important that Thompson doesn't think having played 11 or 12 minutes a game in the NHL for the past year will automatically translate to elite status in the AHL though.
"I don't think just because you're in the NHL, you're going to be dominant down here," Taylor said.
There's work to do, to be sure. He needed to react quicker while killing a penalty to start the third period and instead Alex Belzile was alone in the slot to tie the score 2-2.
Just over eight minutes later, Thompson broke the tie, posting up in the right of the slot to deflect Arvin Atwal's point shot. Then, as part of the final-minute brigade entrusted to protect the lead, he fired a 135 MPH shot into the empty net for the clinching margin.
"In any league you play in, you'd like to be a dominant player," he said. "You never want to just cruise by."
Quick hits
» From the department of It's Only A Matter of Time: The Amerks magic number to clinch a playoff spot is one point.
» With Zach Redmond still hurt and Lawrence Pilut, Will Borgen and Matt Tennyson all in Buffalo, the Amerks used a six-man defense corps that had never played together as a group: Nathan Paetsch, Andrew MacWilliam, Jack Doughtery, Brandon Hickey, Kurt Gosselin and Atwal. The Amerks allowed just 19 shots.
"They did a great job," said winger Danny O'Regan, who scored the Amerks second goal.
They also played a whole lot more in key situations.
"Obviously you can show a little more of what you can do and different ways you can help the team," Hickey said.