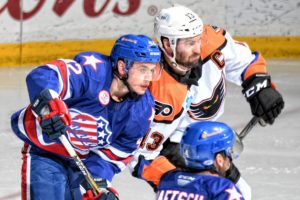 By KEVIN OKLOBZIJA
For the second consecutive game, the Rochester Americans faced a multi-goal deficit in the second period.
For the second consecutive game, they rallied to force overtime.
But unlike Sunday, when a 4-1 deficit turned into a 5-4 victory at Toronto, the Amerks (41-21-4-2) lost on home ice to the Lehigh Valley Phantoms 4-3.
Here's your Wednesday Amerks Six Pack:
1. Is it good to come back, or bad you need to rally?
The Amerks chose to accentuate the positive.
"You're not going to be leading every game," said captain Kevin Porter. He scored the tying goal off a terrific fastbreak power play rush by Wayne Simpson into the zone, followed by a perfect pass to the deep slot by Kyle Criscuolo.
"We've shown we're not going to give up," Porter said.
2. That's 2 straight games going to the bullpen
Scott Wedgewood started in goal but played only 32 minutes and 27 seconds. After giving up a third goal (on 17 shots), he was replaced by Adam Wilcox.
Wilcox stopped 13 of 14 shots he faced, including two high-quality chances by former Fairport resident Cole Bardreau in the third period.
Wilcox also came on relief of Wedgewood early in the third period on Sunday at Toronto and stopped the seven shots he faced for the victory.
Coach Chris Taylor said there were one or two goals Wedgewood would have liked back in both games, which is why he made the switch.
3. Olofsson finally gets the call
First-year winger Victor Olofsson was promoted by the Buffalo Sabres late Wednesday afternoon and could make his NHL debut on Thursday against the Detroit Red Wings.
The 23-year-old Swede leads the Amerks with 27 goals and 60 points.
"I think that's awesome," Porter said of the callup. "He's played great all year for us and he deserves it."
It's actually surprising Olofsson hadn't joined the Sabres sooner, considering they can't score and he can. He led the Swedish league in goals last year with 27 in 50 games.
4. Lots of key parts were missing
Defensemen Will Borgen and Lawrence Pilut and winger Alex Nylander all are with the Sabres, defenseman Zach Redmond is still hurt and winger C.J. Smith didn't play a good portion of the second period or any of the third due to illness, according to Taylor.
"He had low energy and I felt it was best (for Smith not to continue to play)," Taylor said.
That meant Judd Peterson and Kurt Gosselin did play. Peterson has been with ECHL Cincinnati all year. Gosselin played at Alabama-Huntsville before signing with the Amerks earlier this season and reporting to Cincy.
The holes on defense also allowed Jack Dougherty and Brandon Hickey to play an abundance of minutes in different situations. Dougherty had a game-high six shots on goal and attempted 10.
"We need guys to step up in different roles," Taylor said.
5. Speaking of Gosselin
The undrafted Michigan native fit in quite well. He was one of the three Amerks on the ice for the winning goal, but it was a Criscuolo turnover that gave the Phantoms a two-on-zero breakaway.
"I'm just riding the wave right now and trying to acclimate," he said. "These guys can play hockey; just give them the puck and join in."
Said Taylor: "I thought he handled himself (well) against a really good team."
6. Making up for lost time
Phantoms rookie Pascal Laberge scored the final three Phantoms goals, including the game-winner 2:02 into overtime off a two-on-zero fastbreak.
A second-round draft pick (36th overall) by the Philadelphia Flyers in 2016, he didn't play his first game this season until Feb. 23 because of off-season hip surgery.
He scored at 2:20 and 12:27 of the second period on high shots past the glove of Wedgewood and then converted a pass from Chris Conner in overtime.